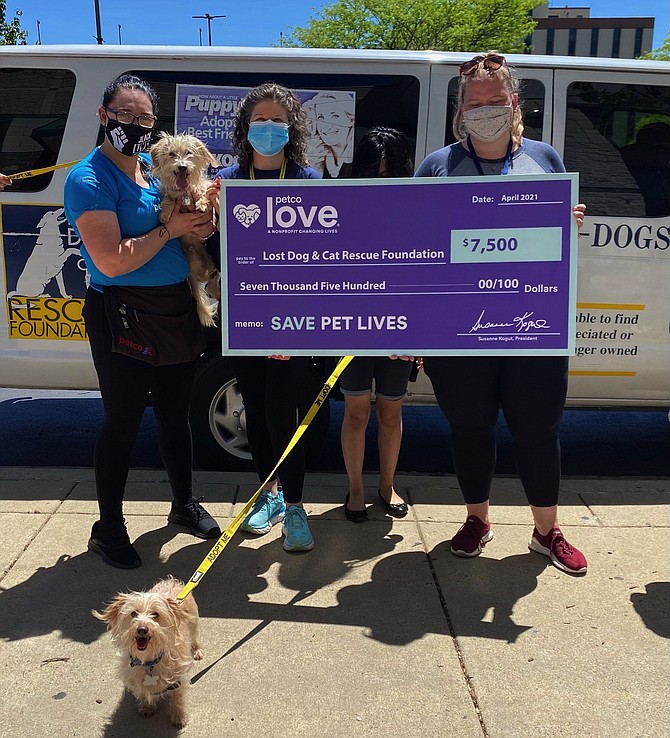 In a world crawling with millions (and millions) of homeless animals, the Lost Dog and Cat Rescue Foundation (LDCRF) is on a vital mission: to spare as many possible dogs and cats from suffering and unnecessary euthanasia. Since 2001, this Arlington-based nonprofit organization has placed more than 40,000 dogs and cats in loving homes; last year alone, Lost Dog rescued 2,747 pets through foster and adoption.
"We have every type of dog, from puppies to senior dogs, and we've seen every possible breed," said Kim Williams, LDCRF board member. "Every one of them is so worthy of a loving home. We are proud of the model we use at LDCRF. We conduct same day adoptions and have experienced adoption counselors as well as foster families who know our dogs and cats very well. Our processes make for very successful adoptions."
In April, Petco Love – a national foundation that invests in animal welfare agencies – recognized Lost Dog and Cat Rescue Foundation's work and awarded the organization with a $7,500 grant. With this funding, Lost Dog and Cat Rescue Foundation will be able to create more space to house, and thus save, more animals at its Falls Church kennel facility.
As it stands now, LDCRF's kennel facility – the Rescue Care Center – is designed for 140 animals; but, due to damage on one side, it can now only fit 120.
"We needed the money to get one side of the building fixed," Williams said. "The Petco Love grant is allowing us to fix the actual foundation of the building where the dogs stay, because, as it stands right now, there are 20 kennels we can't use, which means 20 dogs we can't safely house, and thus, rescue."
When people think of animal rescue, they often imagine dramatic extraction missions and life-saving medical procedures. And while animal rescue and Lost Dog and Cat Rescue Foundation does entail such things, it is also a lot of keeping a roof over everyone's head.
"We haven't wasted any time with the grant, and it's been fabulous to get started on the structural rebuild," Williams said. "The Petco Love grant won't cover all the costs of fully repairing the Rescue Care Center, but we will continue raising funds to complete the project. Without our Rescue Care Center, we couldn't continue to facilitate the joy of rescue and adoption at the scale in which we do now."
Speaking of scale, the Lost Dog and Cat Rescue Foundation has a vast network of volunteers that facilitate their wide reach across Northern Virginia and beyond.
"We are 95 percent volunteer, and it is an incredible volunteer network," Williams said. "We have such a large, wonderful team of volunteers; some volunteer daily, others may be once a week. And what we all have in common is our love of animals."
Still, it takes more than love and passion to keep this non-profit organization in operation. If the Rescue Care Center's walls could talk, they would tell you how important it is for the Lost Dog and Cat Rescue Foundation to be able to maximize this space where animals are held.
For more, see https://www.lostdogrescue.org/
To help Lost Dog and Cat Rescue Foundation, email giving@lostdogrescue.org.