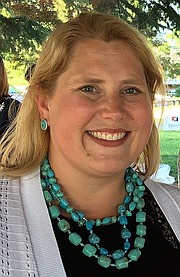 Fairfax resident Jennifer Passey was recently honored as the winner of the 2021 Woman of Influence award presented by Fairfax City's Commission for Women. A wife and a mother of four sons, she served two years each on City Council and on the City's Parks and Recreation Advisory Board, as well as three years on the Planning Commission.
Calling it "a true honor" to receive this award, Passey said, "We have a lot of smart, talented, brilliant women here in the City, and they all have something to contribute." In her case, besides serving her city, she also works with the nonprofit Girls on the Run, which serves all of Northern Virginia.
"I believe that, when you really focus on the young people in a community, those strong girls become strong women who then build strong communities," she explained.
"We all need people to look up to, and we need to see a representation of who we want to be, what paths we want to follow or the encouragement to create our own paths," continued Passey. "I think that, with Girls on the Run, I'm creating that atmosphere in our City and region. And I want us to all take the time to look behind us and bring people along with us."
Later on, in a special Facebook post, Passey shared some further thoughts about being this award's recipient. "Feeling a sense of belonging is a need we all have in life, whether we are young, old or somewhere in between," she wrote. "Your local community is where you should be supported in time of need, feel safe, be able to take risks to reach new goals, find strength in others and thrive. I want to see girls and women of all ages, from all backgrounds, find their place to lead in the City of Fairfax."
She also expressed her appreciation to the City's Commission for Women for recognizing her. In addition, she thanked her friend and Councilmember, Joe Harmon, for nominating her for this honor.
"And thank you to the many strong women – yes, Mom, you are at the top – in my life that invested in me," wrote Passey. Then, directly addressing all those reading her words, she told them, "Now is the time to commit to investing your time and using your talents to leave your local community better than when you found it."