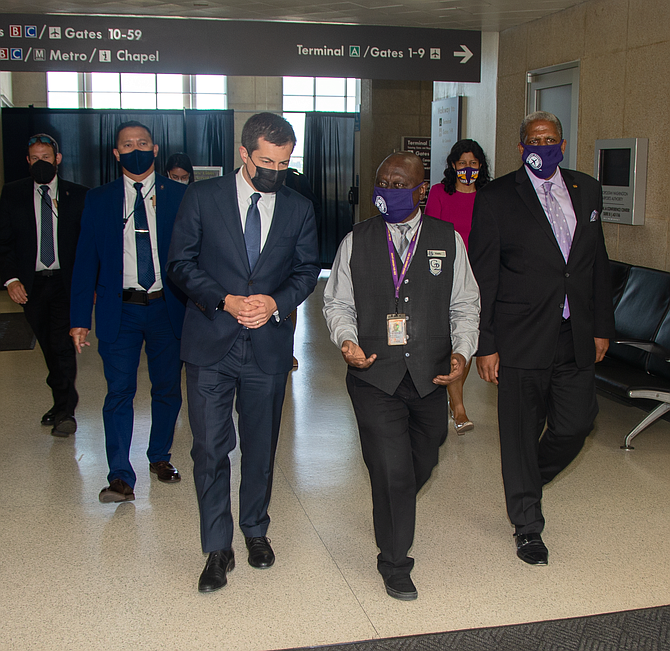 On the heels of the Biden administration's decision to redesignate Haiti for Temporary Protected Status (TPS), U.S. Secretary of Transportation Pete Buttigieg and Mary Kay Henry, International President of the two million-member Service Employees International Union (SEIU) held an immigration roundtable discussion on Tuesday with 32BJ SEIU's airport workers at National Airport (DCA).
Many of the workers from Washington, D.C., Philadelphia, New York City, Fort Lauderdale, and Newark, NJ, have TPS, which allows immigrants fleeing civil strife and natural disaster to live and work in the U.S. legally without fear of deportation. SEIU may have as many as 20,000 members with TPS, many of whom have lived here for decades.
Kwaku Agyeman is a 64-year-old green card holder who came from Ghana eight years ago and lives in Alexandria with his wife and daughter who just graduated college. Since then, Kwaku has worked as a contracted wheelchair agent at D.C. National Airport. He's a 32BJ SEIU member leader who helped his coworkers win their first-ever living wage through the airport authority (MWAA) in April of 2017.
Kwaku hopes to be able to retire and buy a home. However, the pandemic reduced his hours so dramatically that he worried about his family becoming homeless. Kwaku and his family had to cut back in order to focus on paying rent and making sure they had food to eat. He's now leading an effort to help his coworkers push MWAA to adopt a paid sick leave policy.
"Ten years ago, we started our organizing efforts at the airports with a big dream: for every worker to have a living wage, benefits, and the vital protections that come with a union," said Kyle Bragg, 32BJ SEIU President. "At airports up and down the east coast, we met workers who were drowning in medical debt. We met men who were working three jobs and were still homeless. We met mothers who were trying to feed two kids on $7-8 per hour."
"Our airport members are overwhelmingly immigrants from Africa, Haiti and Latin American, many with Temporary Protected Status (TPS). … That's why we're fighting for benefits like sick days and healthcare here at DCA and at Dulles to truly keep workers and our airports safe."
Bragg added that it is critical for these workers to have a path to citizenship.