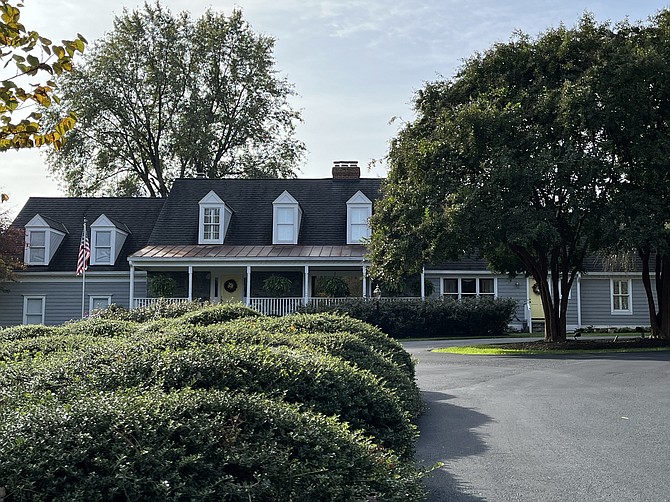 Attempts to save what was possibly the first schoolhouse in Great Falls, the Jackson School (1852) came too late and failed. In an interview on Oct. 20, architect Robert W. Mobley, AIA of Great Falls, said concerned citizens, he among them, stepped forward when they learned of the pending demolition. But the new owners had already started the process of tearing it down. 
"It was like 30-days' notice," said Mobley, who previously served as a member of the Fairfax County Architectural Review Board. "We don't have an effective way of stopping [owners] from doing what they want on their property/ … This historic property is within the setback, so why would they need to tear it down? … They said they'd save some pieces of it," Mobley said.
The week of Oct. 18, the 169-year old Jefferson School at 11105 Beach Mill Road earned "the asterisk" to be placed next to its name on The Fairfax County Inventory of Historic Sites. An asterisk "indicates demolition of a primary resource: potential intact archeological components."
Craig Hartsocks is the co-founder of  Cherry Hill Custom Homes in McLean.  He said, "After we took off the siding, people went in and basically deconstructed the house. They are a charitable organization." A sign on the property reads, "This House Was Donated TheEmpoweredWorkForce.com." Perhaps more accurately, the house was donated in pieces. According to the organization's website, the nonprofit focuses on helping "underprivileged youth reach their full potential through training and resources… We also work to reduce landfills through environmentally responsible work."
There are approximately 350 sites on the Fairfax County historic sites inventory. They range from the well-known Mount Vernon property, also listed on the Fairfax Inventory and holding status on the National Register of Historic Places, Virginia Landmarks Register, and Historic Overlay District, to more anonymous churches, bridges, houses, burial grounds, and objects, like the Jefferson School, only listed on the Fairfax Historic Sites Inventory. 
A listing on the Inventory is an "honorary designation" and does not limit an owner's property rights. "Sites are considered during land-use planning, and preservation is encouraged," according to the Fairfax County Department of Planning and Zoning. At least 60 structures have been demolished since 1969.
The Jefferson School underwent several transformations over its existence. According to Glen Sjoblom and Carolyn Miller of the Great Falls Historical Society, built in 1852, "the Jefferson School House, which served the Methodist Church until around 1890, when Smith's Chapel was built, was purchased by Norman Beach in 1935," as cited in the Feb. 2, 2018, Connection Newspapers, "Researching Local History: Rural Schools in Great Falls."
According to Compass Realty's property history for 11105 Beach Mill Road, the property listed on Sept. 9, 2017, for $799,900. The Public Record on April 1, 2021, reports it sold for $688,000.
Moments before it was demolished, Tyler Lane uploaded a 40-second YouTube video of the Jefferson Schoolhouse in Great Falls, Virginia. According to Lane, the short was created to "preserve a historical record of what the house looked like inside before it was demolished." The schoolhouse was located on a 1.84-acre site with mature trees. A drive-by of the property reveals that two large trees remain facing Beach Mill Road. 
Mathew Hansen, P.E. is the director of the Department of Land Construction Services in Fairfax County. At the McLean Citizens Association's Infill & Tree Canopy Forum on Oct. 19,  he stated that while the department is tasked with preserving the county's tree canopy, infill development is a "local problem." Infills are not subject to public hearings or notification requirements.
Great Falls has many buildings that reflect its history, from rural dairy farming to large lot communities. The fear is that since nearly all the older residences, schoolhouses, and barns can be demolished "by right," few argue for reinvigorating the tough old structures. Given they may not be well-suited to their original purposes nor interior wall configurations for today's standards, thoughtful adaptive reuse can form a link between cultures past and present. Four such structures, and others, stand in Great Falls; the crises that threatened their survival averted.
Mobley took this reporter on a tour of the four, beginning with a 1935 Sears, Roebuck and Company mail-order house located at 9511 Georgetown Pike. Concerned neighbors purchased it in 1988 when escalating land values threatened its existence, he said. "They didn't want to move it. They just wanted to make sure it didn't get torn down." The new owners, his clients, saved it, and Mobley's sensitive design solutions transformed it to an upper-scale larger home that they later sold. Named Gray Gables, the project won two design awards, the Award for Excellence in Architecture from the American Institute of Architecture and the Fairfax County Exceptional Design Awards Program.
Next on Mobley's tour was a visit to the Great Falls' Hickory Vale cluster subdivision. Mobley said that the developer [Cooper Land Co.] was more than happy to keep four structures, two homes, and the existing dairy barn and silo "because he found out that he would get a significant tax break if he did this."
John G. Colby, site planner and consultant to the developer, designed the subdivision plan to integrate a Cape Cod-style residence, the original farmhouse, and dairy barn and silo on their existing sites into the overall site plan.
10112 Nedra Drive was the original farmhouse whose front façade, with its five tall columns, faced Georgetown Pike. "But we had to make it face this street," Mobley said, looking at it from Nedra's perspective. "The original part is the one with the porches."
At 787 Stephanie Circle, the design goal, Mobley said, was to save the existing small "historic" Cape Cod-style home and add to it, carefully blending it with its neighbors.
For 10115 Nedra Drive, Mobley met the challenge of enhancing the barn, a utilitarian place for agrarian work where cows rubbed up against the beams and dropped their manure and the silo meant to shelter grain. Similar to the other two residences in the subdivision, Mobley employed the same strategy. He allowed the new additions to appear comfortable with the renovations of the historic structures, displaying harmony between the old and new. He used straightforward materials, saving both the dairy barn and silo structures while blending them naturally into their surroundings and environment.