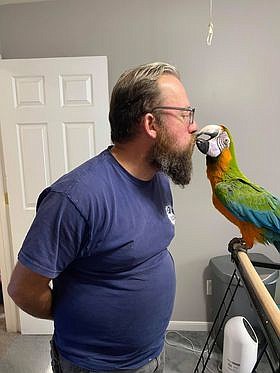 The term exotic animals probably has a few wild animals roaming through your mind: maybe even lions, tigers and bears (oh my!). 
But, you actually don't need to go on safari in order to interact with exotic animals, or even to bring one home. In the animal welfare and veterinary worlds, exotic animals are actually domestic animals  – pets that aren't dogs, cats or farm animals. Think: reptiles, rodents and birds.
You can find all kinds of exotic animals at your local animal rescue organizations, including the Animal Welfare League of Arlington (AWLA).
"A lot of people don't necessarily realize that shelters have these exotic animals," Chelsea Jones, AWLA Senior Communications Specialist, said. "They think they have to go to pet stores to buy these kinds of pets, when that's just not true."
Those enticed by these exotic pets need to look no further than the AWLA, which has a full spectrum of these less traditional pets. 
 "The most common of these animals we get are rabbits, guinea pigs, hamsters, birds, rats, and ferrets," Jones said. "We also sometimes get mice, chinchillas, reptiles and large parrots. It is exciting and it definitely keeps us on our toes because their care vastly differs depending on the species."
AWLA refers to these animals as their "small companion animals," or simply "smalls." And there really is nothing that the AWLA team hasn't seen. 
"Our 'small companion animals' include rabbits and guinea pigs – our two most common – and then there are birds, hamsters, gerbils, rats, domesticated mice, chinchillas, ferrets, and reptiles," she said. "We actually just started adopting the lizards out, as they used to go to reptile rescues. Right now, we have two geckos, snakes, lizards. Then, every so often, we get fish. For example, last year, we got 350 guppies. We've had parakeets, quaker parrots, and we recently had a macaw."
AWLA cares for and adopts out a lot of these exotic animals due to their agreement with Arlington County, which is different from rescue organizations that do not have county or county-contracted shelters. 
"Many shelters do take exotics," Jones said. "Some, like us, are open-access shelters that are required to take in any animal from our jurisdiction that needs our help, meaning sometimes we get very interesting animals! Other shelters or rescues may not be required to do this, and so may decide not to take certain pets if they do not feel they can properly care for them."
They are called 'exotic' for a reason, too. These animals must go to special veterinarians, and in general have different needs than those of cats and dogs.
Currently, AWLA Arlington, including its robust foster network, is home to more than 25 exotic creatures – smart and personable ones whose species are oftentimes simply misunderstood.
"I think the biggest misconception about smaller pets is that they aren't affectionate or smart," Jones said. "They are both of these things and more, but show these traits in different ways than a cat or dog might."
A lot of these animals are prey animals, so their predisposition often involves being fearful of larger species, including humans. As a result, earning their trust and affection takes a little time.
"They need more time, patience, and understanding for us to really get to know them," Jones said. "They take longer to trust us. They are not always immediately giving back that outward exuberant affection the way a dog or cat will, and sometimes it's just a lot more subtle. …
"For example, rabbits will nudge you with their nose when they want attention. Guinea pigs give 'kisses' by nuzzling you gently. Then rats are incredibly smart and affectionate and typically can be taught far more commands than a dog."
As for those winged and feathered companions?
"Birds preen the person or people they have bonded with," Jones said.
Although cats and dogs tend to get more attention, exotic pets bring a ton of benefits to the families who adopt them.
"They come with the same positives as having a dog or cat, with the companionship and giving you a sense of purpose," Jones said. "Also, smaller pets let more people experience the joy of a pet. People who are allergic to cats and dogs, or may not have enough space for a large animal can definitely consider having an exotic pet."
Like their canine and feline counterparts, exotic pets come to AWLA in two main ways: when previous owners surrender them, and when people find them lost outdoors.
Exotic animals arrive at AWLA by way of other, truly bizarre avenues. 
"Once, we got a call that a person living in an apartment complex found a baby anaconda in her toilet," Jones said, still in disbelief. "Anacondas gravitate toward water, and we assume it had been someone's pet who had swam through the pipes to land in a neighbor's unit. That one, we had to send to a specialized reptile rescue."
It is important to note that some "exotic" animals are illegal to own as pets, and these are specified by Arlington animal ordinances. Of course, AWLA is always up-to-date and familiar with these regulations.
AWLA Arlington also has plenty of experts on staff and in its network to take care of most exotic animals that come through their doors.
"We have staff members who used to work at zoos, and we have several exotics vets we will call with questions," Jones said. "We have a great network to make sure we are taking care of these animals in the right way and giving them what they need to be happy."
And while dogs and cats are definitely the more common pets in Arlington, the AWLA team wants the community to know that exotic animals are also lovable, fantastic options.
"We want people to love small companion animals as much as we do," Jones said. "They are just as deserving of a home as dogs and cats and have so much personality to show off and love to give. We hope people will look for a pet at a shelter first, so that they are giving homeless pets a new home, and not subsidizing the breeding of small pets by buying them from pet stores."
For more information on AWLA's "smalls" – from rabbits to guinea pigs – visit 
https://www.awla.org/adopt/small-animals/