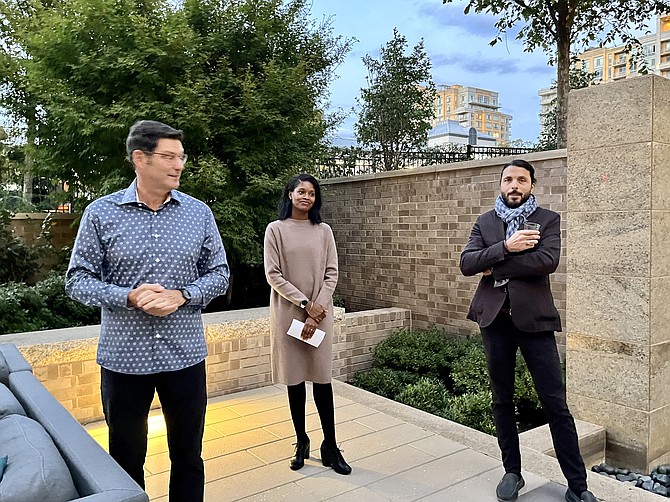 Tephra Institute of Contemporary Art held an in-person gallery opening on Oct. 22, its first since the COVID-19 restrictions. The nonprofit organization presented the exhibition, "A Rising Tide Lifts All Boats,"  featuring works by D.C.-based artist Andrea Limauro (b. 1976, Rome, Italy) at Signature Apartments and sponsored by Reston Community Center.
Robert Goudie is board chair of the nonprofit organization Greater Reston Arts Center (GRACE), rebranded as Tephra Institute of Contemporary Art (Tephra ICA).
Goudie expressed pride in the work done by staff in the space. He said that three years ago, the organization had no idea whether this satellite gallery would work. "Boston Properties was nervous about it. We were nervous about it. The whole idea was to try to introduce people to this concept of living with art," he said. It worked.
Jaynelle Hazard, the executive director and curator introduced Limauro. She said his mixed media works explore migration and migrant identity issues, nationalist narratives, gun violence, and other social issues.
According to Limauro, many of the pieces on display that night were inspired by his day job as a city planner in Washington, D.C. He spends his days looking at floodplain maps, "depressing statistics" about global warming, and the District of Columbia's flood and sea level rise projections.
Limauro referenced the pending climate-change-induced future of Washington, D.C., based on the current trajectory of greenhouse gas emissions. He said that we must reduce carbon pollution and our reliance on fossil fuels based on economic considerations. Our climate and energy choices will shape different scenarios over the next few decades.
The exhibition's centerpiece is a four-panel acrylic painting on canvas with gold leaf, metal and paper titled, "A Rising Tide Lifts All Boats, 2018." 
"I like the irony of the title. It was chosen because that phrase is usually associated with neoliberal economic policies that justify overproduction," Limauro said. 
Limauro's work depicts a panoramic view of Northern Virginia, the District of Columbia, and Maryland at possible future sea levels. The viewer is seated on a boat in the middle of a churning Potomac River. The national mall has been submerged, the monuments have been flooded, and the parkways have been flooded.
Limauro took a cue from the old world cartographers of the Middle Ages and Renaissance. They tucked beastly monsters into their maps, images they believed were reliable to illustrate possible dangers. His work depicts the turbulent waters in which immigrants struggle neck-deep with their arms raised, and monuments are tossed around like toys.
Limauro adapted the technique of painting dates in red from antique Roman murals. "Those are the dates of the real historic floods in our region," Limauro said. Finally, Limauro employs gold leaf in his work. He grew up in Rome, where gold leaf embellished panel paintings, backgrounds, and frescoes.
Tephra ICA at Signature is located at 11850 Freedom Drive in Reston. The gallery is open to the public for free, Tuesday through Saturday, 11 a.m.– 5 p.m.