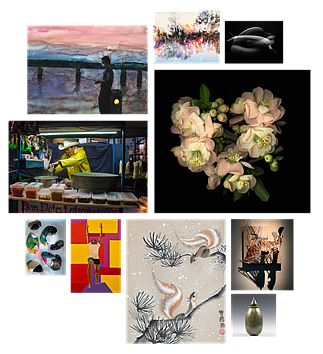 Torpedo Factory Art Center is encouraging people to bring home original work from local artists this fall with two major offerings dedicated to making art buying simple and affordable. Target Gallery's next group exhibition, 
Fall Salon
,  
https://torpedofactory.org/event/fall-salon/
 on view Nov, 10 – Dec. 12, features 70 works by artists from the greater metropolitan region, all priced at $1,000 or less. 
Art Fest
https://torpedofactory.org/event/art-fest/
 on Sunday, Nov. 14, features special in-studio offers throughout the building exclusive to participants. Torpedo Factory Art Center is located at 105 N. Union Street in Old Town Alexandria. 
Art Fest—Sunday, Nov. 14, 11 a.m. – 6 p.m.—brings this collector's spirit out of Target Gallery and throughout all three floors of the Art Center. Dozens of galleries and studios are extending exclusive discounts and offers to Art Fest buyers that aren't available at any other time of the year. Tickets start at $15 with access to the 3rd floor Art Lounge with expansive Potomac views, a live art project, and beverages to enjoy while you relax. Music will be spun all day by DJ One Luv.
The jury panel that selected the art for this exhibition was Clint Mansell, director of Principle Gallery; Sarah Tanguy, DC-based independent curator; Tomora Wright, fellowship director at Hamiltonian Artists. The three will participate in a free roundtable discussion about art collecting and sustaining the local arts economy on Sunday, Nov. 10 at 4 p.m.
For those who can't visit Target Gallery in-person, the online catalogue will let people make purchases online. It goes live on Wednesday, Nov. 10 via 
torpedofactory.org/target
.