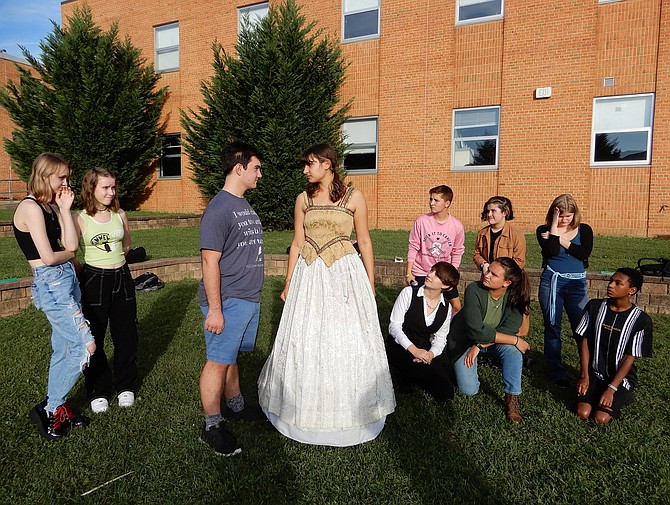 Fairfax High's upcoming play, "Puffs," takes place in England during the exact,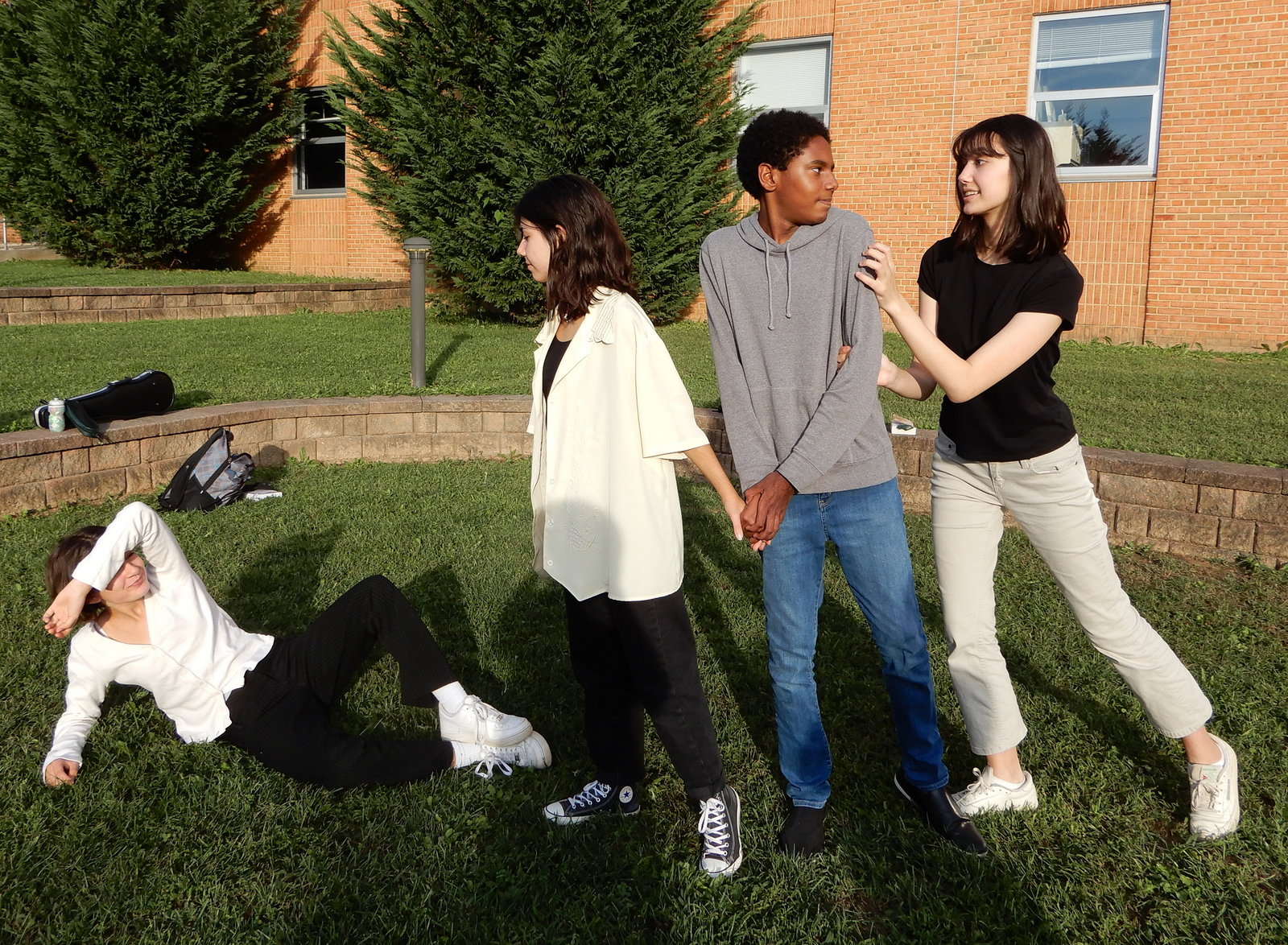 (From left) Hank Hawkins, Maddie Tyler and Trevor Sloan strike a pose with their magic wands.
same, seven years Harry Potter attended Hogwarts. And similarly, it's about a trio of friends and how they come of age.
"The story follows the most unpopular house group, the Hufflepuffs," said Director Chris Whitney. "It shows how – just because you're not the main character – doesn't mean your story isn't important."
The curtain rises Thursday-Saturday, Nov. 11, 12, 13, at 7 p.m. Tickets are $7, students; $11, adults; at the door and via www.fxplayers.org.
The iconic Harry Potter characters – Harry, Hermione, Ron, Voldemort, etc. – are all in this show. But the audience also gets to see other people who attend the school react to Harry's achievements. 
This comedy features a cast of 39 and crew of 15; and, said Whitney, "They've been amazingly hilarious. They make me laugh every day. After everything we've been through, last year, we're just trying to have fun. They're a really hard working group and, whenever there's been a setback, they've stepped up."
Whether attendees are Harry Potter fans, or not, he said everyone will get something out of this play because it's so "outrageously funny." But it's recommended for ages 13 and up because of language and adult content.
The costumes will be the traditional, Hogwarts outfits, but with a pop-culture twist. "At its core, there's a lot of heart to the story and characters, and the audience will feel empathy toward them," said Whitney. "Live theater is back at Fairfax High, and we're really excited to present our first, in-person, fall play in two years."
Senior Trevor Sloan portrays Oliver Rivers. "He's the archetypal nerd, but with a twist, when it turns out he's bad at magic," said Sloan. "He's used to excelling at academics; but at the wizard school, he's leagues behind the other kids. He's insecure – which builds during the play – until he comes into his own. He's nervous around people, especially girls, but eventually becomes more self-assured."
Calling his role fun and interesting, Sloan said its "fast-paced humor and lots of physicality is a joy for me. I see a certain amount of myself in him. I'm not always the most confident person in the room; and in this part, I get to take that to the extreme."
He said the audience will enjoy the show's humor and absurd, verbal word play. "They'll also like the relationships between the three, main characters, and how they grow and mature," said Sloan. "It's the classic, coming-of-age story, with the nerd, the edgy goth girl and Wayne, who's the audience's viewpoint, so he's relatable to people."
Playing Sally Perks is senior Sarah Zakreski. "She's a Puff, just happy to be at the school and included," said Zakreski. "She's spritely and spunky and does her own thing, and she's not particularly good at magic. She eventually becomes her own character and forms as a person."
She loves her role because "There's so much I can do with it. I get to run around casting spells and become more confident as a girl and a wizard. Sally's character traits are so unique that she gives me a lot of variety to work with."
Zakreski said this show has "a really good heart and, basically, is about being a good person and caring about people – and I think that's really special. It follows the story that almost everybody knows and loves. But even if you've not seen the Harry Potter movies or read the books, you can for sure enjoy it."
Senior Maddie Tyler portrays Megan Jones. "She's a Puff trying to find herself," said Tyler. "She's always idolized her mother and has some issues with her mother leaving her because she went to prison. She wants her mother to love her as much as she idolizes her. She's also spunky and confident that she's not a Puff when, in reality, she is. So it's a journey of acceptance for her. She sees Puffs as not useful, so she tries to change herself and be part of the other houses."
"It's a fun part because it gives me lots of elasticity to try different acting choices," continued Tyler. "I'm especially excited about my costumes because her style is kind of goth. I also like playing her because of my co-stars, Hank and Trevor, and the friendship our characters forge."
She said the show involves the audience and even has "Easter eggs," such as characters sitting in the audience. And she noted that the lighting, sound effects and music play a bigger part in this play than in others. "We have entrance songs for lots of our characters, plus some cartoonish sound effects," said Tyler. "And the lighting emphasizes plot points and character themes, plus changes in time and feeling, throughout the show. And it's so nice to work with people in person again and put on live theater, and the audience will enjoy our energy."
Playing Wayne Hopkins is junior Hank Hawkins. "He's self-centered, yet loyal to his friends," said Hawkins. "But he also gets wrapped up in his own ambitions and what he wants for his life. He wants to be chosen by fate to be special. He wants his lucky break, but it never comes – and that's the contrast between him and Harry, the boy who succeeds. But when he learns that not everyone can be the leader – somebody has to be on the team – he learns to be a better friend."
Hawkins is excited about his role. "Every time I go on stage, I find something new about my character that I connect with," he said. "He's comedic, and his emotions are all over the place, and it's fun to be such a big part of the story."
He said audiences will be surprised at how much they'll relate to this show. "It has an emotional core that'll really resonate with people – especially if they've ever felt they're wasting away on the sidelines," explained Hawkins. "And they'll learn what happiness means and how they can find it in the little things."