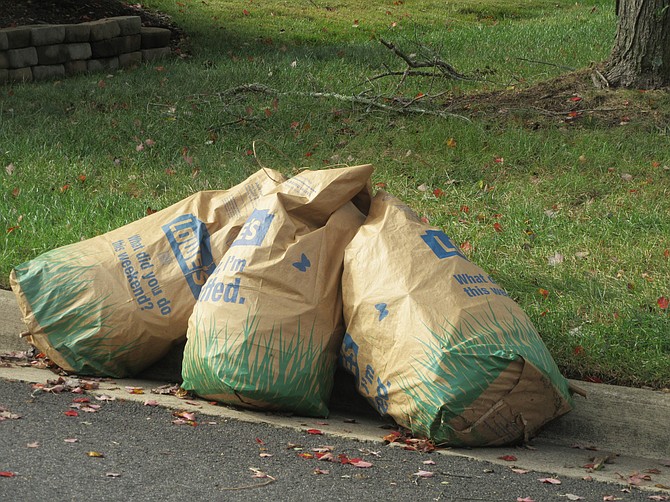 That annual suburban fall ritual is underway: raking, blowing and bagging leaves. Bags bulging with leaves line many streets awaiting pickup.  But some people are asking, "Why?"
Some homeowners are leaving fallen leaves on the ground to support insects. Many people compost leaves to enrich the soil after the leaves biodegrade. Mulched leaves are "black gold," many gardeners tout.
Wintering Insects Need Leaves 
Insects are everywhere, from the tundra to the tropics, in the soil, water, wood and plants. They are an important part of the web of life, "the little things that run the world," biologist Edmund O. Wilson noted. Insects recycle nutrients, pollinate plants, control pests and disperse seeds.  
Insects go through three or four life stages: egg, larva, pupa and adult. Some, like dragonflies, do not have a pupa stage. Many insects rely on fallen leaves for cover, insulation and protection from predators over the fall and winter.
For example, some butterfly and moth species spend the winter in leaves as eggs, caterpillars, pupae or adults. Justin Wheeler of the Xerces Society wrote, "Red-banded hairstreaks lay their eggs on fallen oak leaves, which become the first food of the caterpillars when they emerge. Luna moths and swallowtail butterflies disguise their cocoons and chrysalises as dried leaves, blending in with the 'real' leaves. … bumble bees also rely on leaf litter for protection."  
Most native bee species spend the winter in nests that their mothers prepared and like bears, and hibernate through the winter. Around 70 percent of bee species nest in the ground, reports the Xerces Society. Dead organic material is also home to worms, snails, spiders, beetles, millipedes and microscopic critters like bacteria and fungi. Animals like chipmunks, turtles, birds and amphibians rely on these insects for food. It's all intertwined.
University of Delaware entomologist Dr. Doug Tallamy has explained, "There are 70 species of moths and several butterfly species that develop as caterpillars on dead leaves. Over 90 percent of the caterpillars that develop on trees drop from the trees to pupate in leaf litter or the loose soil it protects so removing leaves from an area definitely hurts insects."
Several studies in recent years have sounded alarms. Insect abundance has precipitously declined and the world has lost more than one-quarter of its land-dwelling insects in the past 30 years, reported Science magazine in 2020. These trends could lead to unprecedented extinctions, a phenomenon some call "the insect apocalypse." 
End Gas-powered Leaf Blowers
Leaf blowers are a favorite tool of many homeowners and landscape firms. Former Washington Post gardening columnist Adrian Higgins wrote in 2016, "Since the 1970s, the soundscape has been shaped by the leaf blower … what was once a weekend phenomenon from a gadget-minded homeowner is now a weekday, day-long assault on neighborhoods," adding that it's "become a three-season mainstay for [landscaping] crews."
A Northern Virginia group called Quiet Clean NOVA is campaigning to ban gas-powered leaf blowers because of their noise pollution, disruption to peace of mind, planet-warming emissions, risk to operators' hearing, habitat destruction and disturbance to wildlife.  
"High levels of noise pollution exert a deleterious effect on wildlife," says Quiet Clean Director Joan Lowy. "For example, loud noise interferes in communication between birds, impacting their courtship and production of chicks. Loud noise also favors predators, as prey lose their ability to hear them."  
Quiet Clean advocates argue that a gas-powered blower emits 23 times the carbon monoxide and 300 times more hydrocarbons than a Ford F-150 pickup truck. The machines' airspeeds stir up inhalable, fine particulates from the ground, including animal feces, pesticides, fungal spores, pollen, mold and heavy metals. Gas-powered blowers "blast air up to 280 miles per hour, eroding topsoil and sending pollen, fertilizers and herbicides adrift," wrote Monica Cardoza in a 2020 National Audubon Society article.  
Over 100 U.S. cities have banned gas-powered leaf blowers or limited their use to certain times, including the District of Columbia and Chevy Chase Village.
Lawn equipment manufacturers have a different view. The Outdoor Power Equipment Institute, based in Alexandria, says on its website, "Business owners want clean parking lots and landscapes, communities want neat and clean parks free of debris that can harbor insects and pests, and homeowners want attractive front yards. Leaf blowers are often the best equipment to achieve those goals.
"Today's leaf blowers are quieter and more efficient than ever before," they maintain. "Most modern blowers are 75 percent quieter than blowers manufactured only a decade ago. And many manufacturers have reduced the emissions of small engines by as much as 90 percent."
There are several quieter and less-polluting alternatives to gas-powered leaf blowers, including battery-powered blowers, mulching lawn mowers, rakes and brooms. And Lowy advises, "If you feel you have to remove leaves, we recommend that you designate at least a corner of your yard for a brush pile. Small animals like rabbits, salamanders and turtles will make their homes in these piles."
"Leaves are not litter," says the Xerces Society. "They're food and shelter for butterflies, beetles, bees, moths and more."  And unlike leaf blowers, these critters barely make a sound.
Information: Quiet Clean NOVA, https://quietcleannova.wordpress.com/ 
The Xerces Society of Invertebrate Conservation, 
https://xerces.org/