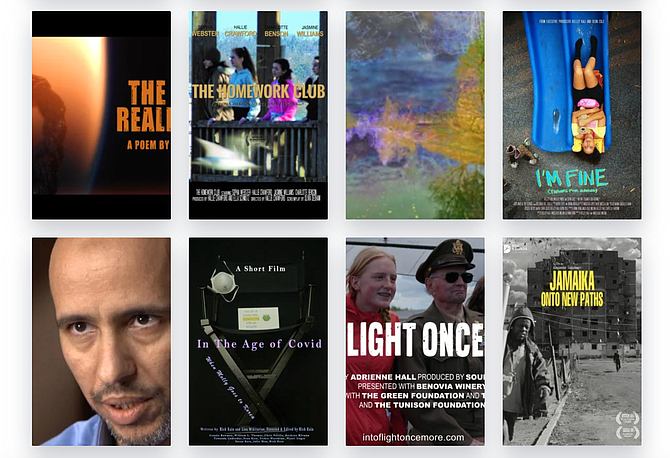 The 15
th
 annual festival will be held virtually Thursday, Nov. 11-25, through Thanksgiving Day. The AFF 
https://alexfilmfest.com
 offers new films in advance of their arrivals at commercial theaters, streaming services, or television. The festival will stream more than 40 films of every genre from around the world, inclusive of numerous premieres. The two-week event is open to all area film enthusiasts. The 2021 event will feature the Burke & Herbert Bank Family Showcase, and two Salute to Service Members Showcases celebrating Veteran's Day weekend, with cost-free ticketing for active duty and retired military service members. 
Additional festival programs include shorts, features, dramas, comedies, animation, science fiction, and documentaries of every description, as well as numerous filmmaker Q&As.  
A sampling of 2021 AFF screenings include:
"Searching for Monsters" This riveting story was featured on NPR's October 30 airing of This American Life (https://www.thisamericanlife.org/752/an-invitation-to-tea). Follow a formerly imprisoned and officially exonerated alleged al-Qaeda terrorist on his search for his torturers. He wants to take revenge — by forgiving. This is the true story behind the Hollywood drama "The Mauritanian" starring Jody Foster. Q&A with director John Goetz follows the first screening for this feature-length film in the U.S. Trailer & tickets: https://watch.eventive.org/festival2021/play/6181f9b60edb30009410155c
"Open Field" They played by NFL rules in NFL stadiums. They won world championships. They're at the top of their game. What else do they have to do to level the playing field? Meet quarterback Sami Grisafe, San Francisco 49ers coach Katie Sowers and other legends of women's tackle football who played for the love of the game against all odds. Trailer & tickets: https://watch.eventive.org/festival2021/play/616500da25788f004598c6f5
"Love in a Bottle" Dramedy about two people in two different countries, both in quarantine during lockdown time, begin a relationship through Facetime — but how viable is a relationship that might as well be just a fantasy? ADVISORY: contains nudity, sexual situations. Q& A with Director Paula van der Oest follows the film. Trailer & tickets: 
https://watch.eventive.org/festival2021/play/61565afc3488e100b90ccf28/6180a4dadadce800d757a9de
"I'm Fine, Thanks for Asking" When a recently widowed mother becomes houseless, she convinces her 8-year-old daughter that they are only camping for fun while she works to get them off of the streets. Q&A with Director Kelley Kali (alumnae of Howard University) follows the film. Drama filmed mid-pandemic with cast also serving as crew.  Trailer & tickets: https://watch.eventive.org/festival2021/play/618336f28675e90052431e7d
"Into Flight Once More" Narrated by Gary Sinise, this film brings the history of June 6, 1944 to the present through the lens of one squadron and their epic recreation journey across the North Atlantic to Normandy for the 75th Anniversary of D-Day. Along the trip we meet some of the last remaining D-Day Veterans and younger generations of men and women who honor their sacrifice. Tickets: https://watch.eventive.org/festival2021/play/6164ff0825788f004598c54e/6158fc8fd5c72f00933aa552
"Failure to Protect" Failed by a system that disproportionately tears apart low income, minority and marginalized families, four parents — Anna, Trish, Ernst and Rosa — fight to reunite with their children. But what does it take to get your children back after they have been taken by Child Protective Services? Failure to Protect is an in-depth look at the flaws in our child welfare system, seen through the lens of forgotten parents, further contextualized by experts in the field to unpack a pressing socioeconomic issue that affects hundreds of thousands of families every day. Q&A follows the film with Director Jeremy Pion-Berlin. Trailer & tickets: https://watch.eventive.org/festival2021/play/61650d57b5ed1700692f76f9
"The Homework Club" Filmed on location in Old Town, Alexandria. Inspired by characters from Anton Chekhov's play "The Seagull" and the films of John Hughes, "The Homework Club" follows four high school students with little in common who are forced to work together on an extra credit project. Over an afternoon they bicker, yawn, dance, and discover that they have much in common. Part of the 5-film Burke & Herbert Bank Family Showcase. Tickets: https://watch.eventive.org/festival2021/play/61650fa3b9c02e05ba764895/6158ff289dede90069a2c604
About the Alexandria Film Festival— (AFF) brings state-of-the-art independent films to the Nation's Capital region. The AFF is a 501(c)(3) nonprofit organization supported by a grant from the Alexandria Commission for the Arts and numerous corporate sponsors including Burke and Herbert Bank, Visit Alexandria, Old Town Hilton Hotel, Connection Newspapers - Alexandria Gazette Packet, Alexandria Hyundai, James Connolly Realtor, Wilson Grand Communications, West End Business Association, Alexandria Living Magazine, Alexandria Times, Zebra Magazine, Safer Country, and the Alexandria Commission for the Arts.