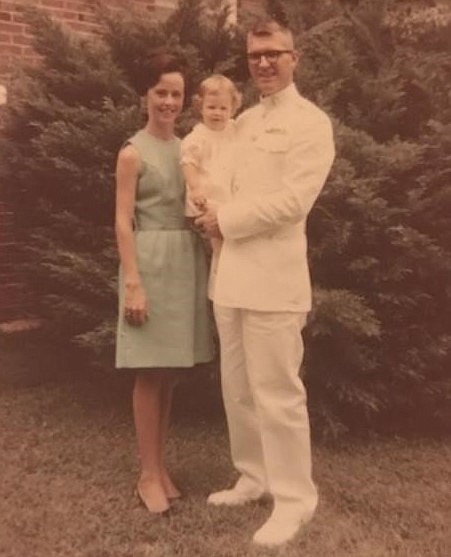 Cemeteries will be silent and still as family members, friends and service organizations mark Veterans Day in tribute to the veterans who served their nation as part of the U.S. Armed Forces.
Since its founding in 1776, every generation of Americans has witnessed some form of combat. During that time, tens of millions of soldiers have served in the armed forces including 16 million in World War II alone.
As Veterans Day approaches, three of those who have answered the call of duty share their stories.
"I think because of the Gulf War, people outside the military are now recognizing the sacrifices that veterans have made on their behalf."
— Col. Karen Lloyd, USA (ret)
Jerry File, U.S. Marine Corps, Vietnam
In October of 1962, Alexandria native Jerry File had barely completed Officer Training School when he was assigned to a Navy Marine Corps Task Force to travel through the Panama Canal to reinforce the Guantanamo Naval Base during the Cuban Missile Crisis.
He had entered the military in 1961 after graduating from the College of William and Mary. As his military career progressed, he was assigned to the 9th Marine Amphibious Brigade where he served as a Supporting Arms Coordinator and later as an Artillery Battery Commander with the Navy Marine Corps Special Landing Force along the coast of Vietnam.
"I was a Captain in the Marine Corps and served as an Artillery Officer in Vietnam in 1967," File said. "My tour was 13 months and our group was composed of three Navy Amphibious ships headed by the Iwo Jima, a helicopter carrier, a Marine Corps Helicopter Squadron composed of 18 helicopters, and an Infantry Battalion Landing Team reinforced with artillery, tanks, amphibious tractors, trucks, a Naval Gunfire Team, and medical and supply personnel totaling over 2,000 Marines and sailors."
File was part of the only landing conducted by the Marine Corps in the Mekong Delta.
"We fought in the famous Hill Fights at Khe Sanh, where our new M-16 rifles jammed," File recalled. "We fought the North Vietnamese Regular Army units in the Demilitarized Zone separating North Vietnam from South Vietnam."
Prior to his deployment to Southeast Asia, File met and married Debbie Byrnes. Their daughter Joycelyn was born while File was deployed so he was not able to meet her until his return home.
"Many of my friends from Alexandria never made it home," said File, who was a good friend of Humbert Roque "Rocky" Versace, a Medal of Honor recipient for his valor as a POW in Vietnam. Alexandria's own Vietnam Veterans Memorial in Del Ray is named for Versace and File knows many of the 68 lost and missing in action whose names are etched in granite at the site.
"I wasn't a war hero, but I served with a lot of Marines and sailors who were," File said.
After Vietnam, File attended the Marine Corps Amphibious Warfare School at Quantico; served as an Officer Recruiter, along with future Governor Chuck Robb, at the colleges in Virginia; and was promoted to Major and assigned as a Personnel Officer at Marine Corps Headquarters where he worked with Colonel Fitz Woodrow and for LtGen. Herb Beckington.
He left active duty in November 1971 to begin a 43-year career in the investment securities industry.
As Veterans Day approaches, he only says, "I just want people to appreciate what our veterans have done."
Karen Lloyd, U.S. Army, Cold War
Karen Lloyd was inspired to serve by her father, an Army infantryman who landed on Normandy during World War II. He went on to retire as a colonel before passing away suddenly when Lloyd was 26.
"Dad never talked about his experiences in WWII," said Lloyd, who graduated from Wakefield High School in Arlington. "But I learned how to listen, to let other veterans feel like they are being heard."
Lloyd served 28 years in the Army, with 14 years as an Army aviator. Highlights of her career include being the first female Medical Service Corps aviator (Medevac); first female Commander, Grafenwoehr Army Airfield; first female Executive Officer to Comptroller of the Army; and first female CFO, Army Aviation Center, Ft. Rucker, Alabama. 
"I was fortunate," Lloyd said. "I was at this juncture where women were just being invited to do things they never had before. They had been in administrative positions or as nurses. But the gates were just starting to open and it was this fascinating time so I jumped in with both feet and had some amazing experiences because of it."
Lloyd retired as a colonel then immediately began her second career as the Director of the Veterans History Project for the Library of Congress.
"I served over 16 years at the Library of Congress," Lloyd said. "I spent 11 years as Strategic Planning Officer, two years as Special Assistant to Chief of Staff and four years as Director of the Veterans History Program." 
Lloyd recently retired from the Library of Congress. A widow, she shares her Old Town home with Otis, her Boston Terrier. The athletic aviator was also inducted into the Wakefield High School Athletic Hall of Fame, which was accomplished pre-Title IX by playing on the boys tennis team.
"Veterans Day is a day to celebrate all veterans that have selflessly served this country," Lloyd said. "I think because of the Gulf War, people outside the military are now recognizing the sacrifices that veterans have made on their behalf."
Willie Bailey, U.S. Army, War on Terror
Willie Bailey grew up in poverty in Del Ray, graduating from T.C. Williams in 1983 before attending Virginia Union University. When his daughter was born, he entered the military as a way to support his young family.
"I served a total of 21 years – seven active and the remainder in the reserves while pursuing my career as a firefighter," Bailey said.
Bailey, a Deputy Chief with the Fairfax County Fire and Rescue Department, served one term on City Council and was recently elected to the ACPS School Board. He does not often share details about his time in the military, "but it made me the person I am today," he said.
Bailey founded the nonprofit Firefighters and Friends to the Rescue, which provides backpacks, new winter coats and toys to underserved children and families throughout the region.  He is not shy about encouraging young people to consider the military.
"If a student, male or female, tells me they are not interested in college, I tell them to go in the military," he said. "Three hots and a cot and Uncle Sam will pay for you to get an education. I know the difference it made in my life."
Bailey never misses an opportunity to let other veterans know how much their service is appreciated.
"When I see and talk to an active-duty service member or veteran, I always thank them for their service," he said. "Our military are on duty 24/7. It is because of them that we are able to live in this free and democratic country. We get so caught up in politics that we forget there are folks serving all over the world to allow us to go on social media and say the things we say, good or bad. We sometimes forget that these troops all over the world are making sure we are able to live in this free country."