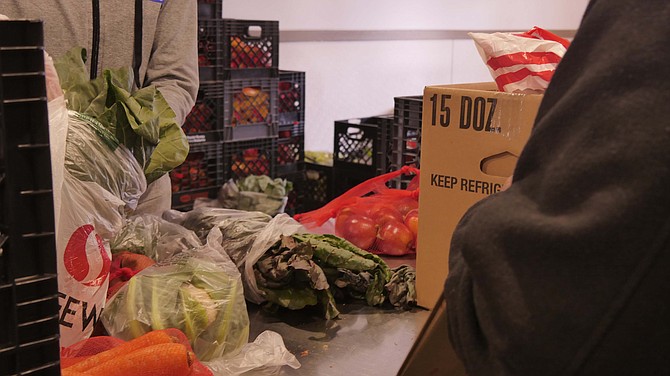 Ray Bynum remembers it was 7:09 a.m. when he started unloading the Sisco truck full of 2,600 frozen turkeys in front of the Arlington Food Assistance (AFAC) building on S. Nelson Street. The turkeys had been delivered on Friday morning, Nov. 12 and were waiting in a refrigerated truck for the AFAC Thanksgiving turkey distribution on Nov. 15.
The distribution had been scheduled to begin at 9:30 a.m. but people started lining up at 7 a.m. The line extended down the block — wheelchair clients, families with small children and everyone with a shopping bag, even a suitcase. 
Jeremiah Huston, associate director of communications, says, "I don't know why but people always do that, even for the regular weekly food distribution. It's as if they are afraid we will run out." Huston says the line will slow to a trickle, and then there will be a rush at the end.
Jolie Smith, AFAC director of development, says they had to order the turkeys and the chicken roasters for the residents at the senior living facilities in the middle of the summer. She says, "They are more expensive then but we had to be sure we could get enough for all of the AFAC clients." She says for the last couple of years Sisco has made things a lot easier for them by donating a refrigerated truck and preloading it with the turkeys, which has eliminated a lot of the logistics.
Clients head inside the building and walk through the line where they can choose their regular milk, eggs, canned goods, bread. 
"But," Smith says, "this week we have 70 cases of fresh green beans as well as fresh sweet potatoes donated by South Block, who also sends us apples during the year for the kids."
Randy Randall, who says he has been volunteering with AFAC for 13 years, moves a dolly stacked high with fresh kale, radishes, fennel and zucchini through the building. The fresh veggies have been gleaned from local farmers markets. 
The last stop for the clients is the canopied turkey table outside which is manned by Marga Robillard.  Cases of turkeys are stacked behind her against the wall waiting to be taken home. Each client receives a 12-pound turkey and a case of Fever Tree ginger beer. The word "beer" alarms a number of clients even though Robillard explains it is non-alcoholic. 
AFAC volunteers stand ready to help clients carry the turkeys down the street to their parked cars. Parking is especially difficult today, and the load is heavy this week, especially for clients who have struggled just to get there. 
AFAC is an incorporated 501(c)(3) non-profit organization dedicated to providing supplemental groceries to Arlington residents who cannot afford to purchase enough food to meet their basic needs. AFAC distributes over 80,000 pounds of food to families in need each week. 
Charles Meng, AFAC chief executive officer, says during COVID the need for supplemental groceries increased with 2,334 families requesting assistance, many for the first time due to economic hardship. AFAC operates under the Choice Model, which allows families to select the foods they are more likely to eat and know how to prepare. AFAC currently operates 17 distribution sites at various locations around Arlington. For more information: www.afac.org