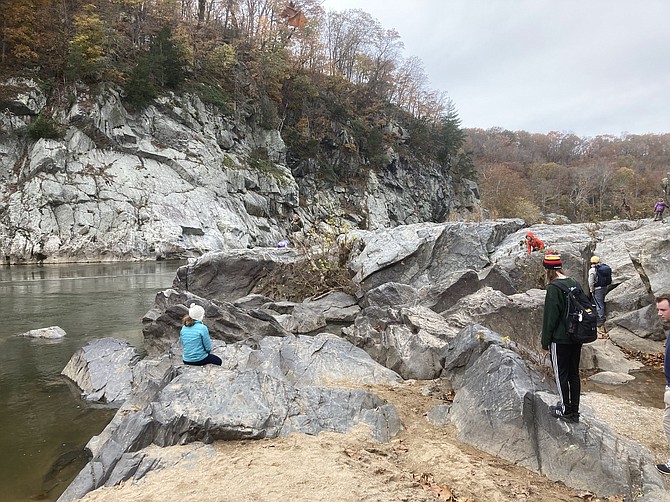 On Sunday, hikers, kayakers, paddle boarders and bicyclists were out on the cool but pleasant day to enjoy recreation and exercise along the Potomac River and the Billy Goat Trail in Potomac.
Serious kayakers navigate these waters, but swimming is prohibited; it's an extremely dangerous section of the river. So when a 911 call came in to Fairfax County indicating that a boater was in distress, Cabin John Park Volunteer Fire Department launched their swift water rescue boats to check it out. After investigating, the rescue crews determined that the calls were initiated by bystanders spotting a paddle boarder in the water, but everyone was safe and accounted for. Pete Piringer, spokesperson for Montgomery County Fire and Rescue, called it a "good intent" call.
But it wasn't the only emergency call from along the river for Cabin John to respond to on Sunday. A hiker on Billy Goat Trail A experienced a medical emergency on the trail, and the swift water crews responded again. Rescue from the Billy Goat Trail is often accomplished by transferring the patient to  boats from the trail and getting them to EMS vehicles. The one adult patient with non-life-threatening condition was moved to EMS staging for evaluation, Piringer tweeted.
Another person was injured in a fall off a bicycle further up the C&O Canal and towpath. Cabin John responded in aid of Frederick County in that call.
Tweets verbatim:
mcfrsPIO (@Pete Piringer) Tweeted: Potomac River, IAO Rocky Island, boater in distress, person on water, good intent,  via 911 call to FFxCo, several recreational boaters in area indicated a paddle boarder was in water & all are accounted for & ok see @mcfrs SW710, SW710B, SW730, SW730B & others responded
mcfrsPIO (@Pete Piringer) Tweeted: Billy Goat Trail A, @COcanalNPS, medical emergency on trail, @mcfrs SW710, SW710B, A733, ALS710, UTV711, SW730, SW730B in area & responded @MCFRS_EMIHS (UTV711) w/ 1 adult patient, NLT & moving patient to EMS staging for evaluation 
mcfrsPIO (@Pete Piringer) Tweeted: 
Mutual Aid FredCo
 @COcanalNPS
 MM43 (Adamstown) injured person from fall, off bike,
 @mcfrs
 UTV714 assisting