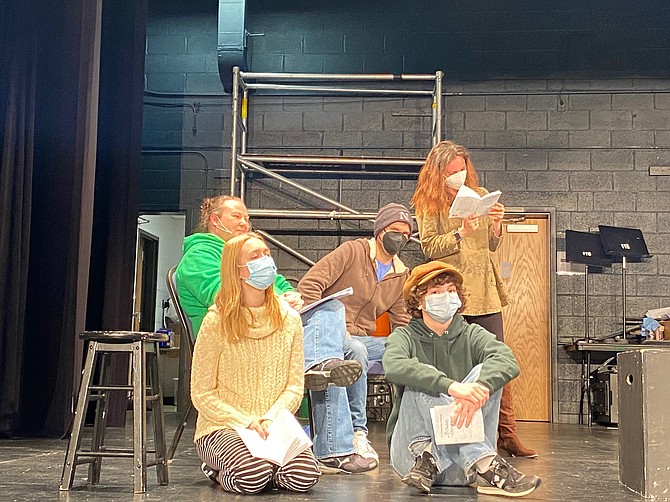 A modern Yuletide classic to enchant those young and old is ''A Child's Christmas in Wales" from Dylan Thomas. It's a tale of a small child experiencing magical adventures that became lifetime memories. As Thomas described the setting, "like a cold and headlong moon bundling down the sky."Based upon Dylan's original work, as adapted by Jeremy Brooks and Adrian Mitchell, "'A Child's Christmas in Wales' brings Dylan's poetic sensibility to the simple story of a family at Christmas time," noted Roberts. The adaptation also has music and a variety of carols and other songs to further conjure the magic of the holiday along with beautiful language. 
"This play may be called 'A Child's Christmas in Wales' but it is for theatre goers of any age who enjoy some kind of family celebration at the end of the year; who live or come from anywhere in the world,"  said Jessie Roberts, director of the live theater adaptation from Northern Virginia's Ibiala International. 
"We are excited to feature The Vault theater, with a set of performances for the holidays of 'A Child's Christmas in Wales' — one of the first performances in this amazing space," said Jonathan Griffith, managing director of Capital One Center. "The Vault, a versatile black-box theater, is one of the premier performance venues within Capital One Hall that is a part of the unique public-private partnership with Fairfax County."   
"It is exciting to be one of the first full theatre productions to be mounted in this incredible new space. The intimacy of The Vault is perfect for a warm, family show like 'A Child's Christmas in Wales,'" added Roberts. The production of "A Child's Christmas in Wales" is "a community theatre production with cast drawn from dedicated, talented people in the community."
For Linda Sullivan, president/CEO of ArtsFairfax, "Capital One Hall is beginning to showcase some of Fairfax County's amazing arts organizations. The Vault is the only black box theatre in Tysons … and provides local arts groups with the flexibility they need when creating an engaging audience experience."  The Vault has capacity for about 225 patrons.
"A Child's Christmas in Wales," aims to captivate; a play about ''a never to be forgotten day at the end of the unremembered year … I can never remember whether it snowed for six days and six nights when I was twelve or twelve days and twelve nights when I was six." as Thomas wrote.
Where and When: Ibiala International presents "A Child's Christmas in Wales" at The Vault, Capital One Hall, 7750 Capital One Tower Rd, Tysons, Va. 22102. Performances:  Saturday, Dec 11 at 10 a.m., 2 p.m. & 7:30 p.m. and Sunday, Dec. 12 at 10 a.m. & 2 p.m. Tickets: $20. For information/tickets go to www.capitalonehall.com/events. 
Note
: 
Capital One Hall event attendees over the age of 12 must provide proof of full vaccination, the last dose of which was administered at least 14 days prior to entering Capital One Hall, or an approved COVID-19 negative test taken no more than 48 hours before entering Capital One Hall. Proof of vaccination can be physical vaccine card or a photo of your card. The name on the card or negative test must match the name on your photo ID. All attendees, including those under the age of 12, must wear face masks regardless of vaccination status while inside Capital One Hall except when actively eating or drinking. Entry requirements subject to change.