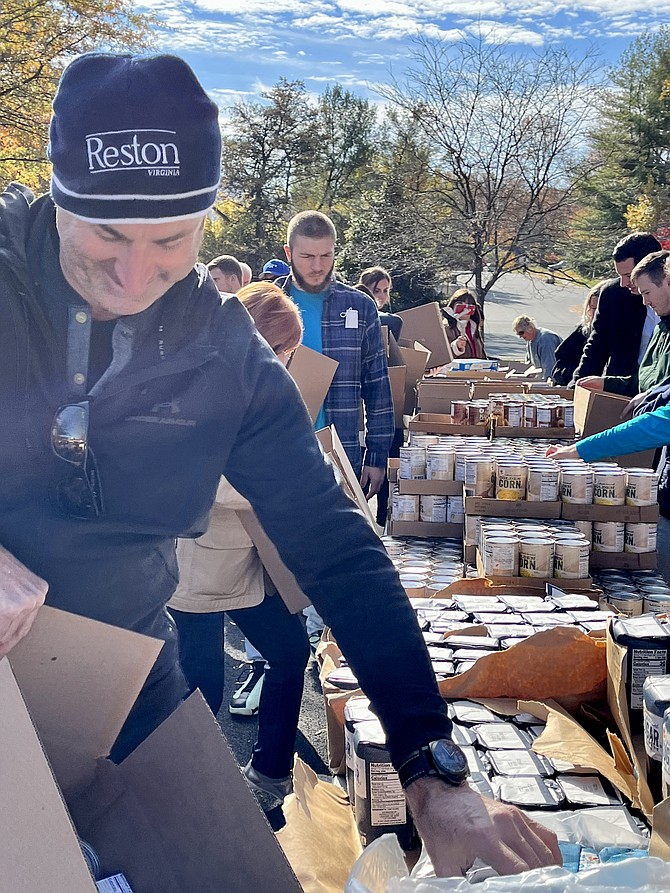 Cornerstones successfully responded to the local surge in need and helped neighborhood families through two of its seasonal efforts, the Thanksgiving Food and Gifts for Kids drives. Due partly to Cornerstones' strong network of fiscal, in-kind, and service partners and volunteers, the task proved far-reaching, reverberating throughout the community. 
Over 200 volunteers stepped forward to help the nonprofit human services organization. Their efforts enabled Cornerstones to distribute 1,500 nonperishable food and fresh produce boxes, valued at a reported $50 a box totaling $75,000, plus a $25 gift card to a local grocery store for neighbors in Northern Virginia struggling to make ends meet, according to a spokesperson for the nonprofit.
In addition, gift cards specifically chosen to fulfill a child's wish would also be provided. For the entire week leading up to Thanksgiving, Cornerstones staged a warehouse-style operation in the parking lot and community room of Saint John Neumann Catholic Church in Reston for the massive intake of food items and gift cards. 
"It is very important to have food available, especially during the holidays, for all those families in need. We have seen an increase in prices, and families are having a tough time getting the food to their tables," said Cornerstones' Program Manager Minnie Orozco. She added that it was equally critical for families to have fresh fruits and vegetables. According to Orozco, Cornerstones was to receive produce donations from FRESHFARM on Wednesday and delivery from Capital Produce on Friday. 
FRESHFARM is a nonprofit organization that raises funds from shoppers and community members to purchase fresh fruits and vegetables from local farmers at the market, giving them to their gleaning partners. FRESHFARM's website showed their Nov. 17 Reston FRESH food drive schedule gleaned by Food Rescue US. This effort supported Cornerstones' philanthropic efforts and, through FRESH's purchase, supported local farmers who earn additional revenue as they head into the winter months. 
The Thanksgiving Food Drive engaged individuals, corporate teams, and members of various organizations from the community, to help with Cornerstones' food and gift card sorting, packing, loading, and distribution. On Tuesday, Nov. 16, Scott Plank, CEO of War Horse Cities, one of Reston National Golf Course owners, and Charles Kapur, president and CEO of the Greater Reston Chamber of Commerce, were on hand to help.
"Today, we are pulling a tremendous amount of donations from so many different people into a box that makes for a beautiful meal for [clients] of Cornerstones," Plank said.
Kapur added, "We're proud of the connection we have in serving the community, and any opportunity we have in partnering with Cornerstones, we're going to take advantage of it."
Other groups volunteering that day included Collabera, Inc., Weller Development Company [developer/owner of Reston National Golf Course], and Verity Commercial, LLC, according to Saira Sufi, volunteer and community engagement manager at Cornerstones. 
Tuesday's volunteers were tasked with folding the donated flat boxes used for the food drive delivery and filling them with items assembly-line style. The gift cards and produce items would be added later.
On Saturday morning, Nov. 20, after a marathon week of sorting and packing, Cornerstones distributed the 1,500 food boxes and gift cards as part of their Thanksgiving and Gifts for Kids drives, and also opportunities for families to share in the joy of the holidays.