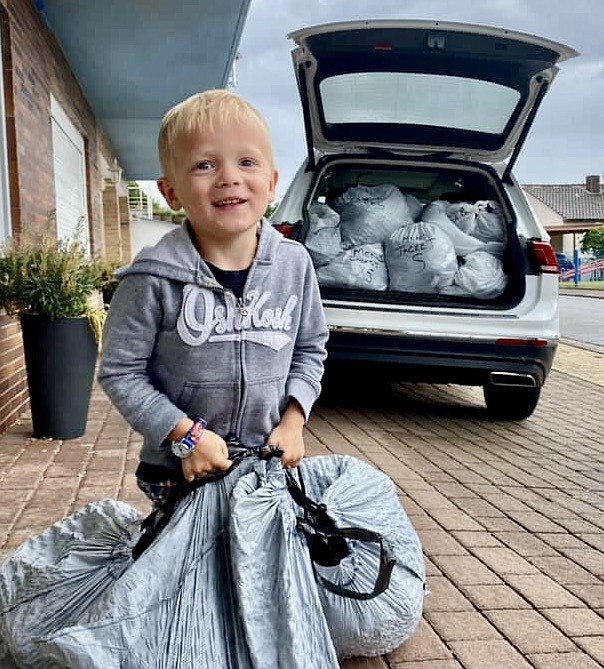 This is the story of one family's successful evacuation from Afghanistan to escape the brutal policies and actions of the Taliban.  It's also the story of how groups of northern Virginia residents made the evacuation possible in the face of shrinking hope and rising danger, and how they helped one family start their journey to freedom and safety. 
There are many Afghan families whose stories are similar to this family's and many neighbors who felt the call to help. Situated so close to the global seat of power that is Washington D.C., many residents in our area are among those involved in high profile events. What makes this story different is that local people took on the role that the government could not, making the ultimate difference in the lives of many who aided the U.S. in time of war.
MEET THE FOX-GREENS, both career Army veterans now residing in Alexandria. Ron Green served in Afghanistan in the 528th Special Operation Support Battalion from 2000-2003; his wife served in Kandahar in 2005-06. The Northern Virginia couple, together with others, organized a core group of veterans after a plea from friend and fellow veteran Thomas Koppen. Koppen's Afghan translator, Javid, who served in support of U.S. troops through 2017, had called seeking assistance. Javid's long period of application for a Special Immigrant Visa, begun in 2016, had not been finalized. Dangers and pressures were building in the final days of U.S. troop withdrawal. Javid was desperately worried for his safety and his family's. 
The Special Immigrant Visa program is available to people who worked with the U.S. Armed Forces or under Chief of Mission authority as a translator or interpreter in Iraq or Afghanistan.
When Green's friends recognized there was no existing system within the State Department or Department of Defense that could coordinate with these allied families like Javid's, the veterans organized. They took on the task of getting the interpreter and his family out of danger. In what Fox described as a "spider web" of contacts, including those from her service in Kandahar Province and Kuwait, several groups connected to help each other in their mission, including some still on active duty in Afghanistan. 
Communications in Afghanistan required encryption to avoid leading the Taliban to the hidden families. 
Over several harrowing days and nights, the family, six girls under the age of ten, six women, and six men, reached the airport and were safely airlifted to Germany. Their escape included narrowly missing the suicide bombing at Kabul International Airport.
Javid's was not the only family aided by the group. 
"Our efforts to date have successfully rescued 12 translators and their families. This is great news, but the work continues," according to the group's Go Fund Me. "There are many others our group is working on getting out of Afghanistan including interpreters who directly supported Special Operations, Medical Professionals, and workers who supported an Afghan Orphanage all of whom are in fear for their lives for working with US Forces. Many more still in harm's way, trying to get out of Afghanistan."
Read more at https://gofund.me/b5cf1eb0
MEANWHILE IN GERMANY,at U.S. Air Force, Ramstein Air Base, another northern Virginia couple, Colby and Linsey Wise were also heeding the call to help. The Wise family, formerly of Falls Church, had been in Germany for four years with Colby's company, providing Defense Department support.  Ramstein Air Base was designated to receive evacuees airlifted from Kabul as a point of departure to the U.S. and other countries. 
The Ramstein Air Base newsletter told of a growing effort, "What started as a clothing and shoe drive turned into a large donation process to sustain the evacuee population from Afghanistan temporarily housed on Ramstein Air Base, Germany, during Operation Allies Welcome. … The team received donations valued at $1.3 million from local and international communities during the evacuation operations. The donation process began on the evening of Aug. 19, 2021, shortly after [the first] evacuees arrived at Ramstein. It dawned on us really quickly that we needed more space. Many of the donated items were not only from the Kaiserslautern Military Community, but they were from the United States, Belgium, France and other countries around the world. Volunteers collected more than 110 tons of donations."
Linsey Wise described the donation center effort. "The first sort was general sorting (e.g., men's clothes, kids shoes, baby food), the second sort was more specific (e.g., boys clothes size 2T, baby formula, women's small pants). Once sorted, the donations went to a hardened shelter area on Ramstein AB where other volunteers pulled together clothing kits. These kits contained underwear, socks, pants, shirts, scarves, hats, coats, etc. and were handed out to evacuees once they got some essentials from the Red Cross. We tried to ensure that folks had a clean set of warm clothes right away since many people came with only the clothes on their backs. "
Linsey added, "Never have I felt the need to give back more than during 'Operation Allies Welcome.' Colby and I literally put our lives on pause [and hired babysitters] so we could volunteer, purchase essential items, and make purchases on behalf of friends, family, and coworkers back stateside. It was a very humbling and emotional experience, and I feel so lucky to have been a part of this effort and meet some amazing people along the way." 
Leaving  Ramstein Air Base, Javid and his family were flown to Dulles International Airport, then transported  to temporary housing at Quantico Marine Base. After many weeks, they are still at Quantico as they await completion of final processing for the assistance of the International Organization for Migration (IOM), part of the United Nations System, the leading inter-governmental organization providing support for immigrants across the globe. IOM will assist the family in getting to Seattle, where they plan to settle near family members who have been in the U.S. for some time. 
Meanwhile In Virginia, the Fox-Green group has continued to organize donations. Multiple visits to the evacuee family at Quantico included delivery of four truckloads of essentials from donors across Northern Virginia. Fox said that beyond clothing and shoes, they brought books to help entertain the girls and assist them in learning English. She commented that the family will once again be able to take only a limited amount of belongings  with them on the final part of their journey as they fly to Seattle. Fox was complimentary of the work that charities such as Lutheran Social Services are doing to support refugees with transportation, housing, job assistance, mentoring, and other essential needs beyond what the small local group can manage. The Lutheran's national capital group, with the help of 5,300 volunteers, has assisted 926 Afghan allies to date.
Give to Help Refugees
At a time of the year when many more area citizens will open their hearts to help others in need, these local charities are offering assistance to Afghan evacuees who must start again from nothing:
    Lutheran Services, National Capital Area, www.lssnca.org
    Afghan Youth Relief Foundation, Chantilly, www.aryl.org
    Catholic Charities, Arlington, www.ccda.net
    Homes Not Borders, Washington D.C., www.homesnotborders.org
Local veteran sponsored fund, 
https://gofund.me/b5cf1eb0