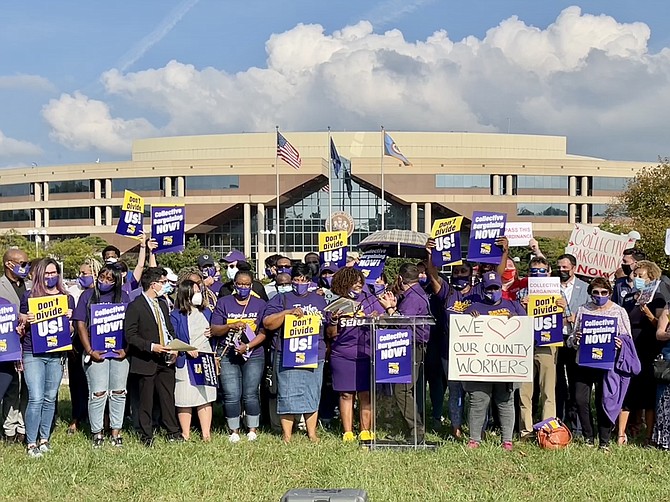 Following testimony with 64 speakers at the Oct. 5 Public Hearing on a collective bargaining ordinance draft for the members of county employee groups, the Fairfax County Board of Supervisors deferred the decision on the matter. In a letter to the Fairfax County Community late that evening, Jeff McKay, chairman of the Board, wrote that members did so to consider "the significant and thorough testimony provided at the meeting." 
The new law reversed a 1977 Supreme Court of Virginia ruling. According to Code § 40.1-57.2, Collective Bargaining, effective May 1. 2021, counties, cities, and towns can but are not mandated to adopt ordinances recognizing labor unions and enter into collective bargaining agreements with them. 
While verbiage in code read: "County, city, or town" includes any local school board, and "public officers or employees" includes employees of a local school board," the Fairfax County collective bargaining ordinance under consideration did not include Fairfax County Public School employees. 
"In fact, absol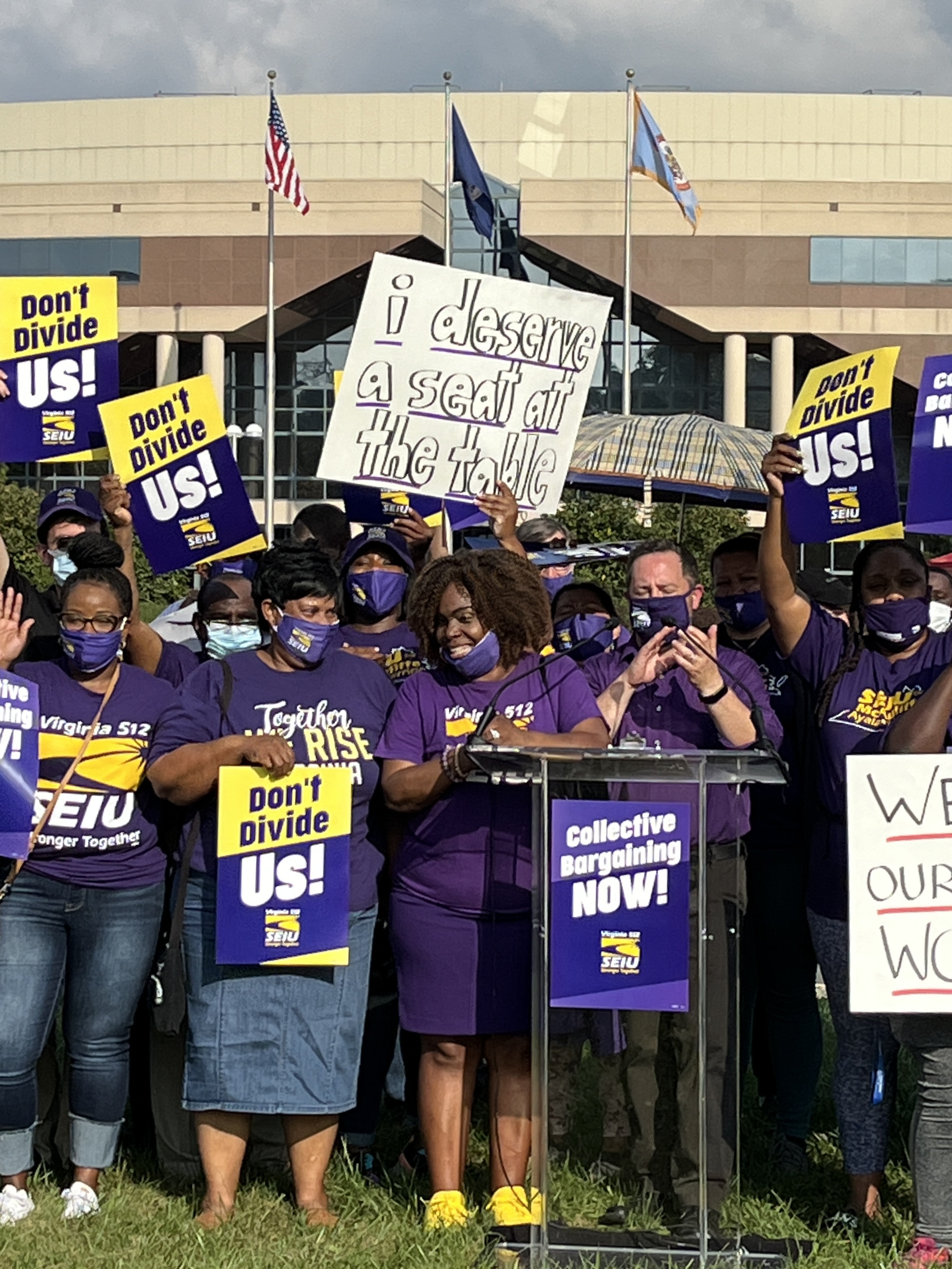 Rallying for Collective Bargaining in front of the Fairfax County Government Center.utely nothing about this proposed ordinance directly impacts FCPS in any way. If schools enter into an agreement, that is an action the FCPS School Board would take, not our Board of Supervisors," added McKay in the letter.
AN HOUR BEFORE the scheduled start of the Public Hearing on Oct. 5, hundreds of essential Fairfax County workers rallied for collective bargaining in front of the Fairfax County Government Center. Community members and partner organizations included Fairfax County Professional Firefighters & Paramedics - IAFF Local 2068, Fairfax Branch of NAACP, 32BJ SEIU, New Virginia Majority, Catholic Labor Network, Network NOVA, and NOVA Labor Council, as well as the Fairfax Education Association, Inc. (FEA), a union for employees in Fairfax County Public Schools and the Fairfax County Federation of Teachers (FCFT).
David Broder, SEIU Virginia 512 president and Fairfax County resident, spoke first at the rally. 
"We are here to pass meaningful, collective bargaining rights and to make Fairfax the best community in the Commonwealth for working families. … We know that collective bargaining raises standards for all people while closing racial and gender pay gaps."
Tilly Blanding is a union member and a retired Fairfax County employee. "We are here to have a seat at the table," she said. 
Tammie Wondong Ware, SEIU Virginia 512 Fairfax Chapter president, has worked for Fairfax County for 32 years. She thanked the community partners who attended the rally, saying that their support continued to prove that collective bargaining benefits the common good. "When workers thrive, the community thrives. After months of hard work and negotiation with the county, we have a draft ordinance." 
Ware cautioned that three changes are necessary: "One, allow bargaining over the full range of wages, benefits, and working conditions so that we improve our jobs and recruit the best and brightest of Fairfax County. Two, include G status, temporary part-time and probationary employees, to ensure they do have a seat at the negotiations table. Three, ensure that we have access to talk to our co-workers at work so that we can talk about our union and our union contracts." 
Ware said that if they don't get it right, the ordinance they had worked so hard to pass would be nothing but an empty gesture on a piece of paper.
DURING THE PUBLIC HEARING, County staff said that months of work went into the draft collective bargaining ordinance. The Board created a collective bargaining workgroup, led by Supervisors Penelope Gross and James Walkinshaw. The workgroup included employee group representatives from the Fairfax County Public Schools (FCPS) and General County Government, elected officials from FCPS, County Executive Bryan Hill, FCPS Superintendent Scott Brabrand, and other senior staff members.
The workgroup met twice in February 2021 and once in April 2021. They sought to amend Chapter 3 of the Code of the County of Fairfax, Virginia, County Employees, by adding Article 10, Collective Bargaining, Sections 3-10-1 through 3-10-18. Staff detailed two town halls with employees, a combined attendance of 1,000 employees, published four packets of questions and answers from the Board of Supervisors, and created many frequently asked questions that are on the public website.
Speaker Patrick Booth said he was born in Fairfax County and lived here with his family. "I was not bussed in from out of state or from Richmond this morning, I have the honor of representing working staff for Fairfax County as president of the only internal, not-for-profit union, the Fairfax Workers Coalition," Booth said. He supported collective bargaining, but he said it must include equality for all staff, especially lower staff members. Their pay grade should not dictate the deciding factor of individuals' rights and voices. "Putting these same employees in the same bargaining unit with senior staff is absurd," Booth said.
Sean Corcoran, president of the Fairfax Coalition of Police, said that power dynamics of higher-ranking officers could come into play during collective bargaining. He asked how long lower-ranking officers could push back on contract issues against a person that could potentially fire them. 
Rafael Gil-Figueroa said the county has no more time to waste. He encouraged the Board to adopt the changes recommended by the unions and pass meaningful collective bargaining rights for county employees. "We must let employees bargain over working conditions, health, safety, staffing, scheduling, and discipline. We must let employees communicate, talk and meet their union freely in the workplace without fear of retaliation. We cannot divide the workers. All county employees, including temporary workers, should have the right to bargain as a combined unit," he said.
According to the staff report, the FY 2022 Adopted Budget Plan includes $1.0 million and 6.0 FTE positions to support collective bargaining for public employees. This consists of adding $0.5 million and 5.0 FTE positions in the Department of Human Resources and $0.1 million and 1.0 FTE position in the Office of the County Attorney. In addition, $0.3 million in Fringe Benefits funding is included in Agency 89, Employee Benefits. These positions are necessary to address the new workload associated with labor relations, including legal support, policy administration, contract compliance, and system administration.