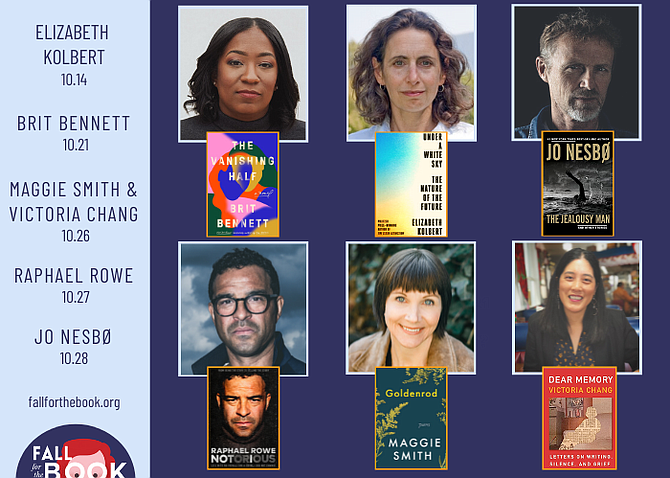 From the local to the global, from bold-face headliners to authors just emerging, the 
2021 Fall for the Book Festival will celebrate its 23rd season; it is Northern Virginia's oldest and largest festival of literature and the arts. 
The pandemic has not stopped the Festival. "Fall for the Book did more than pivot last year. It took flight from the foul line and scored a slam dunk," said Gregg Wilhelm, Vice Chair of Fall for the Book's board and the director of Creative Writing Programs at George Mason University. "The virtual formula was too successful not to have online programs as part of the festival moving forward." 
Last year's landmark virtual Festival had over 15,000 virtual viewers.  
The Festival will have national figures in virtual sessions such as Brit Bennet, author of "The Vanishing Half;" Norwegian master of suspense Jo Nesbø; poets Maggie Smith and Victoria Chang; and Pulitzer Prize-winning environmental writer Elizabeth Kolbert, host of the Netflix docuseries "Inside the World's Toughest Prisons," and more.  
The 2021 Book Festival will also highlight the 4th annual New American Voices Award ceremony to be held virtually on Friday, Oct. 15. The New American Voices Award is sponsored by the Institute for Immigration Research (IIR). "The IIR is thrilled to see this year's finalists," said director Jim Witte. "Their work provides examples of how immigrants contribute to the nation's culture, while they provide new perspectives on what it means to be American."   
Novelist Patricia Engel, author of "Infinite Country," was recently named the New American Voice Award winner. Engel's novel is the story of one Colombian family's love; of finding their way back to each other across countries and pasts that both propel them forward and haunt them.
Engle was born to Colombian parents, and herself is a dual citizen. "As the daughter of immigrants, my writing is an offering to the community of millions around the world who make our home in diaspora, and who have our citizenry challenged at every turn."
"To have my work recognized by the Institute for Immigration Research, which prioritized the complexity of immigrant, and among such extraordinary finalists moves me deeply. I'm extremely grateful and honored to receive the New American Voices Award for "Infinite Country." 
Where and When:  Oct. 14-31, 2021  Fall for the Book Festival featuring live and recorded events will be held virtually and in-person at George Mason's Fairfax campus. 4400 University Drive, Fairfax, VA. Fall for the Book events and sessions are free and open to the public. For schedule with details visit 
www.fallforthebook.org
.  Sponsors include Fairfax County Public Library, George Mason University, Fairfax Library Foundation, and City of Fairfax among others.