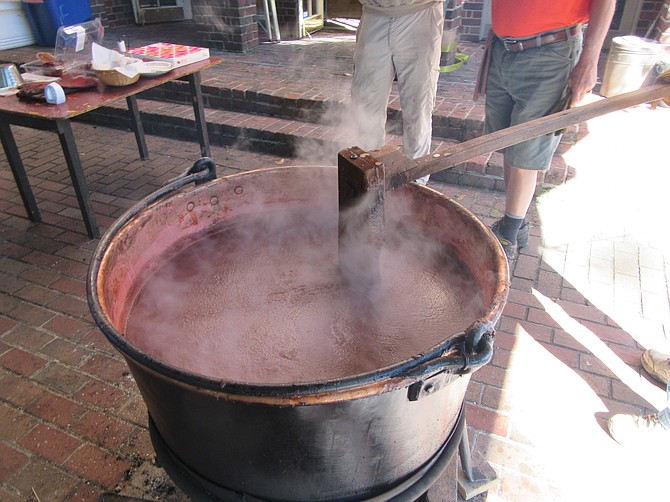 Out behind the Pohick Church Parish House on Saturday and Sunday, they stirred and stirred and stirred some more. Brenna Berger clocked two-and-a-half miles on her step tracker while slowly moving around a 40-gallon copper kettle in her five, 15-minute, stirring shifts. "You have to put your hip into it," she explained, watching four other volunteers stir mushy, burbly, russet-colored apple butter in the making with long wooden paddles as they circled around the kettles supported by three-legged, metal stands.
The group of 15 were making 800 pints of apple butter the old-timey way to sell at the church's Oct. 2 country fair, an annual event first held in 1945. Production has swelled from three bushels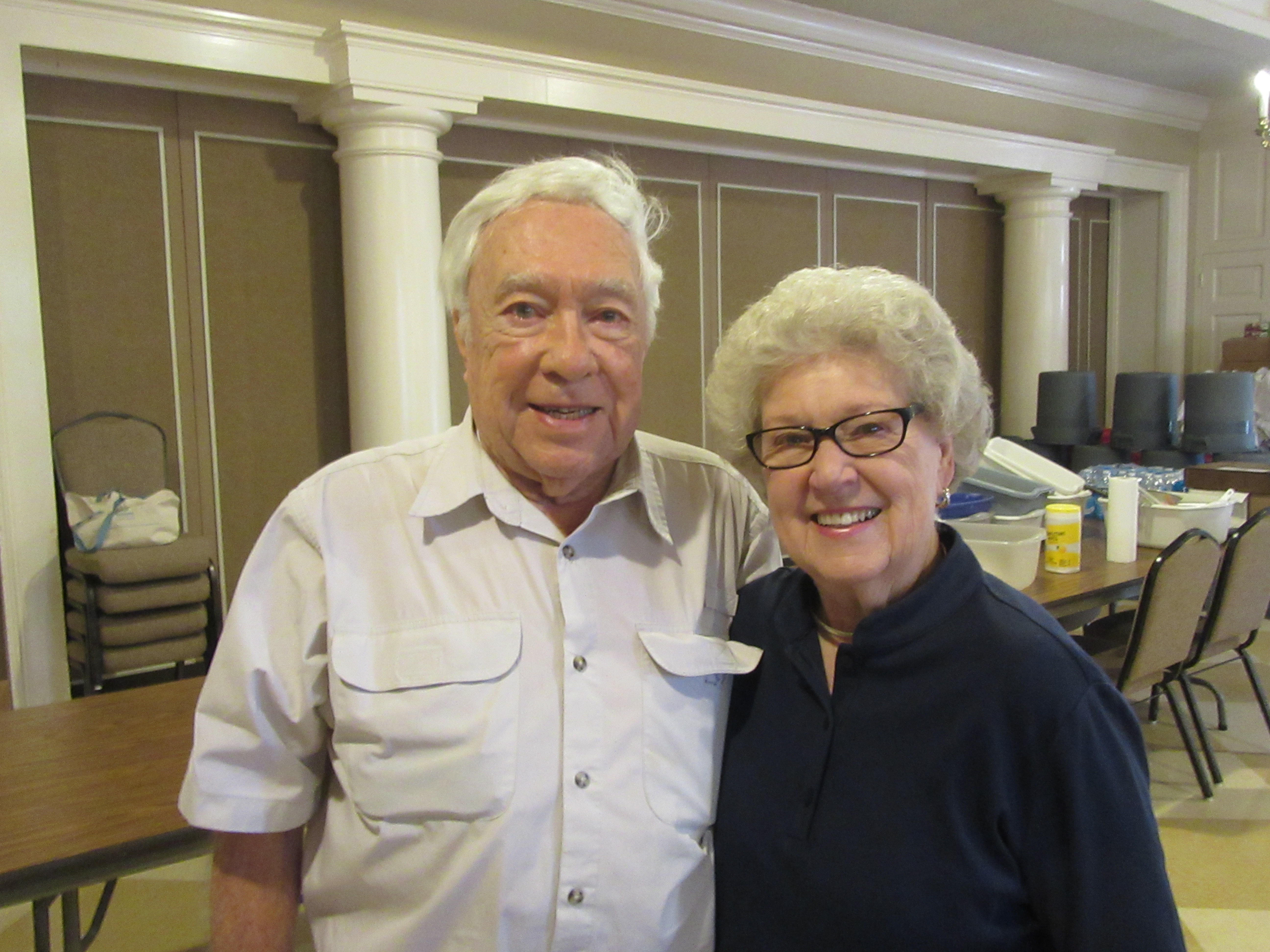 Jim and Cathy Foster, of Mason Neck, the King and Queen of Apple Butter. of apples and one 20-gallon kettle to 40 bushels and four 40-gallon kettles today. One year they produced 1,200 pints.
The slurpy, thick mixtures gurgled over steadily burning oak fires surrounded by brick "chimneys" that concentrated the heat. Smoke wafted up from the kettles, its oaky aroma permeating the air, hair and clothes, as the human pageantry ensued around the kettles. 
THE FIRST THING the novice should know about apple butter is that no butter is involved. Apple butter is a saucy concoction of apples cooked long and slow in cider or water until the apples' sugar caramelizes, turning it into a thick mush with a brownish-red hue. At some point, chefs flavor it with sugar and spices like cinnamon, cloves and nutmeg. True apple butter aficionados cook it outdoors in copper kettles over a fire, never on an indoor stove, crockpot or other new-fangled device. Copper conducts heat better than cast iron or steel, explained John Pasour, one of the Pohick Apple Butter Committee's co-chairs.
The process began on Wednesday, Sept. 22, when volunteers drove to Hollabaugh Brothers fruit farm in Biglerville, Pennsylvania, north of Gettysburg and hauled back 40 bushels of Jonagold apples. On Friday, they sterilized 800 glass Mason jars and set up the tent and supplies. On Saturday, they cut the apples in half, pulled out the stems and put them through a slicer machine. From 7:45 a.m. to 5 p.m., they cooked them into applesauce and stirred and stirred and stirred. On Sunday, at 6 a.m., they resumed cooking and stirring, and stirring and stirring some more.
To determine when it's done, there's no app, computer password, cookbook tip or kitchen timer trick. Apple butter veterans conduct the stainless steel test. They spoon out a glob of apple butter onto a stainless steel surface and see if water drains out. If it does, the apple butter is not thick enough.  Traditionalists say that it has to stop "weeping," meaning that water should not separate from the pulp.  
Around 3 p.m., canning began. Twenty-year veteran Kathy Kirkland, who calls herself "the Canning Queen," has chaired the Canning Committee for two years. She sets up a horseshoe-shaped operation with a human conveyor-belt system of 10 people on each side who pour the precious product into jars, put on rings and lids and tighten them.  
"The canning process is a sight to behold," wrote Vern Eppley and Randy Brooks, former co-chairs. Why is Kirkland such an apple butter devotee?  "It's fun and good fellowship. It's a nice way to start the fall, to regroup," she commented.
Jim and Kathy Foster, now in their 66th year of marriage, helped start the tradition in 1976 and are now the church's King and Queen of Apple Butter.  
"I'm trying to retire," Jim jokingly insisted. Back then, he found a kettle in a Pennsylvania farm shed and has since made the paddles. The hickory handle is about 50 inches long so the person stirring is not too close to the kettle's fire. The poplar paddle part must be as long as the kettle is deep and has holes to make sure the pulp is comprehensively mixed. 
IN THE MIDDLE AGES, monasteries produced apple butter as a way to conserve part of the fruit production, reports Wikipedia. In the U.S. South, it also became a common way to avoid wasting the fall apple harvest. It is often a family event and opinions vary on the best apple to use.
Apple butter making is a Pohick Church fundraiser, but much more. "We are working together for a common cause," said co-chair Pasour. Stewart Remaly, the other co-chair concurred:  "It's a fellowship event after a long summer. After covid, we need  it."
Pohick Church, at 9301 Richmond Highway, Lorton, was the first permanent church in the Virginia colony north of the Occoquan River, established sometime before 1724. In 1732, it became the parish church of the newly-formed Truro Parish. The building was completed by 1774.  George Washington, George Mason and George William Fairfax were vestrymen and members of the building committee.
The Pohick Church country fair is on Oct. 2. Visit www.pohick.org.
How to Eat Apple Butter
People smear apple butter on toast, cornbread, muffins or rolls, dabble it on ice cream or eat it for dessert. Some add it to peanut butter sandwiches.  Others bake apple butter cakes. Graves Mountain Lodge chefs in Madison County, Virginia, make apple butter donuts. True devotees slurp it.