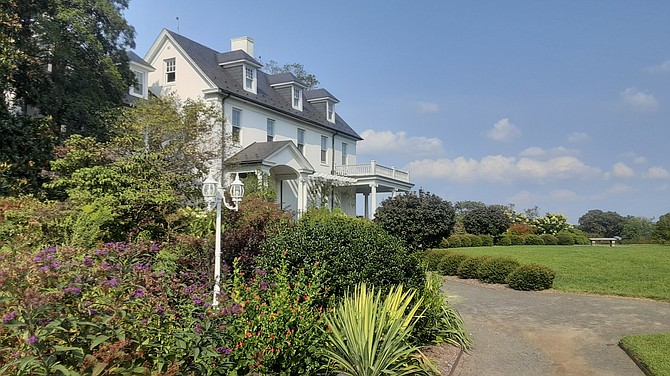 The possible future of River Farm has gone back and forth for the last 18 months. The latest news, the resignation at the American Horticultural Society of half of the members of the board, sheds a different light on the situation. Where before the AHS announced it needed to sell the property for the money, now it seems the community of Mount Vernon will still have this riverside treasure for future weddings and breathtaking views. The property will not face development as feared.
In a statement put out by the five remaining members - Skipp Calvert, Tim Conlon, Laura Dowling, Holly Shimizu and Marcia Zech - the property is not being sold. Referring to themselves as "the stewards of River Farm," they say they "will ensure the preservation of this priceless property in perpetuity." 
AHS is rebuilding and moving forward, "as we rededicate ourselves to the preservation and stewardship of River Farm as a vital part of our national mission." Selling the property does not appear to be part of that.
Among the names of those former board members who resigned were AHS Board Chair Terry Hayes, interim director J. Robert Brackman, and three other board members. 
The Save River Farm' committee did release their point of view earlier, and this grassroots organization was upbeat. 
"Today's news of the resignation of the American Horticultural Society's Executive Director, Board Chair, and several additional board members is an important step towards our collective goal of protecting River Farm for all time. Over the past few months, the divisions that existed on AHS' board had prevented them from moving forward as an organization, and hopefully that changes now. We are excited to work together with the new leadership of AHS to support them and to ensure that River Farm remains an incredible community asset that honors the cultural, historical, and natural legacy it represents," said the statement from Alan Rowsome, Save River Farm committee chair and NVCT executive director. 
A few days before, the 10-member board of directors had voted to decline offers made by the Northern Virginia Conservation Trust, which included Nova Parks, to purchase or co-own the 27-acre River Farm property. 
They also said they were not considering an alternative offer by a possible developer to consolidate nearby properties to build a enormous resort and conference center, which stoked the flames over possible development.
River Farm was previously listed by the Goodhart Group, in Old Town, Alexandria, but as of Tuesday, it was not found on their website. 
"AHS has decided they are not selling," said Sue Goodhart.