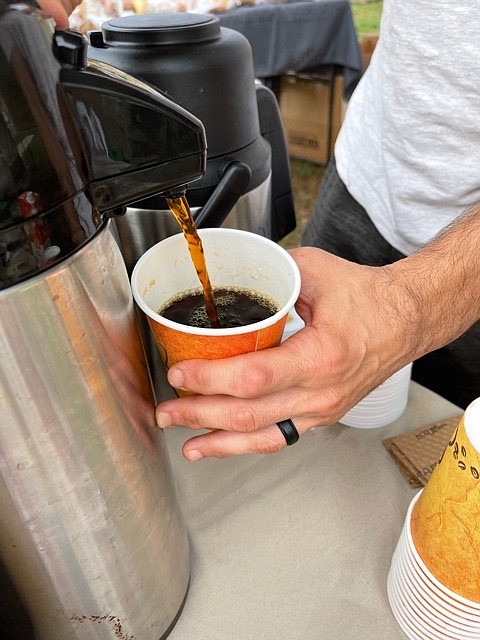 It all started over eight years ago with the smell of coffee beans roasting in a friend's skillet. Leo Maggio says, "It filled the room up with aroma and made me wake right up and get going." Gradually Leo began experimenting with his own skillet over the stove. 
"In the beginning it was not very good. Like one side was green or yellow."  But he decided he wanted to take roasting more seriously instead of just buying. "That's when I started nerding out with the skillet."
Leo and his wife and business partner, Brittani, say they tried different kinds of beans to find the right ones. And Brittani adds, making a face, "in the beginning some could have been better. But I was always behind him." She explains they would test the beans with small groups of friends — "not just us because we know what we would say."
They found they love Ethiopian (the customer favorite at the Arlington Farmers Market), and they loved Brazilian. So they thought "why don't we put them together. It turned out to be a big hit." And during the summer the cold brew coffee was also a favorite at the Arlington market. Leo explains the cold process takes a long time, sometimes up to 17-20 hours. They grind the coffee coarser. It sits in the water for a while to get out the bitter notes. "It's about the undertones — the chocolate, the caramel-y, what each bean tastes like." 
Brittany adds, "to get the best flavor from the beans."
Now Saturdays Leo shares a space with Family of Nuts at the Arlington Farmers Market located at Dorothy Hamm Middle School. Other days Leo and Brittani try new things for business so they join forces with a mobile cigar van, a pop-up beer place or man a table at craft fairs. 
Today they are making plans to set up their newly-purchased coffee bean roaster situated in shared space at ESP Tea and Coffee on King Street in Alexandria. Brittani says they hope to begin roasting coffee for ESP within the next few days and have their grand opening event for Dream Chasers Coffee Company in a couple of weeks.
Brittani says they will be at ESP several days a week roasting their beans and serving their signature drinks. So far she has planned crème brûlée and a dark chocolate peppermint latté and, of course, the popular lavender latté. And the Affogato, which is a scoop of vanilla gelato with a shot of espresso with her own special touch, a sprinkle of caramel chips. "It's really yummy."
CHOCOLATE COVERED coffee beans are another specialty, some dipped in caramel chips that will be perfect for holiday gifts. Brittani is always thinking of new ideas. "Maybe a butterscotch latté could be good, too."
Leo says when this all began he spent a lot of time in ESP while between his sessions as a trainer, and Brittani worked there for a while when she was also a trainer. She lived along his delivery route in his job at the time and he frequently went by her house. 
"And our birthdays are one day apart," she adds. But their paths never crossed. As it turns out, they met online and were drawn together by their love of coffee. He says there were so many chances they could have met in person but instead it was online. Like it was meant to be.
It has been a long way from the day Leo and Brittani had their first date at ESP until now when they have a business roasting, marketing and selling a variety of coffee bean products and teas. 
"She is the tea and chocolate person, "Leo says. 
"And he chews on coffee beans," she points out.
IN THE BEGINNING they didn't know any of the technical aspects of beans, only that they loved coffee. So Brittany worked at ESP and Leo immersed himself in extensive research. "I decided I loved the whole idea but I needed to learn more about it." They were so passionate about the idea of coffee that somewhere along the way they thought why not start their own business. 
Leo points to their new Artisan 3-e coffee bean grinder, which cost them about $5,000. "We bought it instead of a honeymoon since we got married during COVID." He explains it doesn't do a lot of volume but you can see right inside so you can see the coffee floating. "It roasts with hot air instead of gas so there are no combustion byproducts and you get a lot more flavor out of the coffee beans." And it isn't as hard on the stomach — less harsh.
They buy fair trade coffee mostly from Ethiopia, Brazil and Mexico, Brittani says. 
"And I have a five bean espresso," Leo adds. 
Currently about 90 percent of their business is online but they expect this to change as they branch out to form partnerships with other businesses and make new connections and as life moves out of COVID.
Brittani and Leo are expecting a daughter in early January. Brittani says the daughter is a kicker and when Brittani is grinding coffee beans, her daughter is especially active as if she can smell them from inside the womb. 
"I'm so proud of how far we've come."
https://dreamchaserscoffee.com/