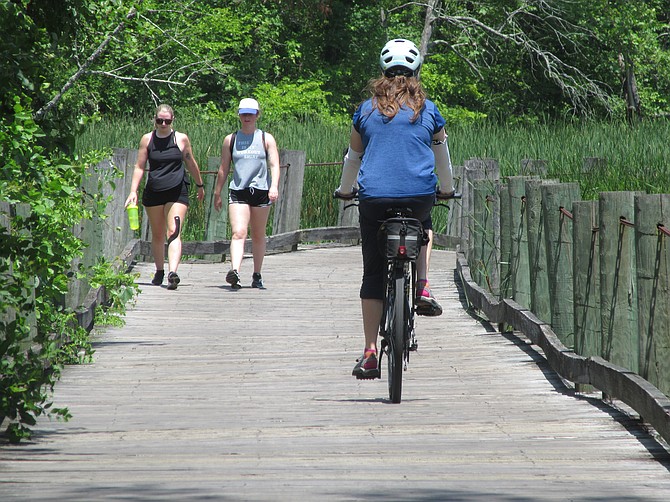 Around 17,000 vehicles whiz up and down the Mount Vernon stretch of the George Washington Memorial Parkway every day, the southern end of the 40-mile historic roadway that goes from Mount Vernon Estate to I-495 in McLean. A popular commuter route, the parkway has over 34 million non-recreational users a year. Over 1.5 million people walk, jog and bike on the Mount Vernon Trail between Mount Vernon Estate and Theodore Roosevelt Island every year. It's a super-busy thoroughfare splicing through the Washington metropolitan area. 
But it is much more. It's a national park with many natural riches.
Nature Abounds
Nature is front and center, by design. Unlike many of today's multi-laned, gray slabs of road, the parkway is a series of constantly changing "rooms" that emphasize vistas and special places.  
It is a slow-speed parkway and trail of natural, historic and recreational sites in over 7,000 acres of parkland, a ribbon of green, mostly paralleling the Potomac River shoreline. There are 25 possible stops in Virginia, Maryland and Washington, D. C.  It is listed on the National Register of Historic Places, which means it is designated by law as worthy of preservation.  
Charles Jackson has lived next to the parkway's south section for four years. "I love its beauty, especially in the fall when leaves change color. Whenever I drive south toward Mount Vernon, I always go slow so that I can enjoy the views of Dyke Marsh and the Potomac River," he said.
River Towers resident Jennifer Smith concurs: "I live near the parkway because it is one of the prettiest roads around. It's the lifeblood of the D.C. area and it provides lots of places to view birds."
What's There?
In the past 17 years, National Park Service biologist Brent Steury and others, including the Friends of Dyke Marsh, have documented over 6,500 species of plants and wildlife on the parkway.  Steury, a Mount Vernon-area resident, is the Natural Resources Program Manager for the George Washington Memorial Parkway. The fall issue of National Parks, the magazine of the National Parks Conservation Association, features Steury and his work in an article by Nicholas Brulliard.
Brulliard wrote: "So far, Steury and his collaborators have discovered dozens of species previously unknown to the world, including 37 springtails (tiny six-legged arthropods), perhaps 30 roundworms, 13 mites, eight moths, eight flies, seven beetles, one sawfly, one small crustacean and one millipede." 
New Records on the South Parkway    
In recent months, two bird sightings set records. On Aug. 28, Todd Kiraly, Steve Bielamowicz and Sherman Suter reported a buff-breasted sandpiper in the Hunting Creek mudflats, bird number 294 for the parkway.  These shorebirds with dove-like heads nest in the Arctic tundra in the summer and winter in Paraguay, Uruguay and northern Argentina, according to the Audubon Society's Master Guide to Birding.
Many observers were wowed by the first ever sightings of long-legged, pink roseate spoonbills in Dyke Marsh in July and August, bird species number 293 for the parkway.
This year, former Friends of Dyke Marsh president and Mount Vernon resident Ed Eder documented three new insect species in Dyke Marsh between June and October, one new to the preserve and two also new to the parkway.
The long-tailed skipper butterfly on September 29, species number 6552, Lepidoptera number 865 and butterfly number 81 for the parkway.  This butterfly has a long, broad, blue-green iridescent 'tail'.

The sunflower maggot fly on June 9, fly species number 282 for the parkway and a new family, Tephritidae, the peacock flies. 

A northern pearly-eye butterfly on June 21, the first documentation of this species in Dyke Marsh since Friends of Dyke Marsh started a butterfly survey in 2016. 
These discoveries are good news, but there's troubling news too.  The parkway has 50 threatened or endangered plants and 59 threatened or endangered animals. Non-native and invasive plants, like English ivy and porcelainberry are rampant, threatening many valuable native species.  
Historic Designation
In 1928, Congress authorized the construction of the Mount Vernon Memorial Parkway to honor the bicentennial of George Washington's birth.  Lt. Col. Peter Hains, who conducted the first land survey told Congress that the parkway should "have the character of a monumental structure, such as would comport with the dignity of this great nation … and the grandeur of character of the man to whom it is dedicated … It should be such a work as no American need feel ashamed of."
The U.S. Department of Agriculture started construction in 1929 and completed the first segment, the southern part, in 1932. 
Planners envisioned a roadway to preserve and enhance the Potomac River valley, keep both shorelines in public ownership and create a grand gateway to Mount Vernon Estate, the first president's plantation. 
They sought to integrate the road with the undulating terrain following natural contours and winding in gentle curves and to highlight natural areas and scenic vistas of the river.  They included forested and grassy areas, minimized signs and lights and barred billboards. They preserved open sections between the 14th Street and Memorial bridges to provide sweeping views of the city across the river.  
Builders used then-modern highway design approaches like overpasses, limited access, widely-spaced exits and entrances, tree-lined rights-of-way and bridges made of reinforced concrete faced with hand-laid, rough-cut stone for a natural look.  
Christine Lederman, who has lived next to the south parkway for 43 years, sees its many assets firsthand. "It is both tranquil and full of life with joggers, bicyclists and occasionally, a lemonade stand. Deer, foxes and birds provide a great source of natural entertainment, even just looking through our windows. Walking along the bike path and along the river is a daily treat year round."
And while the parkway does not have eye-poppers like Yellowstone's geysers, Yosemite's Half Dome or Grand Canyon's gorges, it is our national park, rich in natural and historic wonders. 
More information:
NPS:  www.nps.gov/gwmp.
The Wild Road: 
https://www.npca.org/articles/2997-the-wild-road
.