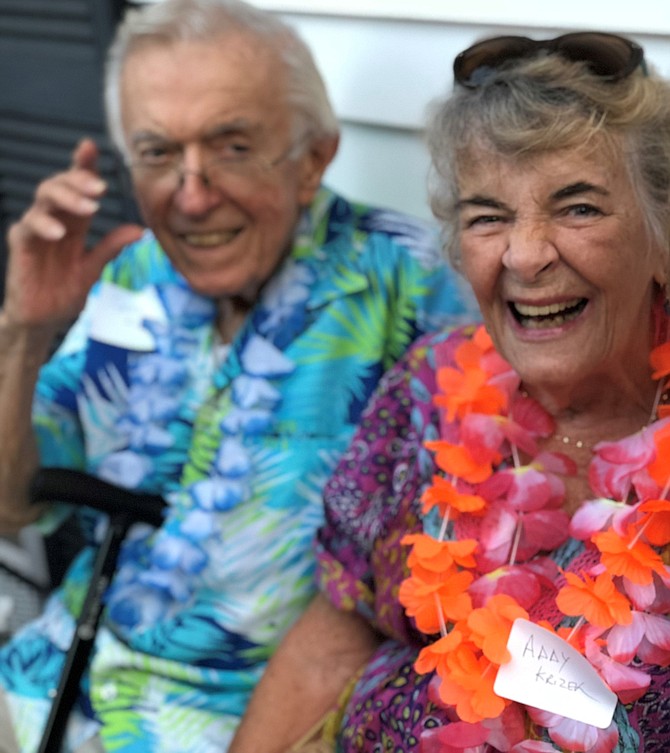 A couple hundred people, including state and county officials, packed St. Luke's Episcopal Church on Oct. 16 to celebrate the lives of Eugene (Gene) and Adeline (Addy) Krizek, humanitarian pillars of the Mount Vernon Community over the past 50 years, and parents of Del. Paul Krizek (D-44).
Following a career in the administrations of President Kennedy and President Johnson, and years in the State Department, Gene Krizek started Christian Relief Services in 1985 as an incubator for numerous charitable organizations, one of which provides homes for domestic violence victims in Fairfax County, with others working on American Indian Reservations, and in Africa. 
His sons carry on his mission at the charity, which is located on Richmond Highway near the Hyland South County Building. Today, the family of charities are together a $50 million plus international philanthropic organization that provides safe and affordable housing, organic farming, orphan care, clinics, school construction, and millions of dollars in food, medical supplies, tools, shelter, and educational programs.
Addy was one of the original staff of United Community Ministries, now United Community, the major nonprofit human services organization in this part of the county. She was director of volunteer services and later director of development working with longtime executive director Sharon Kelso. Then, from the mid-1990s through 2000, Addy served on United Community's Board of Directors. 
Addy passed on Sept. 5 and Gene followed a month to the day later at their Hollin Hills home where they lived with son Paul and  daughter-in-law Tracey. The Oct. 16 service planned for Addy was quickly expanded to include Gene.
After a touching eulogy from granddaughter Khloe and a poem written and read by granddaughter Victoria, former Mount Vernon Supervisor Gerry Hyland eulogized both saying that mourners should remember the date of the service and check back a year later to see if they have been able to make their lives as purposeful and meaningful as those of Gene and Addy.  
Sharon Kelso's daughter, Tracy Kelso, who is the current Chief Development officer of United Community (Addy's old job), read a letter at the service from her mother who now lives in Las Vegas. Kelso recalled that Addy "taught me the art of professional begging" for those in need and recalled incidents in which the two scored funds and leftover Christmas Poinsettias for Route 1 families. 
"Addy was like a hummingbird. She dove about spreading her good humor, kindness, love, and spirit like pollen everywhere she went, " Kelso wrote. "Gene was always on the lookout for a way to make things better for people with less."
Service attendees included State Senators Adam Ebbin, Scott Surovell, and Barbara Favola, and joining Paul Krizek were his colleagues Delegates Dawn Adams, Don Scott, Vivian Watts, Mark Sickles, and Kathy Tran. Also in attendance were Chair of the Fairfax County Board of Supervisors Jeff McKay, Supervisors Rodney Lusk and Dalia Palchick, and former Congressman Jim Moran. 
GENE AND ADDY married in 1955. Gene was the son of Czechoslovak immigrants living in Cleveland Ohio. Addy had immigrated in steerage aboard the Queen Mary after growing up in London during World War II and losing her father, a Royal Army Medical Corpsman, during the war. They met on Capitol Hill where Addy worked for a Representative from California and Gene worked for one from Ohio.
In the1970s, they settled in Hollin Hills and raised their three sons. Addy worked for then Mount Vernon Supervisor Warren Cikins and later with nonprofits, including United Community.
In 1995, Addy and Gene were recognized as Lord and Lady Fairfax of Mount Vernon for their outstanding volunteer service to the community. In 2019, Addy, at age 86, was honored by United Community with the Gerald W. Hyland Humanitarian Award for her life's work dedicated to helping people, especially those who face disadvantage and hardship.
They are survived by three sons, Paul (Tracey Navratil), Bryan (Rita Krizek), and Neil, all of Mount Vernon; four grandchildren; and three great grandchildren.
Addy's ashes will be dispersed in the Atlantic Ocean which she crossed numerous times. Colonel Krizek will be buried at Arlington National Cemetery because of his service in the Air Force during World War II and the Korean War.