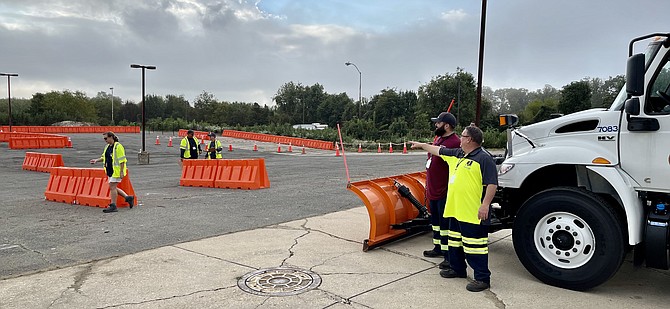 County maintenance and grounds employees had an opportunity to show 

 off their heavy equipment operating skills at the Department of Public Works and Environmental Services Equipment Road-E-O. Equipment operators working for county stormwater management, public schools, and park authority vied for best skills and times on a variety of intricate courses. The competition was spread out over multiple courses at the former Niki missile site in Lorton on Oct. 13.  With an eye to skills needed for coming winter snow management, events included two snow plow contests, dump truck and pick-up truck; also rubber tire loader, backhoe, knuckleboom crane, and Kubota.
See a snow plow at work on the road and one can appreciate their enormous size and power. Yet the monster trucks must navigate delicately in close spaces around cars and other property. The contest course simulates road conditions and challenges the operators to maneuver off-set and serpentine patterns, tackle curves, move past obstacles without hitting them with any part of the vehicle, travel forward and in reverse, and park close to simulate an alley dock. Large snow plow course, first place winner: Ensar Alibali, Heavy Equipment Operator, Winchester; small snow plow winner: Matt Harris, Stormwater Management.
The rubber tire loader tests the operator's loading skills, moving washed stone with the huge equipment bucket into a dump truck, and driving forward and backwards through a serpentine course in a timed event. First place finisher: Tony Greene, Stormwater Management.
In practical application, the knuckleboom crane might be used to gather large amounts of yard debris, large appliances, or furniture from residential curbsides. In the contest, the operator's skill is tested by picking up a single brick, swinging it over the truck body, and placing it on a target. Penalties are awarded for knocking, dropping or breaking the brick. First place: Harold Galindo.
Other courses, Backhoe, first place: Emery Conner; and Kubota, first place: Matt Harris.
"The day is a chance to show skills with the day off from normal work duties," said FCPS office of facilities management supervisor, David Lopez. "I take roll call here, like a field day, and with a chance to make more new friends."  The day's theme - "departments partnering will equal success."