The photograph remains instantly recognizable: A single fragment of time captured on Sept. 12, 2001, when firefighters and military personnel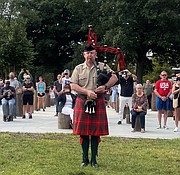 unfurled an American flag atop the Pentagon as a symbol of resilience and hope for a nation still paralyzed with disbelief at the events of the day before.
Eyes remained riveted to images of horror as a stunned world slowly came to grasp the carnage of what would turn out to be the deadliest terrorist attack in U.S. history.
Fairfax County Fire and Rescue Battalion Chief Ramiro Galvez was assigned to an Annandale medical unit that was one of the first dispatched to the scene within minutes of American Airlines Flight 77 striking the Pentagon at 9:37 a.m. He would remain part of the search and rescue efforts for 10 days.
"We did not have a lot of information when we first got the call," said Galvez, now in his 27th year of service. "There were so many radio calls that we couldn't interact with dispatch. All we knew was that there was a fire at the Pentagon and that it was significant."
Galvez and other first responders worked tirelessly in the search and rescue efforts without knowing the scope of what had transpired.

"Because we didn't have the benefit of social media, we didn't have the ability to obtain information right away," Galvez said. "When we heard later that afternoon that the World Trade Center had collapsed, I couldn't picture what everybody had seen. The complexity of the situation didn't make any sense and we didn't know that these were terrorist attacks. We are more familiar with terrorism today but it was not the same back then."

Alexandria Sheriff Dana Lawhorne was a detective with the police department in September of 2001.
"When the plane hit the Pentagon several of us decided to respond there," Lawhorne said. "That plan was interrupted when the school
"I will never forget the courage of the first responders that day. Now 20 years later, that same courage still exists in those who chose to serve and protect."
— Alexandria Sheriff Dana Lawhorne
superintendent called seeking guidance. The safety of our schools became my priority. I will never forget the courage of the first responders that day. Now 20 years later, that same courage still exists in those who chose to serve and protect."
Battalion Chief Todd Barb had just completed his rookie year of training on what he now calls a career-defining day.
"I was dispatched to Arlington to transport a burn patient to the hospital," Barb recalled. "A woman was walking on a sidewalk when the plane struck the Pentagon and a fireball consumed her from the waist up. I was then assigned to the Pentagon looking for survivors and stringing lights into dark corridors so that a task force could begin shoring up the structure."
Barb described the destruction at the Pentagon as "surreal."
"It was hard to imagine what had happened," Barb said. "This was a huge concrete structure that became an incinerator when the jet fuel exploded. I remember seeing the remains of people sitting at a conference table for a staff meeting who never had a chance to get out. I carry that image with me and it pushes me to do better to help people in their direst needs."
Firefighter Jim Morris, now retired, was one of the first responders pictured atop the Pentagon in the iconic photograph of the American flag as it was unfurled. As he participated in the recovery efforts in Arlington, his mind was 225 miles north in New York City, where his brother Seth was still unaccounted for in the rubble of the World Trade Center.
Seth Morris was a broker with Cantor Fitzgerald working on the 105th floor of World Trade Center One. He did not survive.
The coordinated attacks at the Pentagon, World Trade Center and outside Shanksville, Pa., resulted in 2,977 deaths. Remains of more than 1,700 of those who perished have never been recovered.
"God was watching over us that day," said Barb. "There are normally 20,000 people in those outer rings. If the Pentagon hadn't been under construction or the plane had hit on the other side of the building, it would have been a far worse tragedy."
As he looks back 20 years later, Barb said he will remember most the way the community came together.
"Cell phone companies provided phones for us to call our families, Home Depot and Lowes showed up with tractor trailers of supplies, restaurants like McDonald's and Burger King had their mobile restaurants there to feed the troops," he recalled. "In the depths of one of the worst tragedies of our lifetimes, there was still some good that it brought out of people."
Added Galvez: "A lot of first responders and citizens died that day. Each year we take time to remember those who lost their lives not only that day but in subsequent terrorist attacks and those who died serving their country. And we take time to remember the lessons that we learned."