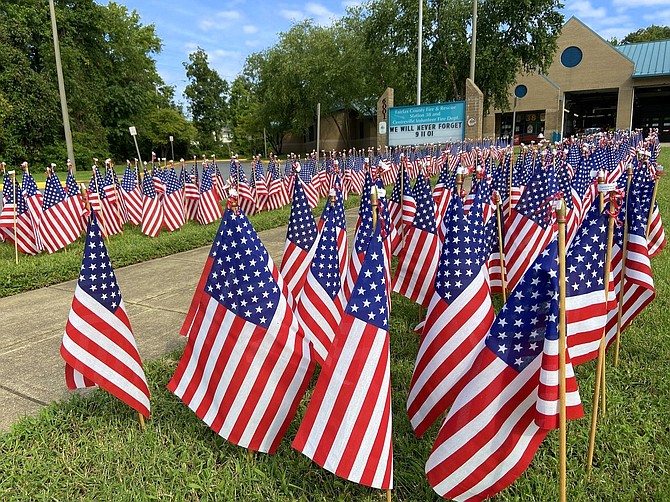 The morning of Sept. 11, 2001, B-shift firefighters from Fire Station 15 in Chantilly were scheduled to hold a fire drill at the NRO building in the Westfields Corporate Center.
"They were going to simulate a plane hitting the building, and we were going to monitor how fast and effectively they evacuated," said Technician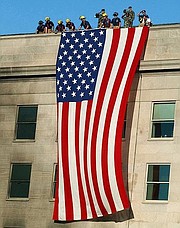 John Stetter, now a firefighter at West Centreville Station 38. "Before we left the station, we heard on the news that a plane had hit the World Trade Center."
Initially, he said, they thought it was just a little, single-engine plane, so they headed to the drill. "We were on Conference Center Drive when an Air Force person came out from the NRO to meet us," said Stetter. "He said, 'A second plane's hit the World Trade Center, we're under attack and I think the drill's going to be cancelled.'"
Then over the fire radios came an order for any units out to return to their stations. "That was Priority One – lights and sirens – which never happens," said Firefighter Ray Tricarico, who's served off and on at Station 38 since it opened in 1995. "I was outside refueling the fire truck when
This story originally appeared in the Sept. 8, 2011 Centre View.
one of the guys yelled out, 'A plane hit the World Trade Center.' I thought he was joking."
Meanwhile, when Stetter got back to his station, he and the others watched the news on TV. "Then we heard about the Pentagon and another plane crashing in Pennsylvania, and it sunk in that it was a terrorist attack," said Stetter. "We turned on our fire radios to pick up the radio traffic at the Pentagon – which units were there and what was going on."
"Route 28 in Centreville was bumper-to-bumper gridlock from everybody going home," said Tricarico. "I grew up here and, living near an airport, it was weird to have no planes flying, once they closed the air space."
"We called A-shift and let them know we might need them to come back," said Stetter. "Our battalion chief said we needed to rest up because we were going to the Pentagon that evening. The Chantilly station had one of three, specialized telesquirt pumpers – with an elevated water nozzle – in the county. We relieved the Mount Vernon crew that was already there with its pumper, and they used ours at their station."
First, though, he called his wife, mother and sisters to tell them he was OK and was going to the Pentagon. "My son wasn't even a year old," he said. "They told me to be careful. Ten years ago, nobody had digital cameras, so I took a disposable camera with me."
"We all tried to get in touch with our families," said Tricarico. "I had relatives in New York, so we were worried about them. And my wife, parents and sisters in Culpeper worried that we were in the line of fire, if something else were to happen, since we're so close to [Washington], D.C. and all the government buildings."
One of his wife's relatives worked in building 7, near the towers, but he'd evacuated and was all right. However, said Tricarico, "It took almost a day to get in touch with him; all the phone lines were jammed. But my mom's cousin worked for Cantor-Fitzgerald on one of the upper floors, and he died."
Tricarico didn't get to go to the Pentagon, himself, but Station 38's C-shift did, the next morning. Disappointed, Tricarico said, "I wanted to be there; that's what I'm here for."
Stetter, however, did go there, Sept. 11, and helped extinguish the flames. "We were briefed about what happened, what to expect and what our job would be," he said. "They told us that – because of what was burning at the Pentagon – once we left there, our turnout gear would be decontaminated and replaced or destroyed. So if we had special gloves or tools we wanted to keep, they said not to take them with us."
He and the other firefighters rode together to the Pentagon on a Fairfax County Fire and Rescue Academy bus. Stetter said, "We took Route 50 to I-66 and, on our way there, on every overpass, there were American flags and people honking their horns, flashing their lights and waving to us, the whole way in there. It made you feel proud to be working for the department and be doing that – you were a part of history."
They arrived around 5:30-6 p.m., as it was getting dark. "We came up over the hill and saw the Pentagon with all the searchlights up," said Stetter. "There was smoke and it was still burning. ... There was no saving anyone, by that time; it was just about putting the fire out."
He was amazed by how many different branches of the service he saw there – and with guns. Besides the military, he said, represented were Fairfax and Arlington counties, Alexandria and Washington, D.C., and government agencies such as the Treasury Department. "It was pretty structured," he said. "People knew what they had to do."
"We reported to the Incident Command Post, got our assignment and spent the night in the courtyard in the middle of the Pentagon," said Stetter. "I was the pump operator, and the rest of my crew put out fires wherever they were directed." Throughout the night, he aimed water at the flames until about 8 a.m., some 15 hours later.
"The Pentagon burned for three or four days," said Tricarico. "It has so many void spots that it's hard to get to them."
"At the time, it was like another big fire," said Stetter. "Later, on my day off, I reflected on what happened. At the station, when the towers fell, I was thinking, 'How many firefighters died right then?' because they were going in the buildings, not coming out. And I wondered, if something like that happened here, how would that affect us?"
The next morning, Sept. 12, Stetter was surprised to see Urban Search and Rescue teams from Florida and Tennessee in the Pentagon parking lot. "It shocked me because they got there so fast up I-95," he said. "I worked there 12-13 hours, that day. We searched the offices next to the collapsed section for any possible survivors, but there weren't any."
Tricarico was friends with several New York firefighters. So, he said, "When 9/11 happened, I wondered who was there working. It always affects firefighters because, whenever something happens now, you wonder who'll be in the line of fire."
As for Stetter, Sept. 11 made him realize "life is short. Once you see what happens and hear the stories of the firefighters and people in the office buildings, you have to appreciate every day. You never know – who would have thought it would happen that day?"
"They call firefighters heroes," added Tricarico. "But heroes are people you bury – we're just doing our job."