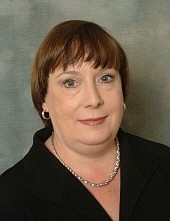 Longtime Montgomery County School Board member Patricia O'Neill died unexpectedly at her home Tuesday, Sept. 14, 2021.
"Mrs. O'Neill was not only the longest serving Board of Education member in MCPS history, but a dedicated public servant who always searched for ways to improve school policies to better serve our students," said Montgomery County Council President Tom Hucker.
O'Neill was first elected to the Board of Education in 1998 and represented Potomac and Bethesda and portions of Rockville.
Hucker called O'Neill "a champion for children."
"Mrs. O'Neill always put our young people first and was committed to investing in teachers and support staff to deliver world-class educational opportunities to support student success," said Hucker.
O'Neill was currently serving her sixth four-year term on the Board after winning her sixth election on Nov.6, 2018. O'Neill served as Board President six times and vice president five times. She served as vice chair of the Montgomery County Public Schools Educational Foundation.
"Her love of our children was only matched by her commitment to the constituents she served for nearly a quarter of a century," said County Executive Marc Elrich."
O'Neill was active in the Board's meeting on strategic involvement the day before she died.
"Montgomery County lost a leader, public servant, and compassionate resident who was determined to make this County a better place for current and future generations," said Elrich.
O'Neill was a graduate of Walter Johnson High School and studied Social Science at Southern Methodist University. Prior to joining the Board, Mrs. O'Neill was a longtime PTA activist in the Walt Whitman Cluster who served in various volunteer and leadership roles.
Mrs. O'Neill is past president of the Maryland Association of Boards of Education (MABE) and past co-chair of the Washington Area Boards of Education. She served on numerous advisory committees for education-related issues, including the Maryland Blue Ribbon Panel on Teen Pregnancy and the Maryland Comparable HSA Task Force.
In 2006, she was named by then-Governor Robert Ehrlich to represent MABE on the Task Force on School Safety. Currently, she served as the chairperson of the Board's Policy Management Committee, and as a member of the Fiscal Management Committee.
"To honor her legacy, we need to continue the work she dedicated her life to," said Elrich.
On Sunday night, O'Neill had celebrated the 10th birthday of her granddaughter, Brooke, in Falls Church with family members — her husband, her elder daughter, Jennifer Schiffer, and son-in-law Dan Schiffer, her grandson, Will, and her sister, Carolyn O'Conor, a physician in Montgomery County, according to a posted obituary.
O'Neill was up for reelection in 2022. The remaining members will select someone to serve the remainder of her term. The handbook says the school board will take applications from those interested, and selected candidates will be interviewed and voted on in a public session. Candidates must live within the same district and be registered to vote in Montgomery County.
In lieu of flowers, the family suggests contributions in her memory to the MCPS Educational Foundation athttps://www.mcpsfoundation.org/