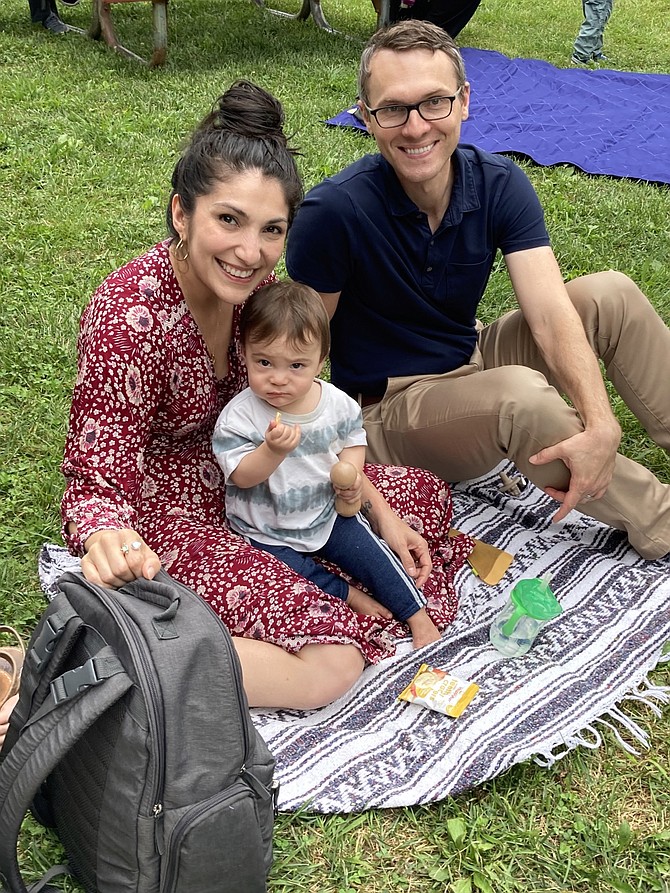 Dear Neighbor,   
I am honored to serve as your District Supervisor, and to call Braddock home -- alongside my wife, Yvette, and my son, Mateo. My role is to be your voice in local government and your advocate when problems arise. The Braddock District is the heart and soul of Fairfax County, including areas of Burke, Springfield, Annandale, and Fairfax from the Beltway to George Mason University and beyond.  
Braddock is home to beautiful parks and trails, friendly neighborhoods, high-quality restaurants, premier schools, and much more. COVID-19 undoubtedly interrupted some of our annual community events this past year, but residents and visitors found relief in Braddock's abundant parks and miles of trails. I highly recommend enjoying one of our beautiful lakes. Lake Accotink Park boasts 493 acres of relaxation and entertainment, from mini golf, to kayaking, hiking, and mountain biking. Park visitors find it hard to believe the tranquility found there is less than a mile from the Beltway. 
Between Sideburn Road and Ox Road sits the secluded Woodglen Lake Park, a 50-acre environmental haven. With a paved running trail, it's a perfect spot for walkers, joggers, and those seeking peace and quiet.
 Not far from the intersection of Guinea Road and Burke Road, you will find Royal Lake Park, which includes a J- shaped 38-acre lake with hiking trails accessible from the parking lots. Royal Lake Park features several ball fields and a beloved playground enjoyed by local children.  
The Audrey Moore RECenter, with its exercise classes, camps, and swimming pool, is a well-known community favorite. Members enjoy access to cardio machines, free weights, and strength training equipment. Many residents play basketball, volleyball, pickleball, and racquetball at the RECenter. You can even visit a dedicated pottery lab where beginners and experienced potters alike enjoy developing their creative ideas in an inclusive environment. With 11 outdoor lighted tennis courts and a skate park, the Audrey Moore RECenter is truly a one-stop shop for active fun.  
The Braddock District features three top-rated secondary and high schools – Lake Braddock, Robinson, and W.T. Woodson. Inside the beltway, students attend the storied Annandale High School, home to the Atoms. All of our schools offer a top rate learning experience by providing a rigorous educational curriculum, athletic opportunities, and music and fine arts. 
The Braddock District also hosts Virginia's largest public university, George Mason University (GMU). Having earned its R1 Research Designation in 2016, GMU is nationally recognized as a prime public research institution. 
Northern Virginia Community College's (NVCC) Annandale Campus, part of the second-largest community college system in the United States, also calls Braddock District home and provides affordable high-quality education for students. 
GMU and NVCC partner to offer students an exciting partnership called ADVANCE. This program provides personalized support services for NVCC students seeking a degree from GMU. Students who take advantage of this program see major cost savings, receive guidance from success coaches, and experience special internship opportunities while ensuring all their class credits transfer from NVCC to GMU seamlessly.   
One of our most popular local events is our annual summer concert series, Braddock Nights. This year, after a hiatus due to the pandemic in 2020, we welcomed the community back to in-person performances. Our featured professional artist lineup included the Soul Crackers, Mars Rodeo, Karl Stoll & the Danger Zone, and more. We also hosted our first ever Arts in the Parks Children's Entertainment Series. Children, parents, grandparents, and guardians enjoyed fun performances by Marsha and the Positrons, The Great Zucchini, and Rocknoceros, to name a few. In total, the community enjoyed 20 live performances this summer! 
Looking for a quiet place to study, read, or perhaps surf the internet? The Braddock District is fortunate to have two great libraries, Burke Centre and Kings Park. Both libraries carry diverse book selections and serve as centers of learning for the community. Fairfax County Public Library (FCPL) regularly holds events, enrichment opportunities, and educational activities for people of all ages at both branches.  
If you have not signed up for my weekly email updates and our monthly Braddock Beacon Newsletter, you can do so by emailing us at Braddock@fairfaxcounty.gov. If you would like, follow me on Facebook @SupervisorJamesWalkinshaw, Twitter at @JRWalkinshaw, or Instagram at @SupervisorJamesWalkinshaw. I hope to meet you soon!  
Sincerely,  
Braddock Supervisor James Walkinshaw