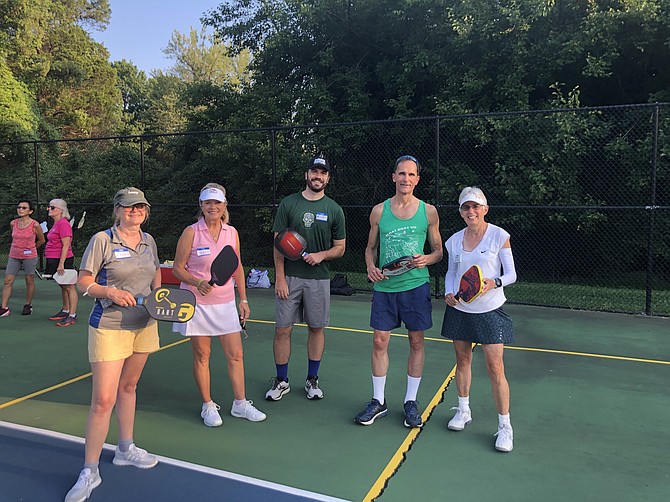 Mount Vernon is a community with much to offer. For the historian, there's George Washington's plantation, historic Woodlawn and the new U.S. Army museum at Fort Belvoir. For the outdoors enthusiasts, there's the bike trail along the Potomac River as well as an assortment of parks and the ice skating rink on Beacon Hill Road, and for the food lover, there are restaurants along Richmond Highway, or a short trip north to Old Town, Alexandria. 
Mount Vernon has it all.
Bike Trail
For bicyclists, the Mount Vernon Bike Trail is a 17-mile paved trail from the Mount Vernon Plantation to the Key Bridge in Roslyn. The trail is relatively flat and shaded in many spots, and it links to several other trails that go west into Fairfax County or east across the Woodrow Wilson Bridge to National Harbor. This trail is maintained by the National Park Service and is open year-round.
Potomac Riverkeeper
This river is a treasure to many in the watersports crowd, but it's also a carrier of garbage from points north, and that's where Dean Naujoks, the area's Potomac Riverkeeper focuses his efforts.
"Single use plastics," is just one culprit Naujoks' has on his radar. "Trash and single-use plastics entering the river through storm drains also poses a very serious problem and is a growing source of pollution for the Potomac River, the Bay and our Oceans," said Naujoks. He cited a Scientific and Technical Advisory Committee report "the Chesapeake Bay watershed contains numerous urban and suburban areas that, via storm drains, are sources of plastic waste" to the Potomac River and bay ecosystems. Over fertilizing and improperly disposed pet waste are on his radar too.
Naujoks started his environmental work as the riverkeeper for other rivers in the North Carolina area before joining Potomac Riverkeeper Network in 2015 as the Potomac Riverkeeper responsible for the stretch of river that includes Mount Vernon.
Hot Housing Market
All signs point skyward in the real estate market for Northern Virginia. It has been this way throughout the summer and data points to it being a sellers market in Alexandria, Mount Vernon and Fairfax County. 
According to the Northern Virginia Association of Realtors, the average price of a home in August was at $697,334 which is up 4.4 percent.
The average price of a home in Arlington is $741,020, and in Alexandria, it's $653,329.
The good news to a newcomer is that there is more out there to choose from. There were 2,337 homes sold in the NVAR region, representing a 1.7% increase above the number of homes sold in August of last year according to Bright MLS, the region's multiple listing service. The number of total listings in the NVAR region was about 26% higher than last August, with 2,678 homes available for sale.
Old Mount Vernon High School project
Dating back to 1939, the Original Mount Vernon High School stood as a classic example of Colonial Revival architecture and was listed on the National Registry of Historic Places in May 2018. It is now being transformed into the South County Teen and Senior Center.
The vision is to create shared, multi-generational community spaces for "Pathways to Opportunity," efforts through education, workforce development and life skills development programs at the center. In addition, the plan is for the center to be an incubator for nonprofits and businesses to develop in the area.
Food, Hardware and Variety at Hollin Hills
The Hollin Hills shopping center is a small, outdoor shopping area tucked away from busy Richmond Highway and the George Washington Memorial Parkway in Mount Vernon. There is a combination of retail, dining and gas stations which make it a perfect fit for the surrounding neighborhood.
One attraction is the River Bend Bistro and Wine Bar which offers a selection of dishes and drinks, making it a primo local hangout. They are open for lunch and dinner every day, and have brunch on Sundays.
A few doors down is the pastry shop, open 8 am – 2 pm, the Village Hardware and a variety store. It all seems just right out of hometown Americana.
Stream Erosion Plan
Throughout Fairfax County, there is a network of streams that flow into the Potomac River, and eventually the Chesapeake Bay. Keeping these many streams flowing and clean is one of the county's goals, and this is where the stream restoration program steps in. Development in the streams' watersheds has caused damage throughout the area. The Soil and Water Conservation District helped pioneer natural channel design stream restoration, now used across the county to prevent pollution loads downstream. This method of stream stabilization was used in Hollin Hills, Kingstowne, Long Branch and Accotink Creek. Many people now say that this method causes even greater harm through removal of trees and grading, and argue that other methods of slowing and filtering stormwater, including more native plants and trees, are better.
Pickleball
Move over tennis and volleyball, there's a new kid in town called pickleball, and while it doesn't take the same skills and coordination, it's every bit of exercise to keep the blood flowing. Pickleball is a paddleball sport that combines elements of badminton, table tennis, and tennis. According to USA Pickleball, the game is fun, social and friendly and the game is easy for beginners to learn.
While finding a pickleball court may be a challenge, Fairfax County is conducting a survey on the popularity of the game in order to determine where they should direct their efforts to expand the sport. The Fairfax County Park Authority started looking at pickleball in 2019, and is now doing a survey to gauge the popularity. In the past few years the county began accommodating pickleball by refurbishing existing tennis and multiuse courts to allow multiple sports. There are now 46 outdoor courts lined for pickleball throughout the County. RECenters and community centers add additional indoor pickleball court areas, through striping of gym areas.
Shelter and New Fire Station site
Mount Vernon was formerly protected from fires from a station located off Richmond Highway in a semi-residential setting. Recently Fairfax County stepped up and purchased the land that a former garden business occupied on Beacon Hill Road. The wheels are in motion to build a new fire station on the site, plus housing and possibly a homeless shelter as well. The site is good for a fire station because it has easy access to Richmond Highway and the Mount Vernon Parkway.