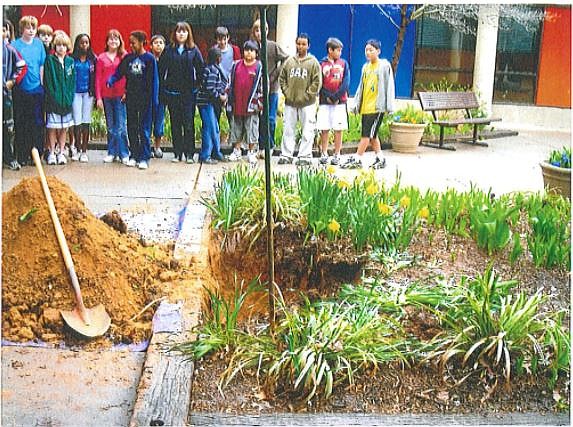 In the summer of 1988, a car plowed into the Appomattox Statue at the intersection of Duke Street and Washington Street in Alexandria, unearthing a time capsule, which was picked up by a bystander. Officials eventually recovered the capsule. The statue has since been removed.
Apparently, it's not uncommon these days to have time capsules strategically placed as a history preservation technique but they seem to be more nostalgic than anything.
The statue in Old Town Alexandria was put up on May 24, 1889 and taken down June 2, 2020. This was also the case with a Robert E. Lee statue in Richmond that was also dismantled, but when the time capsule was opened, it didn't contain any earth-shattering material.
Burke is a community rich in history and rich in time capsules as well. The Burke Historical Society noted a few strategically placed capsules that remain uncovered. Officials at the Nativity Catholic School in Burke buried a time capsule in the form of a trash can somewhere on their grounds around 1997-1998. It was supposed to be opened in 20 years, but that date has come and gone and no one can say whether it was opened or not. Another time capsule is in the Burke Centre Library's cornerstone.
Also in Burke, a time capsule was created for Burke School's 75th anniversary in 2015. Part of the celebration back in 2015, included a presentation of items to go in the school's time capsule.
It seems if there's a place rich in history, it's rich in time capsules too and the City of Fairfax is no different. There is a time capsule in the cornerstone at the City of Fairfax Regional Library and another one in front of the old Fairfax Courthouse that was placed sometime in the 1970s or 80s. There is a brick plaque marking that capsule. Another capsule was unearthed at Westmore School in Fairfax but the contents remain unknown.
Other time capsules around the county include a capsule at the Turning Point Suffragist Memorial in Occoquan, one at Terra Centre Elementary, one at the Congregation Adam Reyim and one for the 100th anniversary of Clifton.
At Terra Centre elementary school, everyone gathered on April 2, 2009 where the time capsule was thought to be buried in 1989, but no time capsule was found, so it still remains at large. Clifton's anniversary was in 2002, and the capsule, which was really a Tupperware box, is supposed to be dug up in 2027.
Time Capsule Central
Time capsules are cool again, according to Matt, at Time Capsule Central. He took the time to make a few YouTube videos describing the creation of a time capsule, and another about the contents. For example, he says the three best materials to use for a capsule are stainless steel, glass and plastic, and goes over the advantages of each.
Inside the time capsule, he puts in coins, historical documents, social elements, etc. and then recommends moisture absorbers like a bag of rice or something to keep the contents from spoiling. In the video, Matt makes a 1000-year time capsule starting with some concrete in a bucket. In goes the capsule, more concrete, and finally he seals the top on with glue and buries it. Now, supposedly, someone in 3015 will dig it up and find out all kinds of things.
Putting together a time capsule may be more educational than Matt makes it seem. It's also a chance for people to bring out their creativity and enhance discussions as to what might be of interest to future generations, said Suzanne Levy of the Fairfax Historical Society. "I think a mixture of relics and written word can be very thought provoking," she said.
Blast from the Past is an occasional column that looks into people, places and events in Fairfax County from earlier times. Have an idea that I could look into? Email me at 
msalmon@connectionnewspapers.com
.