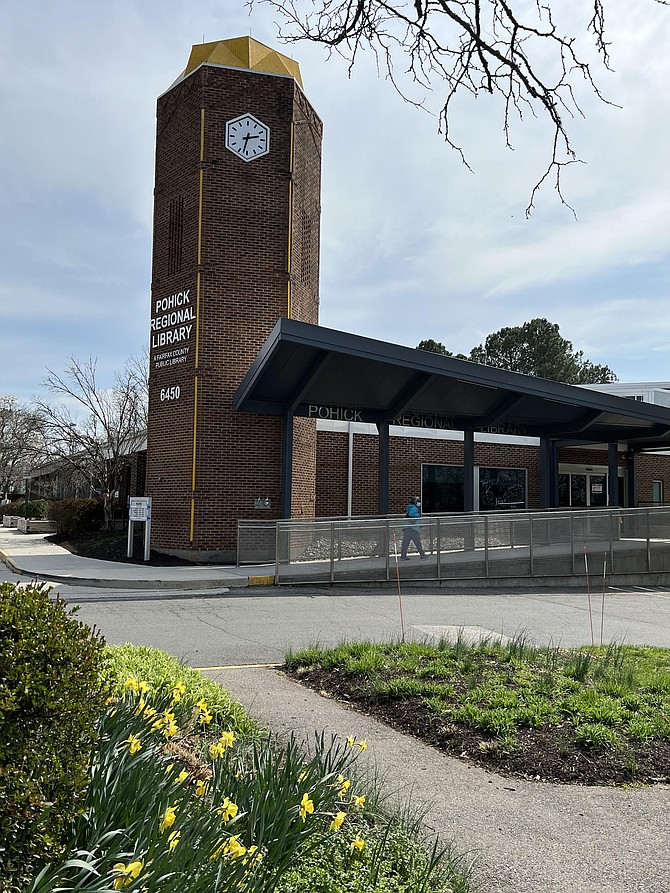 Pohick Library branch manager, Andrew Pendergrass, says that National Library Week, April 3 - 9, could not have come at a better time this year. With the county's low Covid rate and relaxed restrictions (masks are now optional for patrons and staff), the library is beginning to open its programs again, as one would open the pages of a favorite book. The library also will return to its regular hours again on April 3, reopening on Sundays and Mondays.
This week is "to celebrate our nation's libraries, library workers' contributions and promote library use and support," states the American Library Association (ALA). Our local libraries became an oasis of entertainment and metal enrichment for citizens during the pandemic isolation period. Libraries, like Pohick with its 25 librarians and 12 pages, who sort and resolve books, made major changes to their operations to bring back access to books and other library materials.  Libraries also provided a means for students without Wi-Fi access at home to get connected for lessons from closed schools. The efforts of the library system and librarians during those difficult times were a welcome relief to many.  
Librarians were some of the unsung heroes of the pandemic response . 
The theme for National Library Week 2022, "Connect with Your Library," promotes the idea that libraries are places to get connected to technology by using broadband, computers, and other resources. Libraries also offer opportunities to connect with media, programs, ideas, and classes — in addition to books. Pohick Regional Library, part of the Fairfax County library system, is planning a number of special programs to get connected as they notice higher numbers of customers returning. Says Pendergrass, "April is a special month with more in-person programming and a return of the very popular book sale."
Pendergrass highlights a few of April's upcoming programs.  Beginning in the last days of March and carrying over to April 1st and 2nd is the Friends of Pohick Regional Library Book Sale; a popular event returning again after a two year hiatus. Readers choose from a large selection of gently used books for children and adults.
Pop-up Story Time begins on April 7, 10:30 a.m. Participants enjoy 20 minute of outside relaxation on a blanket  or chair while listening to a good story.  
To create an opportunity for community sharing, the library's "Food for Fines" has morphed into a "Read N Feed" program after the elimination of overdue book fees. In the new program, throughout April, readers are invited to donate food and supplies and receive a tote bag, while supplies last. 
The "Make N Take" program for April highlights financial literacy month. Crafters will make and take home paper money after creating their own design and colors. No need to call in the Secret Service as the models used are unlikely to be mistaken for US currency. Another popular program with the younger set, "Read to a Dog", is expected to return soon. Check the library's event calendar for all program return dates and information.  https://librarycalendar.fairfaxcounty.gov/calendar
In the mid-1950s, research showed that Americans were spending less on books and more on radios, televisions and musical instruments. Not unlike the concerns about expanded use of electronic entertainment today, in the 1950's ALA was concerned that Americans were reading less, the ALA and the American Book Publishers formed a nonprofit citizens' organization called the National Book Committee in 1954. The committee's goals ranged from encouraging people to read in their "increasing leisure time," to improving incomes and health, and developing strong and happy family life. With the cooperation of ALA and with help from the Advertising Council, the first National Library Week was observed in 1958 with the theme "Wake Up and Read." 
What's the best way to celebrate national Library Week today?  ALA urges, "Visit your library!".  Whether you're visiting in person or virtually, libraries offer the opportunity to connect with new worlds through access to technology, multimedia content, and educational programs. You are urged to visit to see all they have to offer.