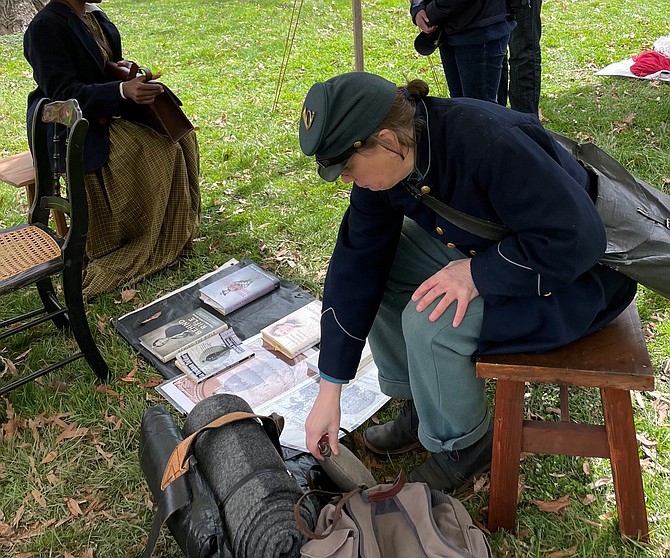 They were not able to go into battle themselves, but women were an integral part of the Civil War as showcased during Civil War Women's Day March 26 at Fort Ward Museum and Historic Site.
"We are a group of volunteers helping Fort Ward Museum interpret Women's History Month by showcasing the Civil War from a woman's perspective," said historical interpreter Elaine Kessinger. "Today we are representing how women supported the war effort with care boxes, writing letters and making sure soldiers got news from home."
The event highlighted the dress, skills and contributions of women on the home front, in camp, and on the battlefield during the Civil War. 
"African American women were basically intelligence agents," said interpreter Elisa Jagne. "I am portraying an African American female who is able to go back and forth behind enemy lines and bring back information in support of the Union. And as Harriet Tubman and others did, these women were able to help free their own people through the Underground Railroad."
Jagne noted that the clothing worn by the undercover spies was key to their success.
"These women would not be wearing the sack coat I am wearing right now," Jagne said. "In order for us to disguise ourselves we dressed as the common slave at that time. That allowed us to infiltrate the South and bring back information."
Tracey McIntire showcased a display of books that feature some of the women who disguised themselves as men and fought during the Civil War.
"Union or Confederacy, women were instrumental during the Civil War."
— Historical interpreter Elaine Kessinger
"These are books I suggest folks read if they are interested in the topic," McIntire said. "Rosetta Wakeman, Sarah Emma Edmonds -- both were successful in disguising themselves and fighting."
Among the featured topics of the program were the soldiers' aid societies and relief efforts that were typically launched by women to support both armies during the war. 
"These soldiers were brothers, sons, fathers," Kessinger said. "Union or Confederacy, depending on your sympathies, women were instrumental during the Civil War."
Fort Ward is the best preserved of the Union forts that comprised the Civil War Defenses of Washington and features special programs throughout the year. www.alexandriava.gov/FortWard