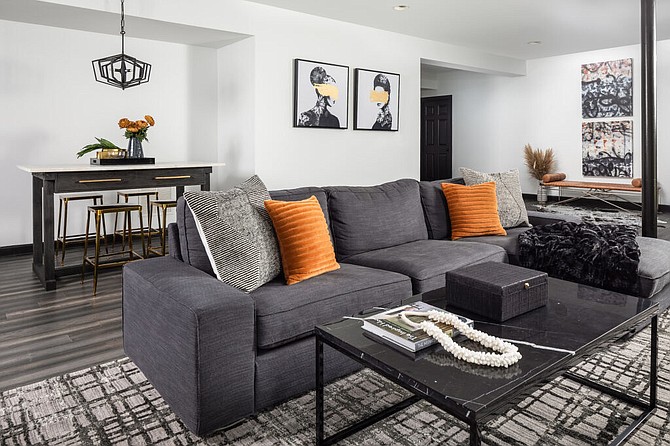 Large, plastic storage containers often come to mind when decluttering and organizing one's home. While effective, those receptacles might look unsightly sitting in the middle of the living room or in the corner of the dining room.
For an adult with ADHD, managing clutter and organization can be particularly difficult. Combining those challenges with the desire for an elegant interior can be particularly daunting. Local designers offer ideas for using storage containers to achieve that goal.
"Think of them as an opportunity to be creative with a home's décor," said Anne Walker of Anne Walker Design. "Storage solutions are a wonderful way to add color and visual interest to living spaces."
Use boxes in bright colors to hold papers, pens and other office supplies, suggests Walker. "Arranging  the boxes in groups on open shelves makes them easy to access and very functional, she said.  [Placing] labels on each box makes organization quick and easy."   
A bedside table can become a cluttered eye sore when topped with a pile of items like books, magazines, tissue or lip balm.  "Try [using] small dressers for night stands so that you have more storage space," said interior designer Sallie Lord of GreyHunt Interiors. "We love using boxes on night stands that store your favorite items such as nighttime lotion or keep sakes or jewelry."
When one needs a storage space that keeps items visible, Lord recommends open shelving. "They can be added to each room and they have a chic look," she said. "This works particularly well in the bathroom and kitchen. They are both pretty and functional. In the kitchen they can be used to hold cooking utensils and mixing bowls. In the bathroom they can hold a toothbrush and toothpaste."
Ideally a dining room should be used to house traditional items such as  china, silver and table linens. If space is an issue in one's home a dining room table must be used for completing homework or playing family games, someone with ADHD might allow the space to become overrun with clutter unless a designated storage is conveniently located. "A low cabinet in a color and style that is consistent with the decor of the rest of the room is the perfect storage space, said Lord.
For someone with ADHD, returning household items to their appropriate location is necessary for maintaining organization. "For example, in addition to having a space for papers in your home office, you have to set aside a specific time each day to clean up those papers and return them to that space, said 
t
herapist Carol Barnaby, LCSW
.