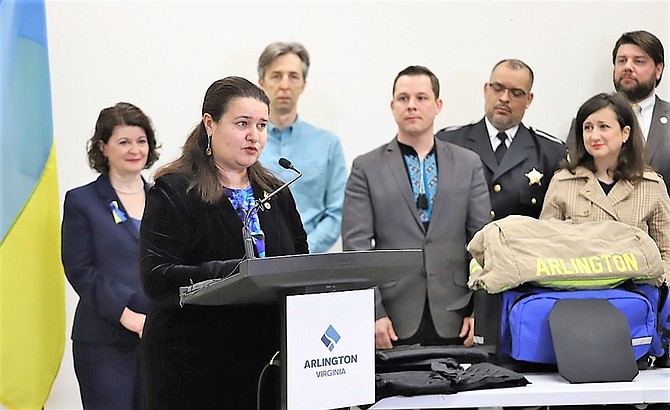 On Thursday, April 7, 2022, Arlington welcomed the Ukrainian Ambassador to the U.S. Oksana Markarova, as Arlington donated public safety equipment and supplies for first responders in Ukraine.
Arlington's Public Safety Agencies – Fire Department, Police Department, Sheriff's Office, and Public Safety Communications & Emergency Management – teamed up to donate equipment, medical supplies, and Personal Protective Equipment after a call to action from one of their own. 
Ukrainian-born Igor Scherbakov, Arlington County Public Safety Procurement Specialist, initiated the donation effort and it was quickly supported by County leadership.
"Ukrainian first responders are facing the fight of their lives, dealing with providing emergency services in unimaginable conditions," said David Povlitz, Chief of the Arlington County Fire Department. "Arlington recognized the grave situation that the Ukrainian citizens face and wanted to show our support in whatever way possible. We are hopeful that this important equipment will make a difference, and our hearts and prayers remain with the Ukrainian people during this tragic time."
Loading the supplies for shipment was the cumulation of weeks of preparing inventory for donation, coordinating with public safety partners and non-profits, and ultimately getting the equipment into the hands of the Ukrainian first responders.
For this initiative, Arlington County is coordinating with United Help Ukraine, https://unitedhelpukraine.org/, a grassroots, entirely volunteer-based organization, and the Ukrainian-American Coordinating Council (UACC). https://uaccusa.org/
Additionally, Arlington was able to secure donated equipment and supplies from the Blacksburg Police Department, Goochland County Sheriff's Office, Powhatan Sheriff's Office, and Windsor Police Department.
In all, Arlington County coordinated the donation of the following supplies: 200,000 disposable gowns; 9,000 Particulate Respirator N95s; 19,000 latex gloves; 125 sets of firefighting gear; more than 100 ballistic vests; 219 Self-Contained Breathing Apparatus; 2 pallets of critical medical equipment and firefighting hand tools
If you're inspired to donate, United Help Ukraine is accepting donations through its website https://unitedhelpukraine.org/.
The Northern Virginia Regional Commission (NVRC) has also organized a campaign to collect donations of much needed cold weather items. In Arlington, items can be dropped off at Central Library. The donation box is next to the Quincy Street entrance, under the bulletin board near the Youth Services room.
Arlington Shows Support for Sister City Ivano-Frankivsk
Arlington and Ivano-Frankivsk, Ukraine, were formally declared sister cities on March 4, 2011. Since that time, the two communities have participated in hosting government delegations, student exchange programs, and the sharing of information with public safety responders.
On Feb. 28, 2022, the Arlington County Board presented a Resolution to the community, stating in part, "in the spirit of friendship, understanding, and mutual respect of our cultures and histories, we believe it is important to speak out against unjust actions and demonstrate our support for our friends and partners." 
The Arlington Sister City Association (ASCA) continues to foster productive exchanges in education, commerce, culture, and the arts with the County's six sister cities, including Ivano-Frankivsk. ASCA identified the following trusted organizations as providing a variety of services to the Ukrainian people.
World Central Kitchen
 - in Poland and other border nations feeding fleeing Ukrainians https://wck.org/relief/activation-chefs-for-ukraine