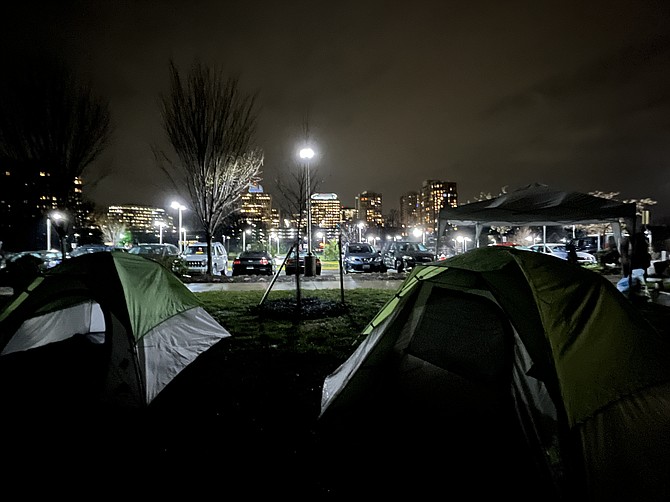 Late on April 4, brightly-colored dome camping tents, red, blue, green, and yellow, began going up on the front lawn of North County Governmental Center, 1801 Cameron Glen Drive in Reston. First one tent, then two, then three. Someone driving by might have thought it was a Scouting Troop setting up a campout for spring break. 
It was not.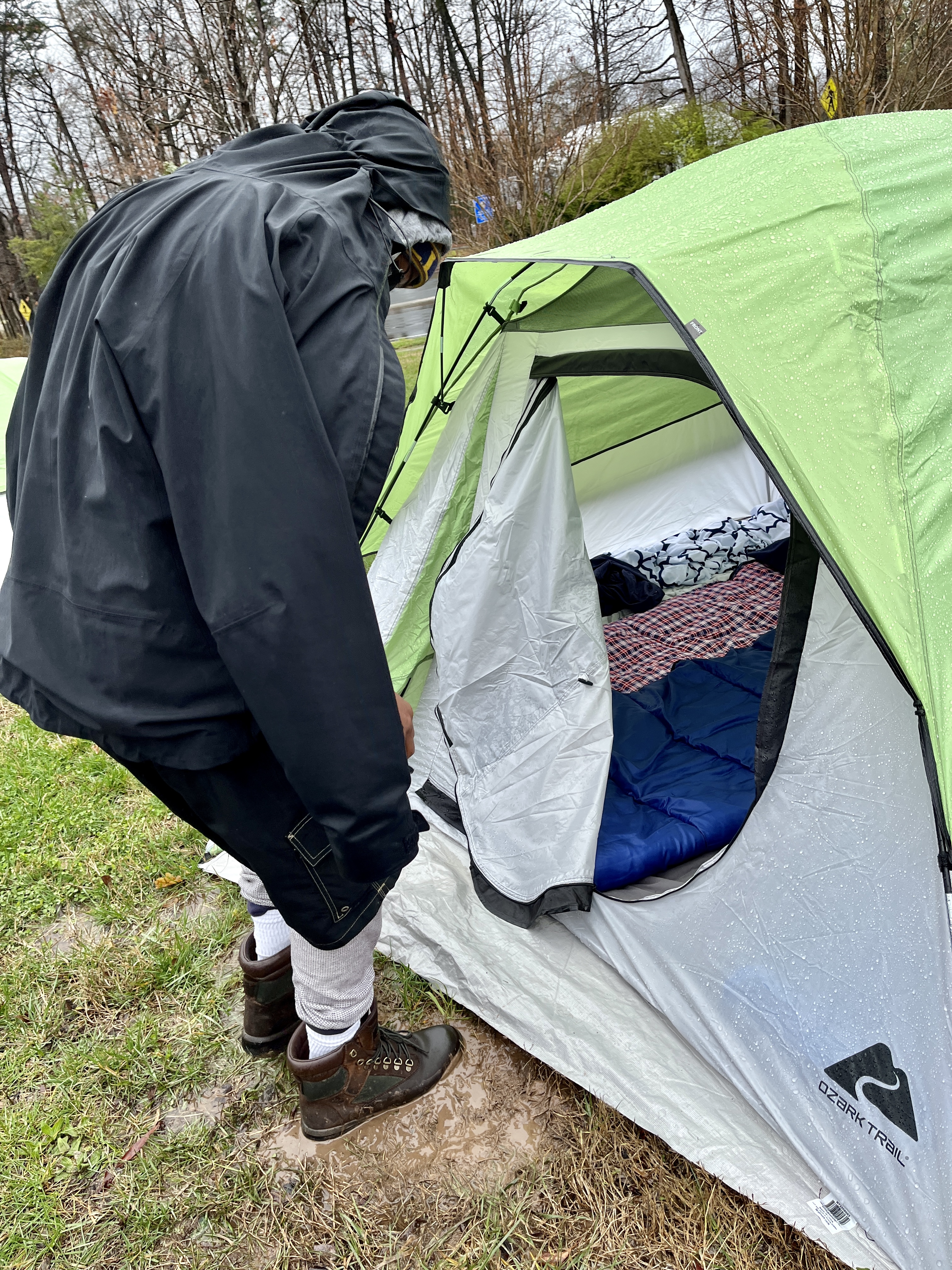 Members of the nonprofit organization Reston Strong pitched the small water-resistant tents outside the office of Fairfax County Supervisor Walter Alcorn (D-Hunter Mill) and the Reston Police Station as temporary shelters for homeless adults, according to Sarah Selvaraj-D'souza, one of the Reston Strong founders. 
The North County Hypothermia Prevention Program (NCHP) at the Embry Rucker Community Shelter, a hypothermia prevention site in Fairfax County, was shut down and turned unhoused adults away.
"If temps drop to 32 or below, then hypothermia kicks in," Selvaraj-D'souza said later. Not 34. Has to be exactly 32."
Fairfax County's hypothermia program operates from Dec. 1 through March 31. Contact the Office to Prevent and End Homelessness at 703-324-9492, TTY 711, or OPEHGeneralMail@fairfaxcounty.gov.
Members of Reston Strong and volunteers stayed with the tent residents throughout the day and through the night. Shortly after midnight, on April 5, at 12:24 a.m. Selvaraj-D'souza goes live in a video.
"Every single person we put in a tent is quiet and sleeping. The only sounds are airplanes, and I've got these three flags that keep whacking in the wind. … It's 50 degrees, but it feels like it's insanely cold. … I'm so freezing, and I can't imagine others who do this every single night," Selvaraj-D'souza says that this is not what Reston Strong set out to do when organizers started the organization. 
"It breaks my heart; it has come to this, and we're here tonight."
Selvaraj-D'souza says she'd rather not be anywhere else that cold night. "Because just the fact that they're all sleeping, knowing we're out here to take care of them; knowing that no one's going to kick them out, that they can get one good night's sleep, I think means so much." 
It rained Tuesday, Wednesday and Thursday, saturating the tent grounds, mud everywhere. But the temperature never touched 32 degrees keeping the hypothermia shelter closed. 
"No one wants to live in a tent."
— Sarah Selvaraj-D'souza
Compounding the weather conditions, Embry Rucker Shelter staff/volunteers turned away tent residents coming in to use the restroom facilities due to an apparent miscommunication.
At the Government Center, 50 steps from the tents, Reston Strong volunteers were given the key to the restroom said Jess Glaser of Reston Strong, but the tent residents were denied the key. 
"Although access was eventually granted for unhoused neighbors, it was disheartening to see the disparity in treatment between those who are housed and those who are not," said Selvaraj-D'souza in statement.
Supervisor Walter Alcorn (D- Hunter Mill) was unable to visit the site, at least initially. A spokesperson for his office said Alcorn had tested positive for COVID. In a statement, Alcorn noted that he appreciated Reston Strong's help to bring renewed public attention to Reston's unhoused needs and a renewed sense of urgency. Yet, he did not support allowing the creation of a new tent city, referencing the biohazards and assaults experienced by the community several years ago. Alcorn added that the county needed to move forward with a badly needed new homeless shelter, permanent supportive housing, and affordable housing for working families.
Alcorn noted that the ending of the winter hypothermia shelter program during the past decade had been a challenge for the community's unhoused needing overnight shelter. 
"The end of the two-year hoteling program last month made this year much more difficult. While I pushed to extend the hoteling program later into the spring, the lack of trained staff to manage this program caused the program to end," he said.
Some of Reston Strong's tent residents had been placed in shelter beds by late Thursday evening. Reston Strong volunteers drove several people to a Fort Belvoir shelter with space. A few are at Embry Rucker and at other shelters, according to Selvaraj-D'souza. "Most shelters in the area are full and did not have room to take those who were staying in hypothermia," she said. "The difference between a shelter bed and hypothermia is that they do not need to leave until they have found housing, or they have a case manager taking care of them."
Fairfax County Board of Supervisors Chairman McKay (D) said that ensuring county residents have access to safe, permanent housing is a top priority. He said that he heard the concerns that Reston Strong and former guests of the Embry Rucker Shelter had brought forward. 
"Emergency shelters are not a solution to eradicating homelessness in our area, but they do provide an essential role as we work to transition our residents experiencing homelessness into permanency," McKay said.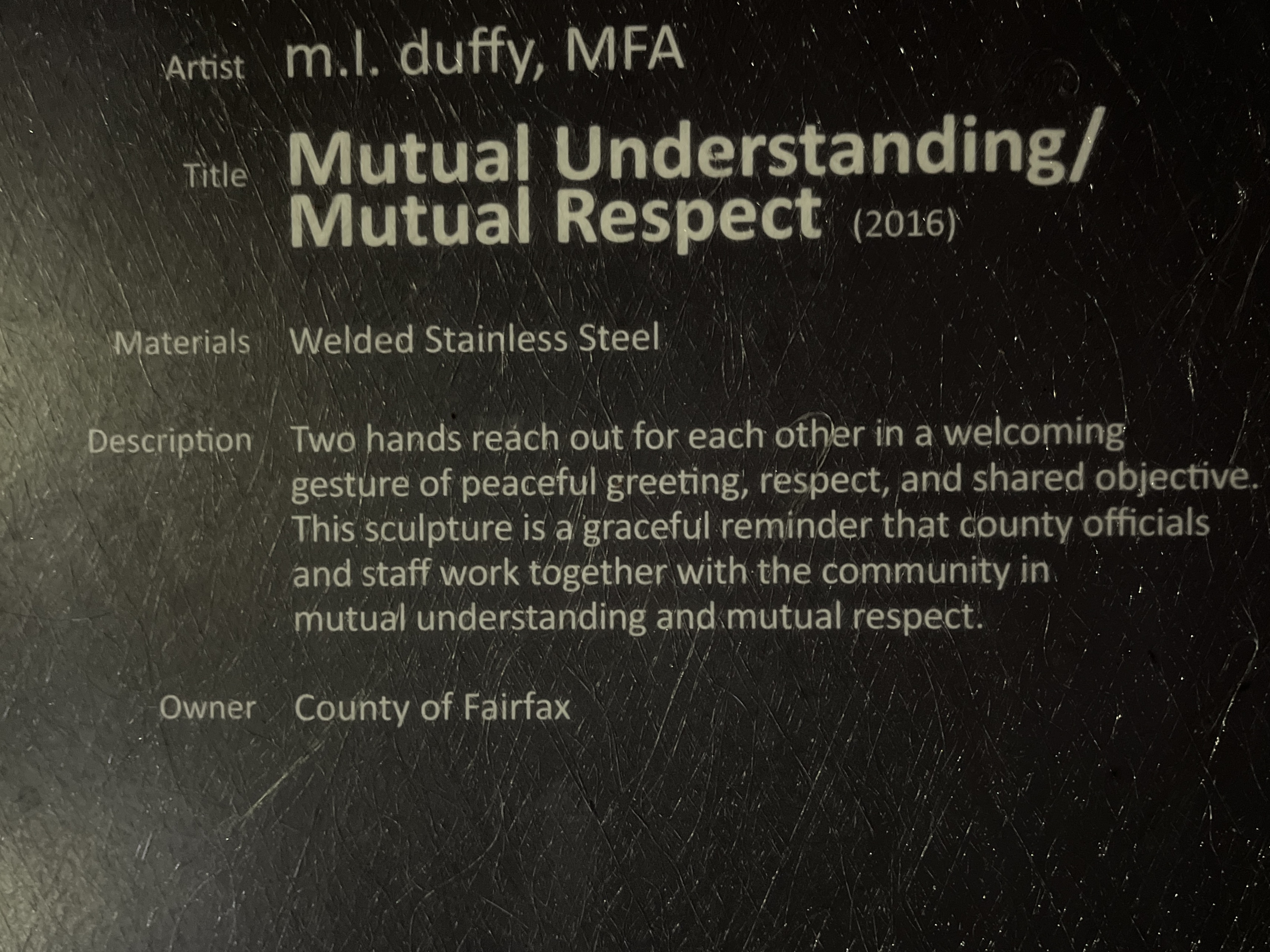 McKay added that Reston Strong's partnership in the efforts to prevent and end homelessness in Fairfax County is essential as they collectively work to improve the shelter experience for county residents in need.
Benjamin T. Boxer is the public information officer for the Office to Prevent and End Homelessness in Fairfax County. He said that the county is fortunate to have a broad range of volunteers representing nonprofits, faith communities, and other civic and service organizations joining to engage individuals experiencing homelessness wherever they are located, including Reston.
According to Boxer, staff and partners have reached out to those residing at the North County Government Center.
"Our staff is reaching out to individuals who are experiencing homelessness, wherever they may be, to connect them with services and develop housing plans based on their individual preferences and needs," Boxer said.
On Tuesday morning, April 12, three tent residents, all older women, remained camped at North County Government Center, safely protected by Reston Strong volunteers. According to a list documented by Jess Glaser of Reston Strong, of the 17 tent clients at North County Government Center plus another couple, by Saturday, April 9, their reported housing status was that three remained tented at North County; three went to Embry Rucker; three to Bailey's shelter; three to Kennedy Shelter; one possibly at Kennedy Shelter or roaming; one possibly at a relative's home; two at "Hill Tent," one of four tent communities in Reston, and last three are roaming.