Historic homes with storied pasts embellished with extraordinary floral designs and inspired spring gardens beckon us to Old Town and beyond Saturday, April 23 for the Garden Club of Virginia's Historic Garden Week annual home and garden tour, a beloved springtime tradition that dates to 1929.
Presented annually by two local garden clubs, Hunting Creek Garden Club and The Garden Club of Alexandria, each tour requires two-years of planning to bring to fruition. Committees coordinate every detail from the acquisition and histories of homes, special features of each property, marketing, advertising, sponsorships, public relations, hostessing and creation of the signature floral arrangements designed by members. The clubs rotate primary management of the tour annually.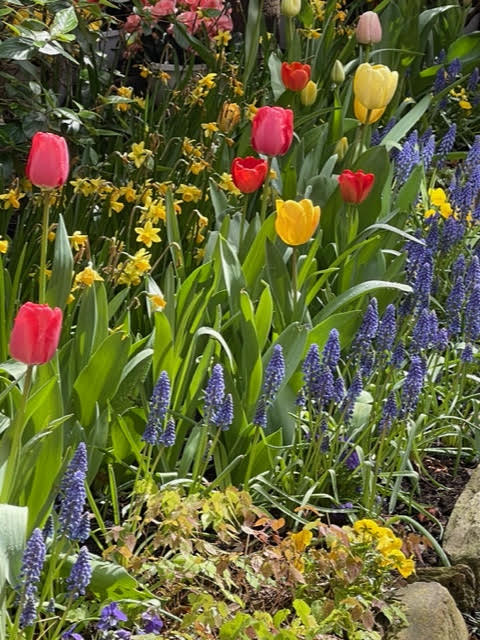 "Throughout the years, we have formed genuine friendships with club members, homeowners and merchants who support the tour," said co-chair Emily Jones, a member of Hunting Creek. It has been such a wonderful, enlightening experience."
"We share a comradery of mutual interest in the history of our community, gardening and floral design as well as the Garden Club of Virginia's mission to celebrate the beauty of the land, conserve the gifts of nature and to challenge future generations to build on this heritage," co-chair Jackie Locke said.
Old Town offers an easy walking tour that includes five private homes and gardens nestled along tree-lined streets in the historic district and six nearby iconic public properties, including Mount Vernon, River Farm, Carlyle House, Lee-Fendall House, Gunston Hall, and Green Spring Gardens.  
The beautifully appointed home at 508 South Fairfax offers a glimpse of history within the carriage house once owned by a direct descendant of Thomas Jefferson. A stroll through its inspired garden reveals plantings of spirea, autumn fern, hellebores, peonies and heuchera. A female goddess sculpture from Bali creates a focal point amid ferns and a bronze Peter Beard Nautilus sculpture situated on an oak plinth is encircled by perennial geraniums. A cobblestone and brick alley, brick walls and a private pool add to the garden's charm.
A casual walk past 206 Duke Street provides little hint of its historic past.  The original home was built in 1794 by George Coryell whose father was George Washington's guide during the Revolutionary War. The family was said to have rowed Washington across the Delaware River in December 1776 for the surprise attack. Current owners completed a significant renovation in 1998, installing a geothermal heating system located beneath the garden, one of only a handful of homes in Alexandria with this energy-efficient, Earth-friendly method.
In 2012 the owners expanded the family room to provide multiple views into the garden and patio. The garage dates to the early 20th century and is the first known structure in Old Town designed specifically to house an automobile. A beautifully designed outdoor building used to store the home's refuse was affectionately the "trash temple" dubbed by the architect.
The stunning garden features evergreens, lacy Japanese maples, sheared hornbeams, and various espaliers, plants such as fruit trees trained to grow flat against a support typically a wall. Bowers of roses on cast iron trellises soften the brick walls and two small ponds add sound and sparkle to this outdoor haven.
A nearby property at 512 Prince Street was once the home of the well-respected first woman mayor of Alexandria, Patsy Ticer. A unique historic feature of the house is a series of archways in the basement thought to have been completed in the late 18th or early 19th century which formed the foundation of a small bridge providing safe access to Prince Street from the original 1783 structure. 
The original home of another property located at 508 South Fairfax backed up to an old oyster processing plant.  Residences, manufacturing, carpentry shops, dry goods shops and professional offices all shared the early Old Town neighborhood. The current owner frequently finds very old oyster shells in her garden.  
Tickets for the Old Town tour are $55 at www.vagardenweek.org and at the Alexandria Visitor Center, 221 King Street on tour day.  Complimentary light refreshments are available at Old Presbyterian Meeting House, 316 S. Royal Street from 11:30 a.m. to 3 p.m.  
FAIRFAX, TUESDAY, APRIL 26. Home and garden enthusiasts eager to explore other tours close by, will discover the history of neighboring Fairfax on Tuesday, April 26.  This driving tour stops at the countryside estate Mulberry Manor which houses a restored pre-Revolutionary War-era log cabin behind the main house used as a hunting cabin by Lawrence Washington, half-brother to George Washington. Certified as an Audubon Wildlife Sanctuary, the verdant garden attracts an abundance of birds and has a "secret garden" with colorful glass orbs and a gazebo housing a statue.  
The tour also includes two historic homes in the city of Fairfax of particular interest to Civil War buffs: Historic Blenheim, c. 1859, and The Ratcliffe-Allison-Pozer House, built in 1812 by Richard Ratcliffe, the city's founder. This charming brick house is Fairfax city's oldest residence within what was the original six-block town of Providence. One of the last two owners, Kate Waller Barrett, was a prominent social reformer, and her daughter, Kitty Pozer, was the first gardening columnist for The Washington Post and numerous gardening magazines. 
Also of interest is the Fairfax Railroad Museum. Originally built in 1852, it served as a logistics, communications and medical evacuation base where Clara Barton nursed wounded soldiers during the Civil War. Free admission on tour day to the museum, grounds and 1968 Norfolk Western caboose.  Home and Garden tour tickets are $40 for either 10 a.m. to 1 p.m. or 1 to 4 p.m.
WINCHESTER, SATURDAY, APRIL 23: Up for a day trip to the country?  No problem, The Little Garden Club of Winchester is hosting a tour the same day as the Old Town Tour in the beautiful Shenandoah Valley.  This scenic tour features four sites, three of which served as hospitals during the Civil War.  Tickets and information are available at www.VAGardenWeek.org  and are $30 in advance and $40 on tour day.
LEESBURG: On Sunday and Monday, April 24 and 25, the Leesburg Garden Club hosts a walking tour featuring charming late 18th through 20th century properties and beautifully restored gardens close to quaint downtown shops and restaurants. Advance tickets: $40 at www.VAGardenWeek.org; tour day tickets: $50 at Town Hall at 25 West Market Street.
The statewide Garden Club of Virginia tour runs from April 23-30 and encompasses 128 private and public homes and gardens, landscapes and historic landmarks throughout the Commonwealth.  It is the only statewide tour of its kind in the nation. Proceeds fund the restoration and preservation of nearly 50 Virginia historic public gardens and landscapes and a research fellowship program in landscape architecture.  For more information, visit 
http://www.vagardenweek.org
.
Tickets for the Old Town Garden Tour
Tickets for the Old Town tour are $55 at www.vagardenweek.org and at the Alexandria Visitor Center, 221 King Street on tour day. Complimentary light refreshments are available at Old Presbyterian Meeting House, 316 S. Royal Street from 11:30 a.m. to 3 p.m.