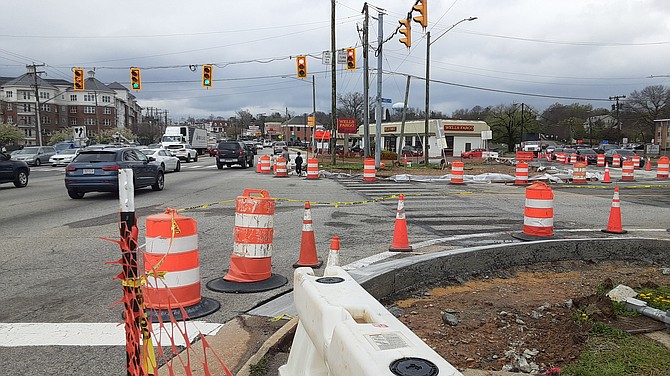 In the Penn Daw area of Mount Vernon, South Kings Highway seems to glance off Richmond Highway, creating an odd intersection where northbound cars have a right and quick left turn and southbound cars have a wide U-turn of sorts.
Officials are in the process of fixing it though, and this is part of a bigger project called "South Alex," centered around a housing development that suffered a major setback when a fire swept through the development in February 2020.
On the Fairfax County Comprehensive Plan document, it describes this intersection as "a significant activity center for retailers and other businesses," due to its location near Metro. "However, the intersection of Richmond Highway and North Kings Highway presents challenges for visibility and accessibility, and hinders pedestrian activity," it says.
The South Alex project is moving forward though and it consists of 400 Class-A apartments and 44,000 square feet of retail space with an Aldi store and another "national specialty grocer," the website said. A "Class-A," apartment can be described as properties that represent the highest quality buildings in their market and area. They are generally newer properties built within the last 15 years with top amenities, high-income earning tenants and low vacancy rates. Class A buildings are well-located in the market and are typically professionally managed.
In the Conceptual Plan, the vision is a transformation of the crossroads area into a high intensity Transit Oriented Development node and a transportation gateway. According to Fairfax County Department of Transportation, "these improvements are moving North/South Kings Highway into its ultimate planned alignment per the Comprehensive Plan."
Embarking on Embark
According to the Embark Richmond Highway plan, a bus rapid transit station is planned near that intersection and the BRT is planned to connect to the Huntington Metrorail station via North Kings Highway. The intersection of Kings Highway and Richmond Highway is being redesigned to improve safety and access, the comprehensive plan language reads. This redesign is aimed at making the area more pedestrian friendly with a series of plazas, and mixed-use developments in both the western and eastern land units of the CBC using crosswalks and other high-quality pedestrian facilities, it said. The community is also within commuting distance from several employment hubs including Old Town Alexandria, The Pentagon, Amazon HQ2, Fort Belvoir, Tysons Corner, Joint Base Andrews, and Downtown D.C.
Currently there are more traffic cones than anything at this intersection so there will be more commuting pain before there's any relief.