Rob Kaufman, a developer known for his detailed restoration of historic properties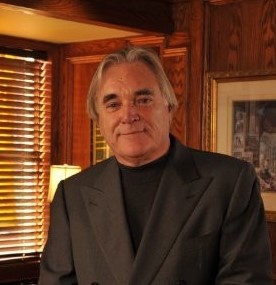 across the city, died April 8 after a year-long battle with pancreatic cancer. He was 71.
"Dad fought a long and hard battle but unfortunately didn't end up winning," said Kaufman's daughter Jennifer Kaufman Walker. "Pancreatic cancer is a silent killer. The signs are very minimal and if we had known, perhaps he could have survived."
Kaufman was the founder and president of PMA Properties, which for more than 40 years specialized in the rehabilitation of unique historical buildings, converting them for commercial, residential and corporate use.
"Anyone who knew Rob would have a hard time describing what an impact he had on Alexandria," said longtime friend Cal Simmons. "He was such an unassuming guy. We have a lot of public people in our community doing great things but Rob was very much under the radar yet had a huge impact."
Robert John Kaufman was born May 11, 1950, in Kitchener, Ontario, one of four children born to the late Robert Walter and Elizabeth Churchill Kaufman. While still in his teens, Kaufman left school to begin his career in Canada. He built and developed several hundred homes across three Canadian cities before moving his family to Alexandria in the 1980s.
"Dad left school in 10th or 11th grade," Walker said. "His family owned a lumber company and rubber company so he was born into a family of entrepreneurs. He had this tremendous drive and passion for history and building and educated himself throughout his life. He always told me, 'You can achieve what your mind can perceive.'"
Kaufman was known for the meticulous detail in his restoration projects, including the restoration of the Old Town Theater on King Street. Now home to outdoor clothing company Patagonia, PMA Properties purchased the 1914 building in 2011 for $2 million. Under pressure from the community to save the historic theater, Kaufman restored the property with the intent to maintain it as an entertainment venue. The late Jeffrey Yates bought it from Kaufman in 2015 to run as a theater with Asana Partners acquiring the space in 2018 after Yates died.
While the project did not survive as an entertainment space, Kaufman was honored by the Historic Alexandria Foundation in 2013 for his preservation of the building.
"Rob had a portfolio of 26 to 28 commercial properties, and he refurbished all of them," said friend and business leader Charlotte Hall. "He transformed not only lower King Street but also upper King Street. Talk about a commitment to your community. His commitment to his family was number one but his commitment to Alexandria was second to none."
Known for his optimistic outlook in life – PMA Properties stands for Positive Mental Attitude – Kaufman obtained his pilot's license, became a champion tennis player, did radio voiceovers and completed sailing training through the Naval Academy before journeying over 10,000 miles from the Caribbean to northeastern Canada. In addition to his many awards and recognitions, Kaufman was named one of Washington's Millennium Leaders and his portrait hangs in the Martin Luther King Jr. Memorial Library.
"Dad always kept his story close to his heart," Walker said. "He turned down a nomination for Living Legends – he was very modest in that sense. As a father he set a very high bar, allowing me to stumble and make mistakes then support me as I worked through them. As a grandfather he was incredible to watch, saying that he never knew how much joy being a grandparent could bring."
Simmons echoed Kaufman's optimism.
"Even when Rob was first diagnosed with cancer, he had one of the most positive outlooks I could imagine," Simmons said. "That was stunning to me. He was going to fight it in every way he could but he also went about living his life as best he could."
In addition to his daughter, Kaufman is survived by his wife of 45 years, Karen, son-in-law, Ryan Walker, and two grandchildren, Josephine Emma (Joie) and Gunnar Robert. He is also survived by his brother-in-law, Robert J. Chapeskie, brothers Peter and David Kaufman and their families, and extended family members and friends. He was preceded in death by his sister, Maryjane Kaufman Riddell, and brother-in-law, Doug Riddell of Canada.
Services will be private. In lieu of flowers, donations may be made to the Pancreatic Cancer Action Network. www.pancan.org
"Rob was an unbelievable asset to Alexandria," Simmons said. "I wish we had more citizens in our neighborhood like Rob."
Added Walker, "While there is a deep hearted sadness, knowing that other people are grieving with me helps me not feel so alone. There is such a warmth knowing that he touched as many lives as he did."