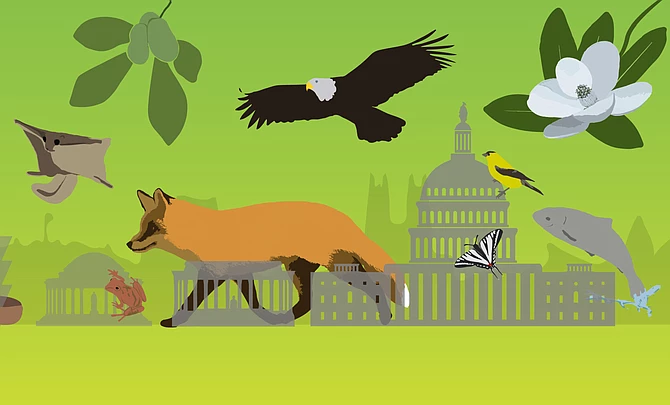 Join the City Nature Challenge
April 29, 30, May 1; 1-6pm;  Locust Grove Nature Center
Cities around the world are competing in the City Nature Challenge to see who can make the most observations of nature, find the most species, and engage the most people. Join in to find out just how easy it is to participate, including how to use the iNaturalist app to submit your observations as a citizen scientist. Then go for a hike to snap some photos. Anyone can participate. Families welcome (please register anyone over the age of 13). Have a group you'd like to bring? Register for one of the free sessions, for ages 13 and up, 1-6 p.m. on April 29, April 30 or May 1. 
More information: citynaturechallengedc.org
Register: mcp-locustgrove@montgomeryparks.org
Naturalist Hike 
April 10 | 2-5 pm | $3 | Locust Grove Nature Center
Become a community scientist via this virtual scavenger hunt through the park. Practice finding creatures of all shapes and sizes, then take their photo using your cell phone. Requires an adult to download the free iNaturalist app. All ages.
Click to Register for a time:
2-2:30 pm PLGNC0010-100001
https://web1.myvscloud.com/wbwsc/mdmontgomeryctywt.wsc/iteminfo.html?Module=AR&FMID=2371496
2:15 – 2:45 pm PLGNC0010-100002; 2:30 – 3 pm PLGNC0010-100003; 2:45 – 3:15 pm PLGNC0010-100004; 3 – 3:30 pm PLGNC0010-100005; 3:15 – 3:45 pm PLGNC0010-100006; 3:30 – 4 pm PLGNC0010-100007; 3:45 – 4:15 pm PLGNC0010-100008; 4 – 4:30 pm PLGNC0010-100009; 4:15 – 4:45 pm PLGNC0010-100010; 4:30 – 5 pm PLGNC0010-100011
Potomac Conservancy Cleanups
might be full
Celebrate Earth Day by cleaning the Potomac  River  at Fletcher's Cove with C&O Canal Trust. Join Potomac Conservancy at Fletcher's Cove/C&O Canal on April 23 for a day of preventing litter from entering the Potomac so the nation's river can remain beautiful, drinkable, and fishable.
Sign up for one of 50 spots available, and make a difference for your hometown river.
Masks will be required for all participants when gathered in a group.
Reach out to Weyessa McAlister at mcalister@potomac.org with questions.