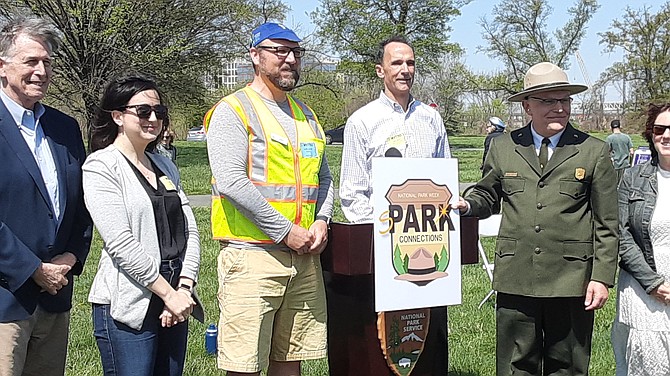 It was 1971 when Ellen Pickering and Barbara Lynch thought up the idea for the Mount Vernon Bike Trail along the Potomac River, and their efforts were highlighted at the 50th anniversary celebration on Saturday, April 16. Especially Judd Isbell, the president of the Friends of Mount Vernon Trail who repeated their mantra: "We were just two women that said 'why don't we' and we did," Isbell said to the crowd that gathered at Daingerfield Island.
Pickering and Lynch got signatures on a petition and then the support of the National Park Service before the first 4.5-mile stretch of the trail opened in 1972. Since then it has grown and so have the numbers of volunteers that help maintain it, as several people pointed out. "Their volunteerism is what this is all about," said Charles Cuvelier of the National Park Service. "It started as a dream and a passion," he said.
One of those volunteers is David Bouk, a member of the volunteer trail who loads down his bicycle with a gas powered trimmer, a couple of rakes, and clippers to maintain the vegetation that gets out of control in the spring. He straps all this to his bike with Velcro and bungee cords for his trip. "When you volunteer, they give you hand clippers and over time, it evolved as I could see the need," he said.
Trailside Activities
At the ceremony, there were about a dozen tents with various groups including the National Park Service, Capital Trails, Rosslyn, Bike Arlington, the Alexandria Medical Reserve Corps, the Friends of Mount Vernon Trail and the Friends of the Dyke Marsh, which is an ecosystem just south of the City of Alexandria. Most of these groups are at least partially staffed by volunteers. 
"This trail is a case study in volunteer stewardship," said Isbell.
The Mount Vernon Trail goes from George Washington's Mount Vernon Plantation to Old Town Alexandria, past Daingerfield Island and Reagan National Airport to Rosslyn. That stretch is about 17 miles. On the southern end, there is an old portion of trail that is tough to navigate, but work is currently going on to extend the trail from the plantation, across Dogue Creek, across Richmond Highway and onto Jeff Todd Way. Throughout the trail corridor, other bike trails link to it so it is possible to travel throughout the region from the Mount Vernon Trail. 
"Basically from Maine to Key West," said Elliot Caldwell with the East Coast Greenway Alliance. He admitted the Mount Vernon stretch is "one of the most visited parts of the Greenway route," he said,
Locals use it for commuting and exercise too. "I use it for recreation, about 90-100 miles a week in the summertime," said Joe Swartz. 
Supervisor Storck uses it a lot too. "I love trails, I bike, hike and run, it's been a big thing in my life," Storck said.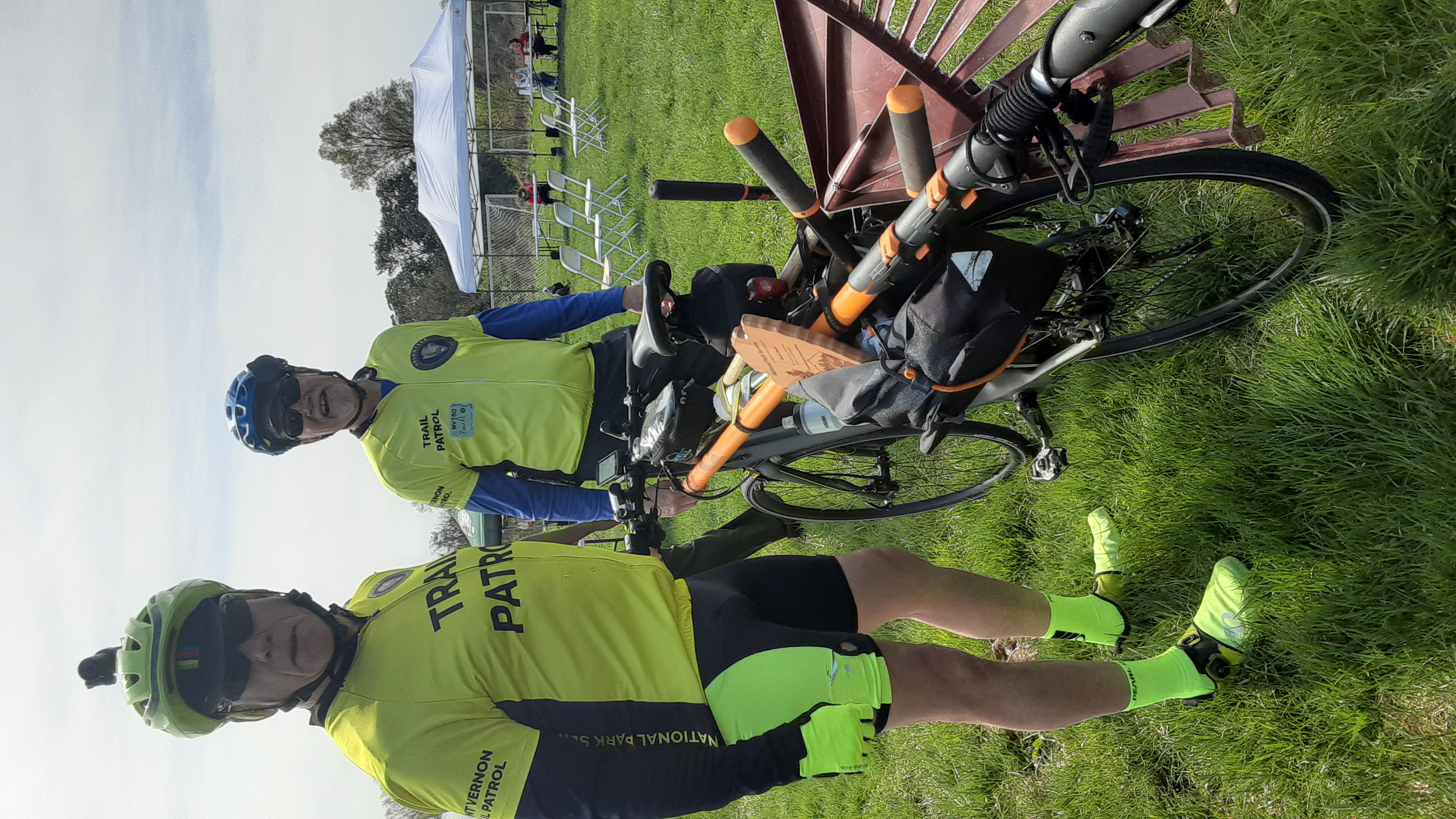 David Bouk, left, with his bike full of gardening tools.Sean McCallum rides a lot too and brought up a couple of areas in the southern part of the trail that he said needs attention. His concerns include safety rails that are missing, parts of the trail that are washed out near the stone bridge, trees that have fallen this winter and root cracks that can be seen throughout the trail path. 50 years of ridership and exposure to the elements have taken their toll.
During Cuvelier's speech, a bald eagle was spotted over the crowd and there was a pause as everyone looked up. Eagles are another thing that has bounced back since the trail opened in 1972. Bald Eagles were on the endangered species list at that time, and now can be seen regularly along the Potomac River. Cuvelier pointed out the eagle. 
"It does remind us of what a special place this is," he said.