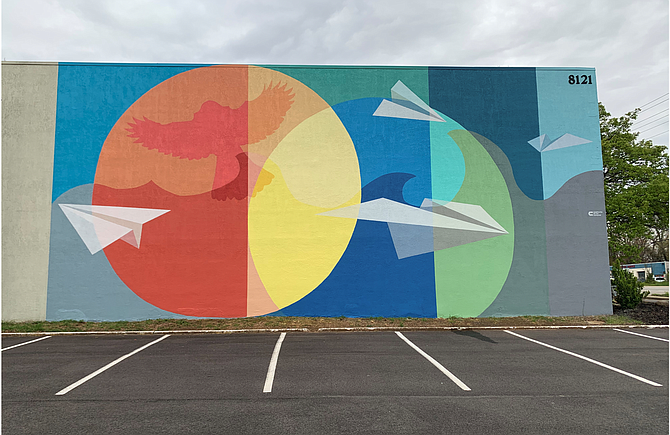 Arts has an impact on the surrounding community, says Evan Kaufman, Executive Director of the Southeast Fairfax Development Corporation in Mount Vernon. That's the idea behind a new initiative SFDC launched recently, Paint the Corridor project, which was kicked off earlier in April with a mural jazzing up a vacant wall space on a building at 8121 Richmond Hwy., just up the hill from Little Hunting Creek.
"Cool comes from creative expression, and this mural adds a sense of cool on the corridor." 
— Evan Kaufman, Southeast Fairfax Development Corporation
This colorful mural has paper planes, a bird and water features that stand out in this area which is dominated by vacant lots, empty buildings and the run-down space where the Thieves Market once stood. The building was once an airplane parts store serving two former airfields at Hybla Valley and Beacon Hill and the paper airplanes on the mural reference that history. Wildlife reflects life in the stream valley and Potomac River environments.
On the 'cool' scale, it ranks up there and Kaufman explained the value of 'cool' to the Board of Supervisors at a board meeting on April 13. "Cool comes from creative expression, and this mural adds a sense of cool on the corridor," he said. Part of his mission is to create a stronger sense of place and identity to the Richmond Highway Corridor.
"These residents deserve the same level of cool as other parts of the county," Kaufman added.
The plan for this year is to create two more murals in the area and maybe more in the future. "As many as we can do within our budget and available grants," Kaufman said. For this mural SFDC partnered with Community Art for Everyone, another local non-profit, and a $4000 grant from ArtsFairfax. 
"We supplied the rest of the funding from our sponsors, and another grant from Transurban," Kaufman said. Transurban is an Australian engineering company that built the express lanes in this area.
The murals won't have a certain theme to follow, but they are sticking with positivity. "In general we are working with each property owner to develop murals that may help tell the history of the property and the general area or just be really fun, colorful, and whimsical," said Kaufman.
Supervisor Dan Storck (D-Mount Vernon) highlighted the mural on social media with a picture of his staff in front of the wall. "Team MVD loves the new mural! Thank you Southeast Fairfax Development Corporation - SFDC for beautifying our neighborhoods. Can't wait to see the next one!" they wrote.