Family and friends crowded Saint Katherine's Greek Orthodox Church April 18 to pay tribute to Charlie Euripides, a community leader, U.S. Navy veteran and longtime owner of the Royal Restaurant. Euripides died April 14 at the age of 89.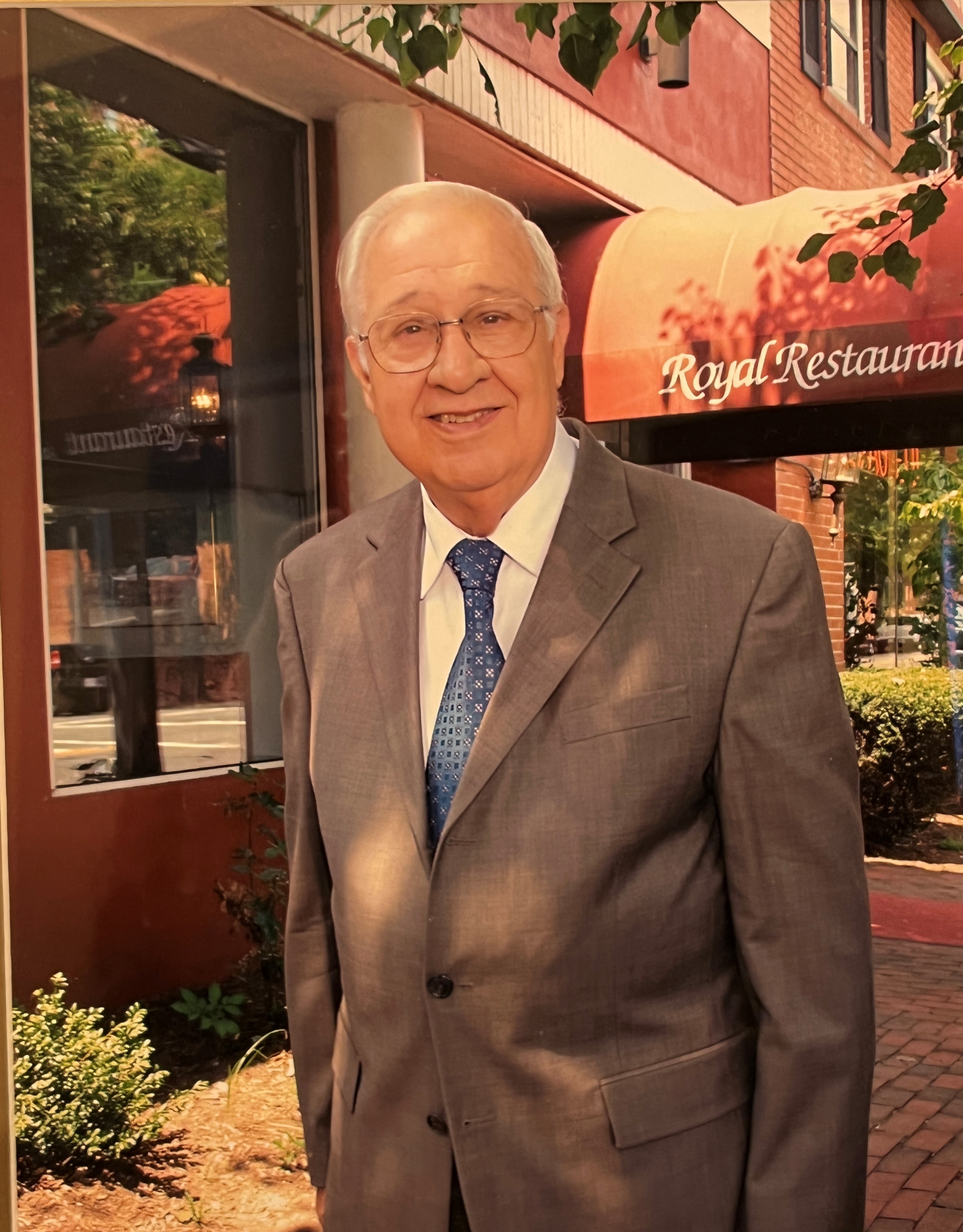 The tributes to Euripides all echoed the commitment of the longtime Alexandria resident to his faith, his family and his country.
"Charlie actually lived The American Legion's motto of 'For God and Country,'" said American Legion Post 24 Commander Henry Dorton. "But to anyone who knew Charlie, you would need to add the word 'Family' to the motto. He was always smiling, always helpful, and totally selfless. It is no wonder to me that he and his restaurant became a local institution."
Born Dec. 8, 1932, in Karavas, Cyprus, Kyriacos "Charlie" Euripides was the eldest son of Euripides and Maria Hadjiyiannakis. His father served in the Cyprus Brigade of the British Army during World War II, which inspired Euripides' life of service.
"Charlie was mentored by the Greatest Generation," said nephew Dimitri Pikrallidas. "He was proud to follow in the footsteps of his father, who served in World War II."
Following his graduation from Pancyprian Gymnasium High School of Nicosia, Cyprus, Euripides left his family behind and immigrated to the United States in 1951.
"It was my lifetime ambition to come to the United States," said Euripides in 2018 after being selected as a Living Legend of Alexandria. "I had been told the schools here were good so I knew whatever future I had would be here."
Euripides joined an uncle, who operated a restaurant at the corner of Royal and King streets. He worked at the restaurant while taking citizenship classes at the former George Washington High School in Del Ray and studying engineering at George Washington University in D.C.
In 1954, Euripides enlisted in the U.S. Navy. He served two years aboard the Battleship New Jersey in the Gunnery Division followed by two years with the 6th Fleet aboard the Flagship Salem. He became a U.S. citizen in 1957.
"I am inspired to live a life as brave as he did."
— Barbara Euripides on her grandfather Charlie Euripides
Upon completion of his military service, Euripides returned to Alexandria, forgoing his engineering degree to help his uncle at The Royal Restaurant. In 1962, he formed a partnership with his uncle, Richard Pikrallidas, eventually assuming full ownership which continued for more than 60 years.  
Due to urban renewal, Euripides was forced to relocate the restaurant to its present location at N. St. Asaph St. in 1965. By now married and raising a family, Euripides was determined that the new Royal Restaurant would be a success.
"This was our only income," Euripides said. "I couldn't let my uncle or my employees down."
In 1960, Euripides married Barbara Hobbs Euripides and established a home in Alexandria. To support his family, he worked three jobs, including paper route delivery management for the Alexandria Gazette, six days a week.
A member of American Legion Post 24 since 1958, Euripides donated his time and resources to many military and veteran-focused initiatives.
"Dad was humbled to be a part of an organization of brave veterans, all of whom served the community," said son Chris Euripides. "These veterans supported the highest ideals of freedom and democracy. They were like family to him, and he counted them as his great friends."       
Euripides also supported numerous nonprofit and social service organizations such as The Salvation Army, Del Ray Artisans and the Alexandria Police Foundation with substantial financial and in-kind donations of food and catering services.
"Kind and generous simply don't go far enough in describing Charlie," said DRA vice president and fellow Post 24 veteran John Bordner.
Euripides was a founding member of St. Katherine's Greek Orthodox Church, in Falls Church and served as an active member for 60 years.
"Charlie carried his resolve to serve as a founding member of Saint Katherine's Church, knowing that building and supporting churches was the right thing to do," Pikrallidas said. "When asked by so many in the community for help, he never said no. He said 'When? How much? and Where?'"
Added nephew John Tegeris, "Charlie's love language was food."
Euripides served as president of the Alexandria chapter of the American Hellenic Educational Progressive Association (AHEPA) from 1966-1967.  In addition, he served as President of the Cyprus Society, of Washington, D.C., and worked to support and defend the independence of the nation of Cyprus. 
"Dad's love for the family was evident every day as he worked to provide us with things and experiences that he knew were healthy, educational and of great benefit to one's spiritual growth," said Euripides' eldest son Gus Euripides.
Added son Michael, "Dad loved the outdoors, and encouraged each of us to participate in sports, and scouting. He could not water ski, yet with our mother, he bought a boat and built a house at Lake Anna that became a focal point of family gatherings for four decades."
Among his many recognitions and awards, Euripides was presented with the prestigious Distinguished Patriot Award at the Alexandria Chamber of Commerce 2016 Salute to Veterans reception.
Until recently, Euripides still greeted customers at the restaurant. His younger brother Richard is the chef, having joined Euripides as a refugee when Turkey invaded Cyprus in 1974.
Euripides was predeceased by his wife of 41 years, Barbara. He is survived by three sons, Charles "Gus" (Joanne), Michael (Evanthia) and Christopher (Sophia), his grandchildren, Barbara, Elefteria, Charles, Evangelos, Chrystanthi, Maria and Paraskaevi, his brother Efthyios "Richard" Euripides, and many nieces, nephews and cousins in Greece, Cyprus and around the world. He was predeceased by his sister, Stassoula Yettimis, and his brother, Costas Johnnides.
In lieu of flowers, donations may be made to Saint Katherine's Greek Orthodox Church, 3149 Glen Carlyn Road, Falls Church, VA 22041.
Like so many before her, Euripides' eldest grandchild Barbara paid tribute to her grandfather's service to God, his country, his family and his community, saying, "I am inspired to live a life as brave as he did."