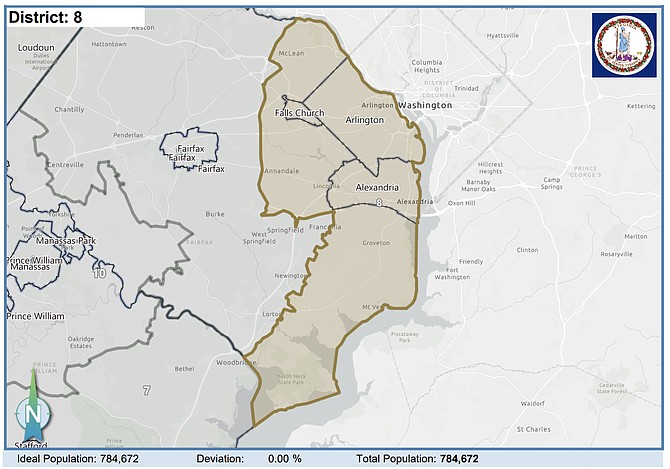 The Eighth Congressional District is the bluest of the blue strongholds, giving President Biden 78 percent of the vote in 2020 — the largest margin of victory for all the Virginia congressional districts. For many years, the district was represented by U.S. Rep. Jim Moran (D-8), who decided to step down in 2014 after serving 12 terms in Congress. Beyer emerged that year from a field of 10 candidates in the Democratic primary, and has not been challenged in a Democratic primary since that time. This year, though, Victoria Virasingh is challenging Beyer for the Democratic nomination.
"It is difficult to knock off an established incumbent member in a first run for public office," said Mark Rozell, dean of the Schar School of Policy and Government at George Mason University. "Unless there is some dissatisfaction among the district's Democratic Party voters with Beyer — and I do no see any — it is going to be especially difficult in this case."
Virasingh is calling attention to Beyer's personal wealth, criticizing the performance of his stock portfolio at a time when he was in a position to have what she calls "privileged information" as a member of Congress. She is calling for a prohibition on members of Congress being able to buy and sell stocks. That's a policy proposal that Beyer actually agrees with. Two months ago, he says, he moved all his investments from stocks to mutual funds when the issue of self-dealing on Capitol Hill became a topic of conversation. On the campaign trail, Virasingh has tried to fashion herself as a progressive alternative to the incumbent -- a new voice of a new generation challenging someone who has been a fixture of Virginia politics for decades.
"I could see a progressive challenge viable in the case of an incumbent voting well to the right of his or her constituency, but that is not the situation here," said Rozell. "To the extent that the challenger can draw out some contrasts and give Democratic Party voters reason to consider an alternative, that is all good for the process as it helps to hold the incumbent accountable."
 VICTORIA VIRASINGH is a native of Arlington, where her parents were part of a community that included refugees from India and immigrants from South America. She earned scholarships to St. Agnes Catholic School in Arlington and Georgetown Visitation Preparatory School in Washington, D.C. Virasingh has a bachelor of arts in international relations and a master of arts in Latin American Studies, both from Stanford University. She interned at the Internal Revenue Service and the office of Sen. Dianne Feinstein (D-Calif.) before joining Palantir Technology leading public-private partnerships. She's now a full-time candidate.
"If I was born in this area today, my story would not be possible," she said when asked why she's running in the primary. "This area has exploded in growth, which is really exciting. But one of the problems is that it's much harder to find affordable housing."
If elected, she says, she would support a prohibition against members of Congress buying and selling stocks. She pointed to disclosure reports from Beyer indicating that his portfolio recently outperformed the Standard & Poor 500 index, which she says should raise red flags given his access to information as a member of Congress. She says she would also support publicly financed election campaigns, and she says she supports the Biden administration's controversial proposal to end the Trump administration's use of Title 42 of the Public Health Service Act of 1944 to turn away undocumented immigrants arriving at the southern border. She says it's time for "a new type of leadership" and "it's time to pass the torch."
"We don't have legislators who understand what the challenges are," she said, adding that Beyer and others fit that description. "They don't understand the basic fundamentals of the ways in which technology is influencing our economy."
 DON BEYER is serving his fourth term in the House of Representatives. He is a former lieutenant governor who ran an unsuccessful campaign as the Democratic candidate for governor in 1997, when Republican Jim Gilmore was elected. He has a bachelor's degree in economics from Williams College in Massachusetts, and during the Obama administration he served as ambassador to Switzerland and Liechtenstein. If elected to a fifth term to a party in the minority, he says, he will be able to work with friends across the aisle on issues like regulating space traffic management of satellites orbiting Earth.
"This really gets into the meaning of life, you know, why are we here? I long ago figured out that I was happiest when I was trying to make other people's lives better," he said. "We all have to try to make sense of the story of our own lives, and this is the way I do it."
During his time in office, he says, he's been focused on tackling the problem of climate change, pressing for a carbon tax and expansion of fusion energy to replace fossil fuels. Congress is currently considering seven of his climate change proposals as part of the long-delayed Build Back Better plan. He says he agrees with Virasingh that members of Congress should be prohibited from buying and selling stocks, and in February he moved all his investments from the stock market to mutual funds. He also agrees with Virasingh about public financing of elections, although he says he's not yet sure whether he supports the Biden administration's plans to lift Title 42 restrictions and allowing undocumented immigrants to seek asylum at the southern border.
"I think it might be the right thing to do legally, that there may be no legal merit to keeping it in place. Politically I think it's very difficult," said Beyer, who says he wants to hear all the arguments on both sides. "Generally I hate picking a political consideration over a policy consideration. I always want to do the right thing, not necessarily the smart thing."