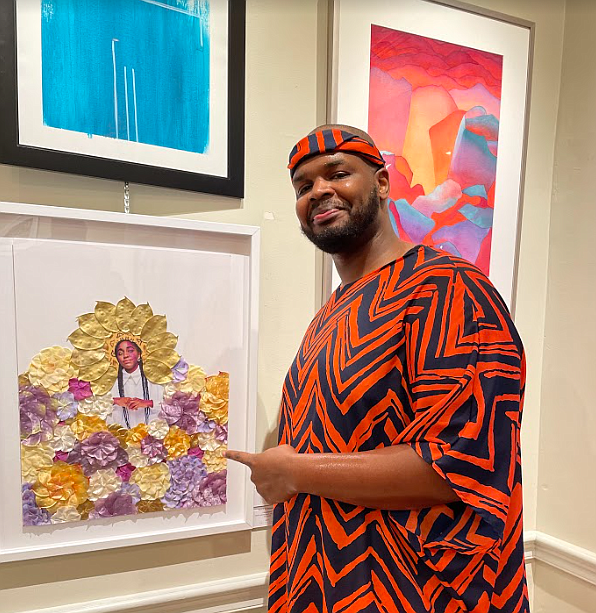 The Principle Gallery on King Street, in partnership with the Torpedo Factory Art Center, hosted an opening reception for an exhibit showcasing artwork by recently juried artists selected to be a part of Torpedo Factory Art Center.
"Now more than ever, it's important for arts organizations to collaborate in support of the arts, artists, and disseminating culture," said Clint Mansell, director of the Principle Gallery. "The Torpedo Factory Art Center has been an institution in Old Town for almost 50 years and we are excited to team up for the first time to usher in the new class of artists and a new day for the institution."
The exhibit features the first public look at artwork from new and returning resident artists and artists pro tem, all of whom were selected through a highly competitive process to secure studio space at the Torpedo Factory. Resident artists will gain studio space in the fall and artists pro tem will be eligible to sublease and take part in Art Center programs.
"It was scary to be rejuried," said Anna Shakeeva, who has been a resident artist for 26 years. "I am not good at writing on the application but I did get a high score on my original work and in my presentation so I am lucky to stay in my studio."
The jurying of artists took part in three phases. Phase I was a blind review of only artwork. Phase II reviewed the artist's ability to communicate about their art and their progression in their artistic careers and Phase III reviewed artwork in person and provided an opportunity for the artists to present directly to the jurors.
Rashad Ali Muhammad is a mixed media collage artist who will be joining the Torpedo Factory for the first time.
"I am ecstatic," said Muhammad. "I have come to the Torpedo Factory as a visitor but never dreamed I would actually be in here. I have been working out of my home studio since 2016 but needed a larger space to do larger scale pieces. I was skeptical I would get in but it was a dream of mine that I hope inspires other Black artists to follow their passion."
The Torpedo Factory Art Center was established in 1974 in an old munitions plant along the Potomac River. After several changes in management over the years, the facility is now managed by the City of Alexandria through the Office of the Arts, a division of the Department of Recreation, Parks, and Cultural Activities. The facility houses 71 studios and seven galleries.
"Tonight is a celebration of the artists that have completed the most recent round of the open call for studios and space at the Art Center," said Diane Ruggiero, Director of the Office of the Arts. "We have about 38-40 of the artists here tonight with about 58 artists coming into the Art Center in the fall."
This new annual jury process is part of The Art Center's Vibrancy Initiative, based on the 2021 City Council-approved action plan with selection based on art quality, artist's ability to work and interact with the public, working for the greater good of Art Center/community, and diversity including media, place in career, and personal background.
New artist Anthony Nsofor is excited about being selected for a studio.
"I am excited, not just about getting a space but also of the setting of the Torpedo Factory," Nsofor said. "It is a special place for artists, who usually work in isolation but here artists can see each other's creative process and meet the public."
Ruggiero said an open call will be held again sometime in early 2023.
"For everyone who applied, if they did not come in at the capacity that they wanted, we will have an open call again for a different roster of studios starting about January or February," Ruggiero said. "For existing artists who did not acquire a studio this time, we are offering some professional development workshops for them to helpfully put them in a better position when they apply for a studio in the future."
The exhibit at the Principle Gallery, located at 208 King Street, runs through Aug. 21.
"This reception is a great way to partner with another great art entity in Old Town," Ruggiero said. "The Principle Gallery has been here 28 years so anytime we have an opportunity to partner with another arts organization we of course want to take advantage of that."