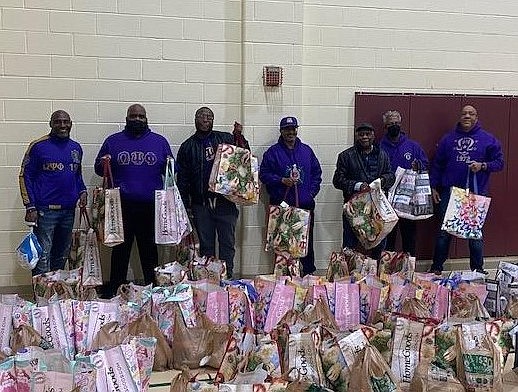 "The dinner was originally started as a way to get first responders and community members more engaged with each other."
— Friendsgiving coordinator Michael Johnson
Hundreds of children and families gathered at Charles Houston Recreation Center Nov. 22 as the annual Friendsgiving dinner made its return to an in-person event following a pause due to the pandemic.
"We've been doing this for about 10 years now," said Alexandria Recreation and Community Specialist Michael Johnson, a coordinator of the event. "We only missed one year when COVID first started but last year we delivered meals to homes. It was a great success to see the fellowship enjoyed as we brought everyone together for an in-person gathering."
More than 250 turned out for the pre-Thanksgiving meal sponsored by the Alexandria Police, Fire and Sheriff's departments and the Department of Recreation, Parks and Cultural Activities. Over 120 Thanksgiving baskets filled with hams and turkeys were given out by volunteers for designated families in need to enjoy on Thanksgiving Day.
"The dinner was originally started with the Alexandria Police Department and the recreation department as a way to get first responders and community members more engaged with each other," Johnson said. "Officer Benny Evans did all the meal prep and cooking with some volunteer cooks from My Father's House along with the Social Responsibility Group and a host of others. SRG is new – about three years old now – and a great asset to the city."
Volunteers at the dinner included Sheriff Sean Casey, Undersheriff Robyn Nichols and members of the Alexandria Sheriff's Office along with members of the Alexandria chapter of Omega Psi Phi fraternity.
Several local agencies and businesses sponsored the event, including Michael & Sons and the Keith Burns Foundation providing turkeys and hams for local families.
"Thank you Michael Johnson for inviting the Alexandria Sheriff's Office to participate in your annual Friendsgiving dinner party," said Casey on social media. "We enjoyed the delicious food and great conversations!"