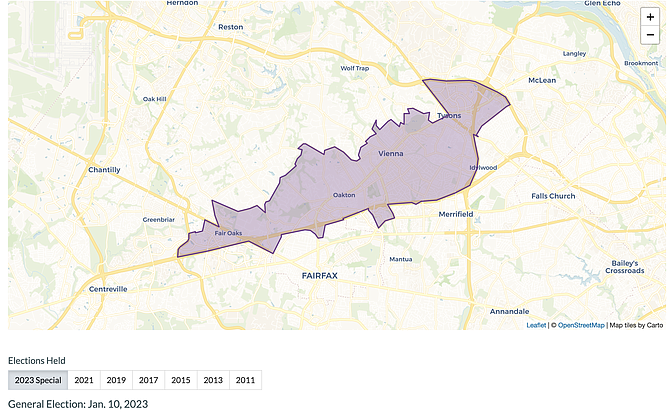 Holly Seibold (D) and Monique Baroudi (R)) are the candidates running in the 2023 state legislative special election for the Virginia House of Delegates District 35 on Tuesday, Jan. 10, 2023. Longtime Delegate Mark Keam  (D), most recently elected for his seventh term in 2021, stepped down on Sept. 6, 2022, to work in the Biden administration, triggering the opening. Keam easily defeated Kevin McGrath (R) in the general election Nov. 2, 2021, with 68.7 percent of the total 35,250 votes.
Voters can find out more about the candidates by visiting their websites, for Holly Seibold  https://www.hollyseibold.com/, and  Campaign Facebook for Monique Baroudi. 
Seibold is an educator, business owner, and non-profit leader. She founded BRAWS, "Bringing Resources to Aid Women's Shelters," and was appointed by Gov. Ralph Northam to the Virginia Council on Women. Seibold names three key issues. She says,  "Protecting women's healthcare and fighting for abortion access; investing in our public schools and keeping our kids safe from gun violence and supporting small businesses and workforce development in our community." 
Seibold graduated from American University, and from The George Washington University with a M.Ed. in elementary education. 
Siebold can be reached at https://www.hollyseibold.com/contact.html.
Baroudi is a graduate of Thomas Jefferson High School for Science and Technology and the University of Virginia with a degree in systems engineering. Baroudi is running, she says, "(Because) schools are not safe and seem to be more committed to indoctrinating children rather than teaching them important life skills like reading, writing and math. … Our taxes discourage enterprise and our government regulations discourage innovation," she says. Baroudi can be reached at monique@mbforvirginia.com.
District 35 represents 92,718 constituents, according to the 2020 Census. Virginia Code dictates that the Virginia General Assembly will assume office on the second  Wednesday in January, which is Jan. 11 in 2023. Early voting began on Nov. 23 for the open District 35 seat. It includes Oakton, Tysons, Vienna, and Dunn Loring. The election will be held using the pre-redistricting district lines. 
The Fairfax County Government Center's Office of Elections provides early voting Monday through Friday from 8 a.m. to 4:30 p.m. through Jan. 7 at 12000 Government Center Pkwy., Fairfax, and the Providence Community Center on two Saturdays, Dec. 31 and Jan. 7, from 9 a.m. to 5 p.m. It is located at 3001 Vaden Dr., Fairfax. There is no voting on county holidays, Fri., Dec. 23 (from noon on), Mon., Dec. 26, and Mon., Jan. 2.
Registered voters can request a mail-in ballot through the Virginia Department of Elections or vote in person on Election Day. 
Drop boxes are available to return a completed ballot during satellite operating hours.
The boundaries of this district, which will be known as the 12th District for the next set of elections, were altered during the recent redistricting. The Virginia Supreme Court unanimously approved district maps for the
 Virginia House of Delegates
 and
 Virginia State Senate
 on Dec. 28, 2021, and they will take effect for Virginia's 2023 legislative elections.