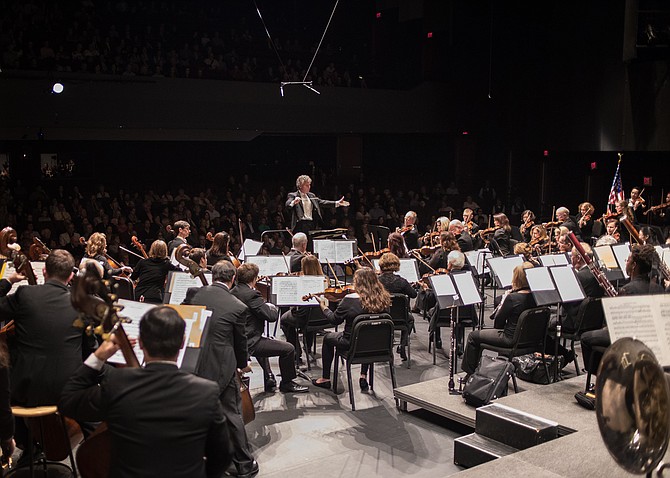 Something singular is coming — a concert like no other from the Fairfax Symphony Orchestra. "We are thrilled to bring these orchestral works to life for our audience — art from the past through the present," said Christopher Zimmerman, FSO Music Director and Conductor. "It's not only a responsibility to help make new music happen, but a great joy to be part of this process."
"This is first time that the FSO has highlighted its various components in one concert (strings, winds, and percussion) and a specific opportunity to highlight the richness and diversity of our expansive orchestral repertoire, from the masterpieces of the past to what's being written now." added Zimmerman.
Zimmerman selected a program that includes not only Dvorak but contemporary composers such as Adolphus Hailstork and Arov Pärt. The concert opens with "a bang with the highly energetic piece 'Ku-Ka-Ilimoku' by Pulitzer Prize recipient Christopher Rouse, bringing the fury and intensity of the Hawaiian god of war to the stage featuring more than 30 percussion instruments on stage together." 
The U.S. premiere is "Bruromano" by Sylvie Bodorová, a Czech composer whose compositions are performed internationally by renowned artists and orchestras. "I have known Sylvie Bodorova for 25 years. She has made an impact on the national and international stage and her music is direct, completely without pretension, beautiful, and sometimes very powerful." said Zimmerman. 
Written in 2019, "Bruromano" is "a rare work composed as a double concerto for Guitar and Double Bass and String Orchestra." said Aaron Clay, FSO Principal Bassist, who also plays Principal Double Bass for the "The President's Own" Marine Band. It is rare to hear this combination of instruments together because the bass has such a low voice and the guitar a higher voice "This combination works very well for this concerto. The colors of the two instruments mix well and produce different shades of musical expression throughout," said Clay.
Soloist and Grammy-winner Jason Vieaux performs "Bruromano" with Clay. Vieaux is among today's elite classical guitarists. "I think the balancing of the ensemble writing with two relatively quiet solo instruments is handled very well, allowing for a robust musical dialogue between the two soloists and orchestra. There are also moments of reflection and lyrical playing for both solo instruments."
"Bruromano" premiered with the Slovak Chamber Orchestra in Bratislava in January 2020 before the consequences of the coronavirus pandemic were known. "For me, music is the best encouragement; it brings hope for a better future. I would like to share this spirit of this hope with all of you," said Bodorova.
Where and When: Fairfax Symphony Orchestra and Christopher Zimmerman, conductor present concert including "Bruromano" (U.S. premiere) at Harris Theatre, George Mason University, 4400 University Drive, Fairfax, Va. Performance on Feb 19, 2022 at 8 p.m. Tickets: $40, $55, $65. Call 703-993-2787 or visit www.cfa.gmu.edu.  Hear the stories behind the music with Christopher Zimmerman and guest artists before the concert at 7 p.m.
Program:
 Christopher Rouse: "Ku-Ka-Ilimoku;" Dvořák: "Serenade for Wind Instruments;" Adolphus Hailstork: "Essay for Strings;"  Arvo Pärt: "Cantus in Memoriam Benjamin Britten;" Sylvie Bodorová: "Bruromano" for solo guitar, double-bass and strings (U.S. Premier) with Jason Vieaux, guitar and Aaron Clay, double bass
Health Note: 
This concert follows safety protocols of George Mason University. Attendees must present proof of vaccination against COVID-19 or show a negative COVID-19 test result. Face coverings required indoors for patrons ages two and up.  For details:   https://cfa.gmu.edu/plan-your-visit/what-expect