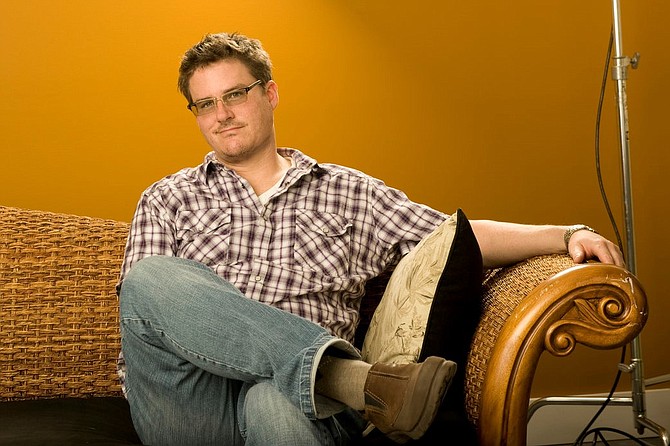 Greg Knott, a renown photographer and former president of the Torpedo Factory Artists Association, died unexpectedly Jan. 27 following a brief illness. He was 49.
Knott was best known for his deconstructed themed photo series "Rock, Paper, Scissors," which he said was the piece that turned his career.
"I was a commercial photographer," Knott told Taylor Cranwell in a 2019 podcast. "I actually used to get a little offended when people called me an artist when I was shooting three and four weddings a weekend. I thought artists were lazy people who sat on the couch."
A longtime Del Ray resident, Knott began pursuing artistry through his photography when he decided to participate in the Art on the Avenue art festival in 2001.
"I had been shooting family and wedding photography and wanted to showcase my work at the Del Ray arts festival," Knott recalled in the interview. "But in order to get a booth, I needed to show original artwork so I created some pieces but planned to use the festival to hand out my commercial photography business cards. I didn't think I would sell anything but I did and from there it took off."
Pat Miller, founder of Art on the Avenue, applauded Knott's transition from commercial photography to artistic work.
"Weddings are very hard work," Miller said. "It is not easy to transition into the art world but Greg did it and was successful."
Knott became a juried artist at the Torpedo Factory Arts Center in 2012. Keeping to his Del Ray roots, he became the vice president of the Del Ray Artisans Gallery in 2013. In 2015, Knott was elected vice president of the Torpedo Factory Artists Association. He was elected president of the organization in 2018.
Knott showcased his work at art festivals throughout the country winning numerous awards along the way.
"At first it was all very glamorous," Knott recalled in the Cranwell podcast. "But it was also a lot of hard work. But I'm in it to sell it and the photography itself is only about 10 percent of the actual work. The rest is what a plumber would do – the bookkeeping, following up on emails, entering and traveling to shows. It's all about getting out there. Show, show, show."
Gregory McFarland Knott was born Dec. 18, 1972, in Washington, D.C.  His early childhood was spent in Springfield, Va., but he graduated high school in Pleasanton, Calif. With an interest in photography, he began courses at Santa Barbara City College taught by professors from the Brooks Institute of Photography.
"I guess that's how I got started in the arts," Knott recalled in an interview with Northern Virginia Magazine in 2013. "In college I took some drafting courses and photography courses and won some awards in both. I kind of flipped a coin and photography took less schooling so I went in that direction thinking that I'd have to get a real desk job one day but so far so, so good."
Knott returned to the East coast and continued his studies at the Washington School of Photography. He became a member of Professional Photographers of America and the American Society of Media Photographers and formed what is now Greg Knott Art & Photography.
Professional photo tours took Knott around the world and led to numerous exhibitions at galleries and art festivals across the country.
"What Greg used as his subjects was so unique and so eye-catching," Miller said of his popular triptychs. "He was amazing."
Knott is survived by his wife Garland, their daughters Violet and Hazel, brother Stephen, sister Cynthia and father Joe.
In lieu of flowers, donations may be made to the Torpedo Factory Artists Association, 105 N. Union Street Studio 315, Alexandria, VA 22314. No information on funeral arrangements are available at this time.
"My brother was an amazing person and my life will be forever incomplete without him," said Knott's sister Cynthia Knott in an online tribute. "I'm so happy to see that his work is respected and well thought of. He is and will always be a person of creativity, love, kindness and inspiration."