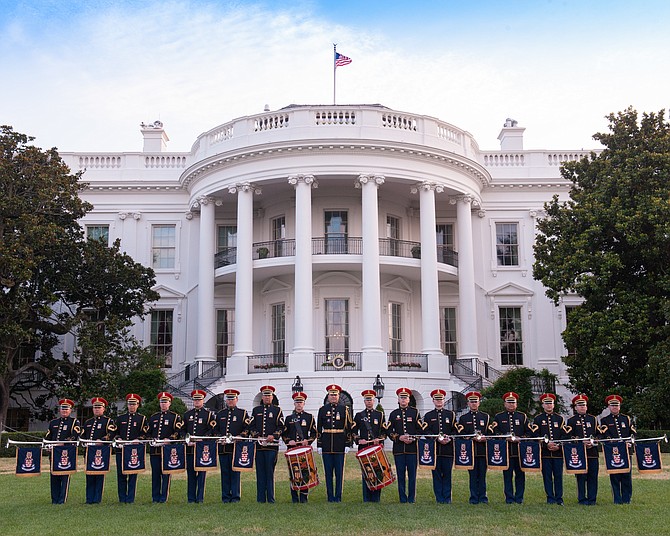 Fort Hunt Park's visitors today hear crows cawing, chickadees chirping, airplanes descending to National Airport and vehicles buzzing up and down the George Washington Memorial Parkway. One hundred years ago, they might have heard the melodious sounds of trumpets, saxophones and flutes rippling across the rural landscape from what was then the U.S. Army's Fort Hunt.
January 25, 2022, marked the centennial of the U.S. Army Band's founding at Fort Hunt.
In 1922, the Coast Artillery Corps was stationed at the fort to help protect Washington, D.C., the nation's capital, from naval assault ships coming up the Potomac River, though one observer at the time wisecracked that this unit was not capable of attacking a dinghy.  
The Army had started a music school in 1910-1911 at the Washington Barracks, today's Fort McNair, but when they organized a formal band of around 100 men, they moved to Fort Hunt because some buildings, now long gone, were available. Most of the band members were single and lived in barracks. In just nine months, September 1922, the band moved from Fort Hunt to the Washington Barracks.
There's another local connection: Fort Belvoir's Army Institute of Heraldry created the Army Band's uniform, one authorized exclusively for this band. 
 The original band had both professionals and novices. The first leader, Warrant Officer Francis Leigh, graded the musicians. 
"Some could barely play an instrument," snickers Adam Lessard, today's head of the band's collections and archives. 
The band's first public performance was at an April 27, 1922 dedication of a statue of General Ulysses S. Grant at the U.S. Capitol. To travel from Fort Hunt to performance sites members had to be "creative," Lessard says, navigating over muddy roads, using street cars and taking water taxis across the Potomac River. (The south section of the George Washington Memorial Parkway to Mount Vernon Estate was completed 1932.)
They had their first radio broadcast in 1923 and in the 1930s averaged four a week. In 1927, they performed at a ceremony honoring Charles Lindberg's historic Spirit of St. Louis flight from New York to Paris, France.
In 1942, Fort Myer in Arlington became their home installation and is still their home today, near Arlington National Cemetery where they often play for funerals and ceremonies. Fort Myer today is called Joint Base Myer-Henderson Hall.
Starting as a mostly concert band of around 86 musicians, today the band has 256 professional musicians who stage 6,000 performances or missions a year. There's a concert band, ceremonial band, strings, chorus, herald trumpets, blues band and a band that plays rock, pop, country, rhythm and blues and inspirational music. 
Pershing's Own
The band is called "Pershing's Own" because General John "Black Jack" J. Pershing believed the U.S. Army should have a band like the polished ones he had seen in Europe in World War I. He ordered the band's formation and believed it could boost the troops' spirits.
Making History
Today's Pershing's Own is a group of highly-trained, professional musicians who perform at some of the nation's most high-profile events, for U.S. Presidents, the U.S. Congress and foreign dignitaries.  
They are the official band for full honor ceremonies at Arlington Cemetery's Tomb of the Unknown Soldier. They provide buglers for wreath layings and do the fanfare for arrivals of foreign heads of state. They perform patriotic programs, for example, at the U.S. Capitol with the National Symphony Orchestra.  
Mount Vernon resident Sergeant First Class Paul Tucker, a saxophonist, loves the camaraderie, shared sense of mission and playing with world-class musicians, he says. "Performing in the Army Band at important ceremonies and concerts in our nation's capital has been an incredible honor, whether it is the Presidential inaugural parade or a Medal of Honor recipient ceremony or an outdoor summer concert. It is personally very rewarding to both make music and also represent the U.S. Army."
The band welcomed John Glenn back from his historic space flight in 1962 and played for the Apollo 11 astronauts' return from the moon in 1969. Pershing's Own performed at the 1987 summit of U.S. President Ronald Reagan and the Soviet Union's General Secretary Mikhail Gorbachev.
After the Sept. 11, 2001, terrorist attacks, band members helped with recovery efforts at the Pentagon and a month later, participated in a memorial service at New York City's Ground Zero. They performed for the 50th anniversary of NATO (North Atlantic Treaty Organization) in 2005.
In 2021, they played for the post-inauguration wreath-laying ceremony for President Joseph Biden at Tomb of the Unknown Soldier. Their brass quintet, one of the band's ensembles, played for people arriving for the late General Colin Powell's funeral this past November.  
Diplomacy
The musicians have also practiced diplomacy. In World War II, the band had a two-year deployment to North Africa and Europe. It came under a German V-2 rocket bomb attack in Antwerp, Belgium, in 1944. Rockets aside, "Playing concerts in countries like Algiers and Morocco, they were representatives of the American liberating force," Lessard says. 
In 2002, some band members did a six-day USO tour of Kuwait, Afghanistan and Uzbekistan to support Operation Enduring Freedom.  
The band had a memorable exchange with China's Military Band of the People's Liberation Army in 2011 and 2012, performing together at the Kennedy Center, at the United Nation in New York and in China, playing both American and Chinese pieces. "We are more similar than we are dissimilar," commented then Major General Michael Linnington.
When dignitaries visit the U.S., the band plays the national anthem of the visitor's home country.
Hollin Hall resident and percussionist Larry Ferguson found his two USO tours to Iraq and Afghanistan to be very rewarding. For him, the band has been a capstone of his musical pursuits that started 36 years ago. At age 10, he began playing drums and he's been a percussionist playing instruments like the drum, cymbals, xylophone, triangle and tambourine for 20 years. "The Army and the Army band have been an amazing career. I've been fortunate enough to pursue my passion while giving something back to the nation through concerts and high-profile ceremonies," he says. 
Emily Ross, who handles band operations, played the clarinet with the band for 17 years. "It's a great way to serve your country and perform the music that you love," she believes. Band members surely agree. 
Forthcoming Events
The U.S. Army Band will have several centennial events, including an April gala concert at Washington's Constitution Hall, virtual and outdoor concerts and possible tours. Visit usarmyband.com, Facebook www.facebook.com/usarmyband, Instagram @usarmyband, and YouTube www.youtube.com/c/usarmyband
In China
See the YouTube documentary, "In China," the U.S. Army Band's trip to China, 
https://www.youtube.com/watch?v=BL5VJ9o7y6g