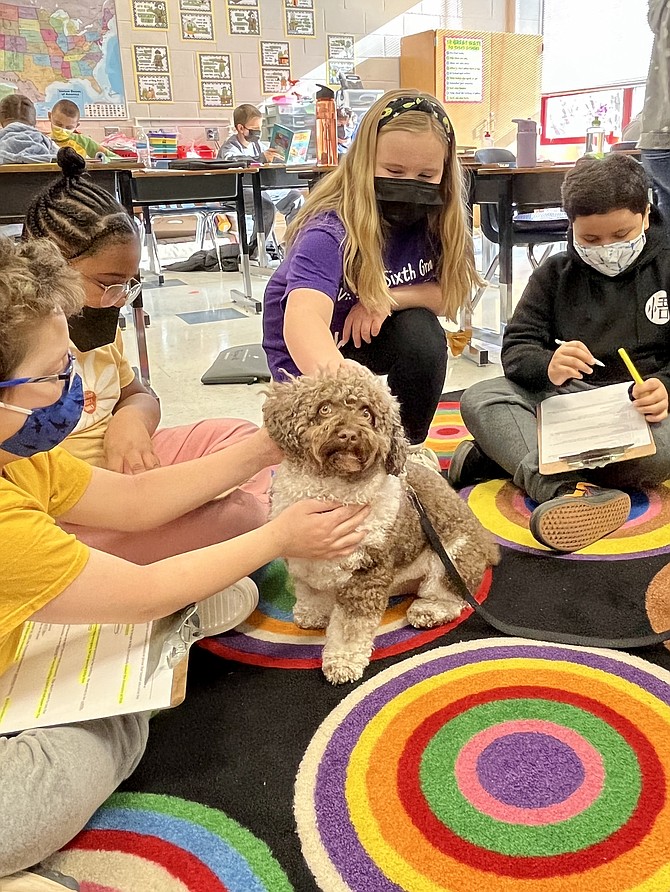 Casey A. Salerno, a counselor with Fairfax County Public Schools, enjoys assisting her elementary students at Aldrin Elementary School in Reston to embrace their character strengths. Recognizing that some students benefit from additional support, she reached out to the Alliance of Therapy Dogs, a national registry of certified therapy dogs, for assistance in establishing a program at Aldrin. 
Members of ATD who volunteer with their dogs in animal-assisted activities get testing, certification, registration, support, and insurance from ATD. Salerno located an ATD trainer in Reston.
"We had to go through the (county's) Risk Management Office and make sure we had everything in place so that it was safe for Nike to come," Salerno said. "And we got permission from the parents."
A couple of months after the school first welcomed Nike as its newest team member, the one-year-old Havanese-Poodle scurries into the classroom to pair up with students seated in small groups. Nike's trainer, Linda Grant, keeps the dog leashed. "Each school seems to take it on themselves as their own project," said Jennifer Sellers, FCPS's media relations specialist. It is on a school-by-school basis.
Nike has a toy-like appearance with floppy ears that fall to his cheeks, a small build, and short legs. The twenty-five-pound, tail-wagging, treat-loving pooch with the softest, curliest coat provides a calming presence for the students. Nike is on their side. "Nike is there to support them. If they are not feeling great, he boosts everybody's mood," Salerno said.
While Nike visited his fourth-grade class, one of the students, Tony, sat on the floor with his friends to complete his worksheet and reached for Nike. "He makes me feel good, and he's very kind. I like it when he licks me," Tony said. 
"He's very calm and doesn't really get that crazy," Graham said. 
"I'd like to have a dog when I grow up," Jason said softly as he stroked Nike's coat. "A little bit bigger than Nike because he can be my buddy." 
According to classroom teacher Jennifer Turner, the students in her class have benefited greatly from having Nike visit every week. "Nike, and his handler, Linda, are a calming presence in the classroom, which is especially welcome during this year when many students are still feeling anxious and experiencing frequent changes in routine due to COVID," 
Turner said. "Nike and Linda offer a respite during the school day, and all the students feel very lucky to have a furry friend in their lives." 
Fourth grade, as a level, is challenging this year, Salerno said. "We just thought that Nike would be a good fit in there to provide some support." 
When asked what criteria she would use to determine if the therapy dog visitation program was a success, Salerno said she had not given the students an objective survey but always kept an eye on them.
"I can observe that the kids are excited to see him. I've gone into that classroom that he visits for lessons later in the day, and honestly, their behavior and mood are always great compared to what it could be some other days." 
She also said at the end of the year, she intends to survey all students who have had contact with Nike. Questions could be: Did you think this was helpful? Did you like having Nike come? What could we change about the program in the future?
As Nike and Linda's hour-long visit neared its conclusion, they walked across the hall to another classroom. Maggie, a member of another class, had been waiting for Nike. She settled in, seated in a small chair, Nike on her lap and her chin resting on his soft fur as she petted him. Despite being masked, Maggie's smile could be seen creeping up her face, illuminating her eyes. 
"Nike belongs to everyone," she said and went back to petting him.